You don't need to be an expert writer or a computer guru to do this. You just need the proper training on HOW TO WRITE AND EARN MONEY ONLINE.
You don't even have to be a perfect writer (that's a waste of time) and right now I just want to get you comfortable with the writing part.
When someone asks what you do or like to do, you probably can't stop talking about it right? Writing is like that. Especially in the internet world, you want to write conversationally to your visitors.
You want to write about topics you enjoy talking about. Your 2 main goals are to give your readers a great experience and help them with useful information. By doing that you build trust and establish a relationship with them.
So skip all that technical jargon talk! If you're not a good speller, use Grammarly because it's free. I use it all the time.
If you're nervous about writing (I get it, I was like that too…) don't let that stop you. The more you write, the better it gets and believe me you won't want to stop writing once you get past the non-confidence, the jitters you won't want to stop.
So there are lots of ways to make money online and it starts with writing.
People look to hire people like you and me to write helpful and original content for their audience. You can be successful and make good money from it.  I'll be discussing this below…
The other way to make money from writing is to do it for yourself. It's what I have been doing for the past 3 1/2 years and I'm in the 4-digit income figure.
I confess I'm not am expert writer BUT I write blogs using affiliate marketing AND make money from them. I'm going to show you how this can be done.
Let's get into it!
5 Ways to Write and Earn Income Online
#1. Be a Freelance Writer:
There are definite benefits to being a freelance writer or freelance in anything, for instance,
1. Manage Your Workload Anyway You Like
If you want more work or less work is up to you. If you have too much to do chances are your end results won't be very helpful to the people waiting for it.
Having too much to do will cause you stress and even lead to risks of heart attacks or other heart-related diseases and if you work longer than 11 hours a day according to Business Insider, you want to have to some fun in life and chill out a bit.
Being a freelancer means you can pick and choose your clients.
2. More Likely to Avoid Catching Someone Else's Flu
We all know what it's like to work with someone close to you, whether it's in an office environment or outside and that person is coughing and hacking.
According to a Danish study, people who share an office or in open-plan offices (62%) were more prone to being absent due to illnesses.
As you can see it's actually healthier to work at home. You're not bringing any of that workplace bug to your family.
3. You Are Your Own Boss
Being a freelancer, means you are your own boss. You can work whatever hours you want, and talk to your clients whenever you like.
If you don't want a working relationship with a client or prospect you don't have to. You can talk to them and let them go their merry way and you go your way.
How you want to determine your future is up to you. Having clients who are positive-minded is a better working relationship to be in and less stressful. Don't you think?
4. Don't Have to Drive Anywhere
Imagine the costs of fuel and the wear and tear from your vehicle you can save.
You're not wasting your time sitting in traffic, or bus commuting surrounded by people. Not only that, you're safer being at home.
5. Take Breaks Anytime And Sleep In
You're not regulated by your boss's rules of when you can take breaks.
Being a freelancer means you can take breaks anytime you like and as often as you like. You can have naps anytime you like. You don't even have to turn your alarm on to wake you up early in the morning.
6. Exercise whenever you like
As a freelancer, you're now free to workout at a Bootcamp or gym, go swimming, go for long walks.
You don't have to squeeze in your exercise because of your work schedule. No more early bird workouts.
7. Control your work relationships
How much time you want to spend communicating with your clients is totally up to you.
You can control your times of when and how often you go on email. According to the University of British Columbia, it can help to reduce your stress if you don't check your email constantly.
8. Work anywhere you like
Being a freelance writer means you can work any in the world as long as you have access to the internet and a computer.
The most popular places to go to for Freelance Writers are:
Fiverr.com
Upwork.com
Freelancer.com
IWriter.com
PeoplePerHour.com
Linkedin.com
#2. Be a Copywriter
Copywriting is a process of writing words on a page or blog about a product/service or person that engages to your audience and really converts.
BUT it's not just the writing words on pages, it can be images, videos, email calls to action, ads on tv, social media ads, radios scripts, brochures, pamphlets, including writing content for websites.
Your income could possibly look like this:
Low end – $3,000 to $15,000
Medium – $50,000 to $150,000
High end – $300,000 to $2,000,000
The Low end is more of a part-time income. The Medium is if you're more serious and really get into social media ads.
As you can see the pay is quite high but you have to work extremely hard to first get the recognition of your writing ability.
Big companies look to hire medium to high-end freelance copywriters
Here's an excellent video that explains what is copywriting is…
Here's a second video that explains how you can become a copywriter with no experience. 
#3. As a Blogger
Blogging is actually a popular way to make money online and it's a lot of fun too because you can write on topics you're passionate about.
You can do this by joining with a company like Amazon for example and promote the products, thru ads or even your own products.
You will want to build your brand and authority and once you have recognition, advertisers will come to you and ask you to write reviews on their products. They'll give you ads you can place on your blog and reward you well.
#4. As a Digital Information Products Writer
A lot of people make good money when they write information on products in the form of eBooks on training courses, travel guides and really anything you can think of.
You can sell them on 3rd party sites like Amazon and FetchApp for example. You'll have a small commission to pay but this is an excellent way to get your product(s) exposure to more people.
You can also make money by selling them on your website. Just put your Paypal link on it on your eBook or in a shopping cart. When your reader comes to your page, they'll fill out the order form, pay for it and then get a downloadable link that takes them to their product.
The beauty of this order form is you now have their email address so you can let your readers know of other relevant digital information products.
The beauty of this process is you don't have to physically mail anything to your readers and so there are no shipping costs. It's quick and easy and you control it all.
#5. As an Affiliate Marketer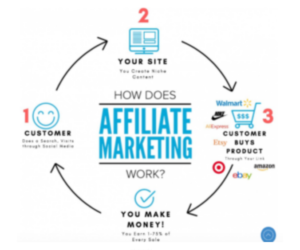 Affiliate marketing is the #1 most popular way of making money online. In fact, this is what I do.
The way it works is, you partner with a company who has products/services and they allow you to market them. When your reader pays for the product, they pay you a commission on the sale.
Affiliate marketing is performance-based meaning you get paid by the company when your visitors take whatever action is requested on the product which could be doing surveys, purchasing the product or signing up for something.
The best way to get into affiliate marketing is to join an online affiliate marketing training platform. It's really difficult trying to do this on your own.
If you want to be with like-minded people and willing to work hard, then I suggest following the path I am taking which I'll explain next…
Which Money Making Path Should You Choose?
So I've given you 5 of the best ways to use writing as your means of earning income online. Which one should you choose?
The most successful way of making money online is writing blogs on your own affiliate marketing business.
I'll be honest with you… I am biased but it's because it really works and it's what successful entrepreneurs all over the internet world do.
Write blogs, be an affiliate marketer and have your own online business!! That's how you can earn great income.
By doing that your potential is endless…
The Benefits of Doing Affiliate Marketing
Affiliate marketing is my #1 recommendation for the following reasons:
1. You Help People: When people do searches on Google, Yahoo, and Bing, it's because they are looking for something. As affiliate marketers, we should be helping them.
Do this and you create trust by writing useful information.
2. Promote Any Product/Service You Desire: If you have a hobby or anything you're passionate about, affiliate marketing is THE BEST way to promote it.
Perhaps you've always wanted to do something but never have done it, you can still research and learn about it and become an authority over it and promote the product/service.
When you do something you're passionate about, your successes will soar because you can't stop talking or writing about it.
3. Low Cost to Start: Another beautiful thing about affiliate marketing is affiliate programs are FREE to join.
You should not have to pay and that's because you're helping the company market their products/services.
Companies that have affiliate programs will also want you to have your own blog website and so if you're not familiar with how to do this, I can help you get a FREE WEBSITE at a training platform I'm with from my FREE GUIDE here.
4. You're the Boss! It's up to you how much effort you want to put into your online business.
Like any business, whether it's a local or online business, you have to work very hard and learn to be successful like other top affiliate marketers.
The beauty of being your own boss is you control everything, your hours of work, where you work and so on.
What You Need To Be a Good Blogger
Being an affiliate marketer may sound scary and difficult but it doesn't have to be.
One of the most important skills you need to learn is how to do SEO (Search Engine Optimization) so you can generate FREE TRAFFIC to your website by ranking high in search engines like Google, Yahoo, and Bing.
Imagine getting 50k visitors a month to your website for FREE.
If you learn the skills properly you can really make good money by doing affiliate marketing and being a blog writer. To do this the right way, check out the online affiliate marketing training platform I'm with.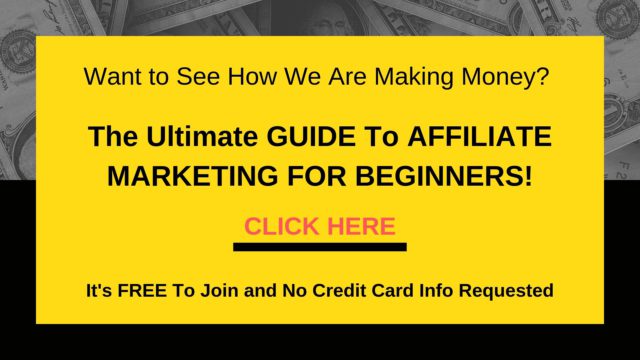 I wish you well on your journey to success with your blogging adventure and I hope to see you on the inside of Wealthy Affiliate's training platform. I'll welcome you and help you every step of the way.
If you have any questions or comments it would be awesome to hear from you. 
Thanks for reading!
Monica