Do only 10% work to make lots of money online. That's what Global Affiliate Zone will tell you. Check out the hidden secrets revealed here. And if you don't like your 9 to 5 job, this is even better. Do you think this is a scam or what?
Hey, if you're on a site that tells you they have done 90% of the work wouldn't you be curious to check it out? I mean, you never know what you could be missing. Right?
That's what I did.
I have lots to tell you about Global Affiliate Zone and yes, there are hidden secrets you really need to know before you join with them. 
Begin I begin, let me say I'm very pleased to see you are doing your own research here. It's the only way to find legitimate ways of making money online.
Just so you know, I am not associated with Global Affiliate Zone.
I do lots of researches on products and write up reviews by giving you facts so you can make your own decision to join with them or not.
Let's go over my findings together…
Global Affiliate Zone (GAZ) Review Summary
Product Name: Global Affiliate Zone (GAZ) 
Co-Founder: Julian Sherman and Mathieu Jang
Product Type: MLM/Online Affiliate Marketing Training Platform
Price: $99/Month Membership and Upsells to $5,000+
Best For: The Owners of the company
Summary: Global Affiliate Zone is an online Affiliate Marketing Training platform. They have a done for you system with skilled coaches to assist and mentor you. However, there are lots of important hidden information you really need to know before you become a member. This review will expose them all.
My Rating: 20 out of 100
Is Global Affiliate Zone Recommended? No

What Is Global Affiliate Zone (GAZ)?
Global Affiliate Zone is a relatively new company founded in 2015 by 2 co-founders Julian Sherman and Mathieu Jang.
Their mission is to provide education and mentoring to help you start and grow your own online business.
They have a global community of around 5,000 members, and an internal affiliate marketing program from which you can earn income.
So, let's find out how Global Affiliate Zone really works…
Here's an excellent video on how GAZ works.
First I just want to say, I'm glad they chose the affiliate marketing business model.
It's exactly what I do and it's my #1 recommendation to anyone who wants to earn a long-term passive income.
Affiliate Marketing is the process of promoting someone else's products and earning commissions on them.
BUT I have a couple of concerns here with GAZ…
First, the bulk of the training is on setting up your campaigns to promote their GAZ PRO Membership and not on your own products.
It's misleading when they say 'choose a product you resonate with'… doesn't it sound like you can promote your own products?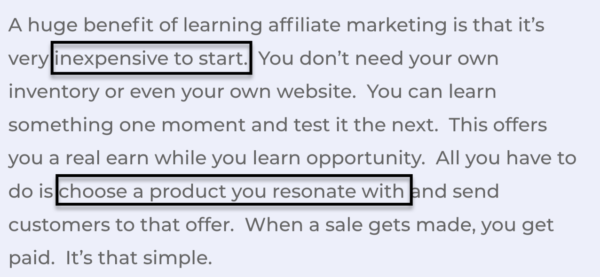 For your efforts of promoting them, your commission is $29.70 (30%) a month on every person you recruit as long as they continue paying their $99 a month.
Second, their GAZ PRO Membership is expensive. It's going to cost you $99/month…  that comes to $1,188 a year, seriously??
So what are you getting for your investment?
GAZ does say they have done 90% of the hard work for you which is their automated sales funnels.
The 10% you do is to drive your traffic to your copied sales funnel offers which have another purpose which I'll explain later.
If you've done other researches, you might have already stumbled on this same claim. GAZ is not unique on that 90% done-for-you concept.
Do minimal effort = Make lots of money
I'm not saying GAZ is a scam, but haven't you seen this kind of talk on some scammy sites?
You're learning how to bring traffic to their site. They teach you how to use their ready prepared offers via paid Facebook Ads. This is what GAZ's training is about. 
By the way, paid ads can be very expensive from a couple of hundred dollars to thousands of dollars depending on your budget.
In fact, GAZ will do all the sales work and even do all your email follow-ups. To maintain and build your email list, you will need to have an autoresponder, which is going cost you. Aweber is free for one month, after that, for a maximum of 500 subscribers and unlimited emails, it will cost $19 a month.
Wait, I'm not done yet…
Shocking News! Global Affiliate Zone is Also An MLM Business!
Yep, they also do MLM (multi-level marketing) here too. You don't actually see this until you're in GAZ's backend after you pay your $99.
Their MLM business is their backend upsells.
This is the SECRET they've been hiding from you. The way it works is the GAZ site itself is a sales funnel that recruits members to Enagi, an MLM company.

This is where they try to sell you on their water machine.
I guess you can pretty much call GAZ a self-recruitment platform.
Enagi manufactures alkaline ionizers and water filtration machines. This is GAZ's "profitable offers".

The problem is to join Enagi, you need to purchase one of their machines before you're eligible to earn commissions. The cheapest one is $1,280. The most expensive machine is $4,980. (CLICK HERE to read my review of Enagic)
Of course, GAZ's coach is going to push you to buy the higher priced machine $5,000.
Not many people you try to recruit have or want to spend that amount of money and that's why you'll be faced with the high costs of paid traffic. 
Can you imagine, here you are on GAZ's site thinking they're an affiliate marketing business and then find yourself leading into an MLM business.
If you don't like MLM, be careful…

Inside Global Affiliate Zone – Training, Tools & Resources
To promote GAZ's PRO Membership and their MLM Enagic product, for your $99 monthly member fee, you get the following tools and resources: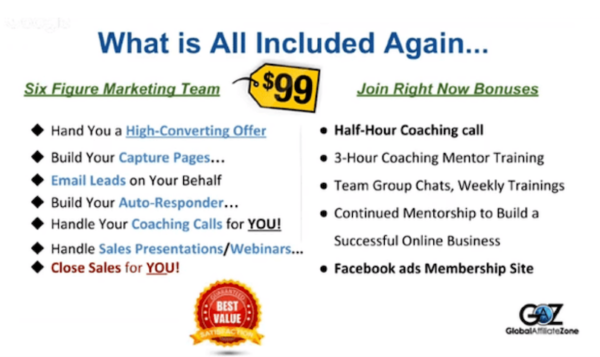 The Training:
The training inside GAZ platform, in my opinion, is limited and it doesn't cover the basic knowledge of affiliate marketing. Take a look at the image below and you will know what I mean.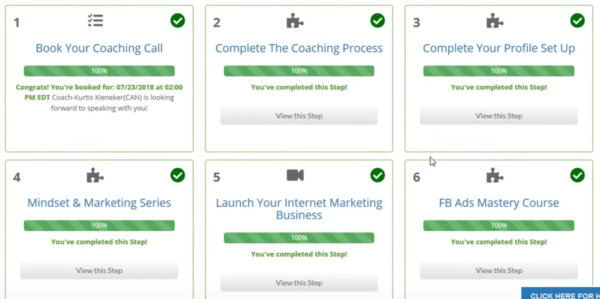 1.Book Your Coaching Call
After you make your payment, the first thing you need to do is book your call with a coach first. They won't let you get to the next training without talking to your coach.
I don't about you but I find this irritating. The experiences I've had with "talking" to other coaches is all they want you to do is spend more. I might be wrong with GAZ.
2. Complete The Coaching Process
This is a total of 10 questions.
Here they ask how much time you want to commit, how much money you want to spend and so on.
Basically, the coaches use this information to come up with their own plan of action.
3. Complete Your Profile Setup
This part feels like you're signing up over again. Pretty much all the information you entered with your payment is what you have to enter again.
4. Mindset & Marketing Series
This is where you get to listen to other people's success stories, how much money you can make, and so on.
5. Launch Your Internet Marketing Business
This is where GAZ does their sales pitch on Enagic. The good part is this is optional. It's another segment to their business.
6. FB Ads Mastery Course
You will learn from this training. You can visit their academy and watch lots of high-quality videos. It covers the following:
Ad videos
Paid Ads training for Facebook and Google
Auto-Responders for your emails
Capture pages to collect leads
Email marketing which GAZ does all the followups
Sales copy to get your traffic to take action
Social media training
Data tracking
Ad split testing
That's it! Like I say, you're not even learning the real basics of affiliate marketing. In my opinion, the $99 a month is not worth the type of training they give you.
GAZ makes the training easy.  All you have to do is follow their step by step instructions on how to drive traffic and that's it.
Global Affiliate Zone Support
There are 3 ways you can get support:
Active Facebook Group. Members can ask questions or help other members.
3 Live Weekly Training Seminars. You can listen to success stories, develop your mind set, get marketing tips and have the privilege of live coaching.
Submit a Ticket. If you need more help you can fill out a ticket but it will take 1 business day before you hear back. This is not good if you need help on the weekend.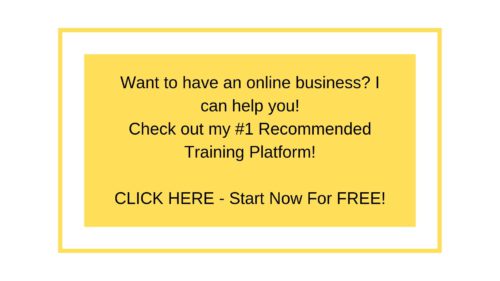 What I Like About Global Affiliate Zone
#1. 14-Day Money Satisfaction Guarantee

Having a satisfaction back guarantee is always important and in fact, it's one of the first things I look for.
Your $99 for your first month is refundable but please pay attention to the 14 days.
#2. Positive Mindset and Personal Growth
I was very pleased to see good books recommended here.
The books GAZ recommends are:
Think and Grow Rich – I read this and you will be inspired
How to Win Friends & Influence People – I took the Dale Carnegie course and studied this book. You will learn how to approach people in a professional manner and give a better understanding of influencing people.
A Happy Pocket Full of Money – I will have to read this
80/20 Sales and Marketing – Work less and make more. Well worth the read!
You can get these books on Amazon at a very inexpensive price.
What I Don't Like About Global Affiliate Zone
#1. 'Pay to Play' Platform
Why do I say this?
Before you can earn any commissions, GAZ requires you to pay for it first.
One of the standard practices of affiliate marketing is to not charge members before they are eligible to earn commissions.
This is what scammy online businesses do. They will charge you a fee to join their affiliate program before you even begin their training.
It's too bad they don't have a FREE Trial.
#2. Secret Business Model
Why GAZ does not tell you upfront that they have an MLM platform before you pay your membership is beyond me.
It's bad enough that they don't even give you a FREE trial. It's not proper ethics in my opinion.
The only way you're going to find out what's inside their platform is to pay upfront their $99 for the first month or do your research the right way which thankfully you are doing.
So GAZ's front end offer of the laptop lifestyle is the PRO Membership which gets you through their door. Once you're inside, you face their MLM high ticket Enagic products.
#3. Too Expensive
In addition to your GAZ PRO Membership of $99 a month, you have additional expenses:
Enagic's water filtering machine which starts at $1,980 for your demo. Upsells can go up to $5000.
Autoresponder – Example, AWeber is $19/month for 500 subscribers (by the way, they offer a FREE 30-day trial)
Paid ads to generate traffic can cost you a couple of hundred dollars and into the thousands.
Are you prepared to pay this??
#4. Upselling Coaches
As soon as you join, GAZ assigns you with your own personal coach and this is good because you can ask questions and be mentored. This person will discuss your goals and financial situation.
However, the main purpose of the coach is to upsell their high-end Enagic water machines to you which is on their backend. From your financial situation information, they will know which machine is suitable for you to purchase.
#5. Perhaps a Pyramid Scheme
For those of you who support GAZ, let me just define what a pyramid scheme really means before you criticize me.
In simple terms, a pyramid scheme is a business model of recruiting people into a system to make money when there are no real products or services.
I'm not saying GAZ is a pyramid scheme, that's up to the FTC (Federal Trade Commission) to determine that. I'm saying their practices are similar to a scheme.
Yes, GAZ does have products and services BUT the only way members can make money is to recruit other people to their platform by re-selling their PRO Membership. That according to FTC is a scam.
Still think I'm wrong? Take a look at Digital Altitude and MOBE …
#6. What To Do If Their Door Closes
I believe all businesses should have a backup plan.
Because GAZ has done "90% of the work for you", this means you don't even own or have your own website (by the way, creating your own website only takes around 5 minutes or less than a minute).
You haven't learnt the real basics of affiliate marketing and how to get FREE traffic, how to do your own email marketing campaigns, sales funnels … there's much more.
Learning how to bring traffic to your offers is not enough knowledge to get an online business to a successful long-term passive income.
You don't have a website to back up any of your data.
You can't even take the email list that you paid because GAZ controls all that for you. Seriously, they answer all your emails for you and do your followups for you. It's not a good idea to have someone control your business like that.
Sure it's nice to have a done for you all system so you don't have to work hard… everyone wants that but the reality is you have to start from the bottom and work your way up.
Learn the fundamentals, work hard, help others with their problems, have people come to you… then you reap the rewards!!
Even successful entrepreneurs will tell you they worked hard, made sacrifices in their life but in the end, they reap their rewards and live the lifestyle they dreamed about.  That's what owning a business is.
#7. BBB Rating C-

During my research at BBB, I was quite surprised to see so many positive testimonials. In fact, from what I could see, around 50 were positive out of 54. This seems rather odd considering BBB only rated GAZ as C-.
Here are some testimonials: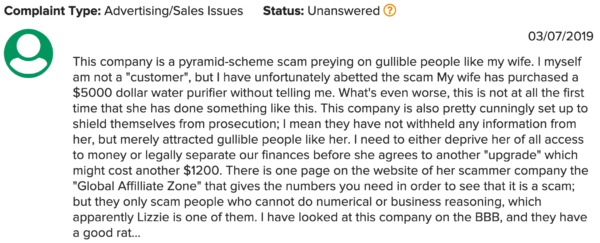 Is Global Affiliate Zone A Scam Or Is It Legit?
I guess this depends… I will say, for now, Global Affiliate Zone is legitimate on a fine line if that makes sense.
It's deceiving, in my opinion, to not tell you upfront that they are also an MLM company. You don't know this until after you make your first payment of $99 and into the lessons. You won't know this in your first lesson.
NOTE: Regarding MLM, I recommend reading the company's Income Disclosure Statement and look up the average yearly income figure. That will give you an idea if members are making money.
The good part is Global Affiliate Zone does honour their 14-Day Satisfaction Guarantee and they will refund you. 
I think it's important to keep in mind about what happened to MOBE and Digital Altitude. There are also many people who have lost thousands of dollars doing MLM and I can't imagine how upsetting it would be for them to find out after paying their first $99.
Having said the above, GAZ members are making money.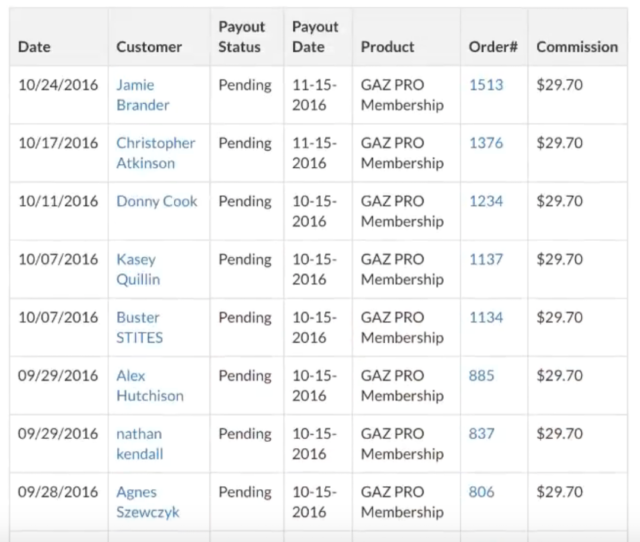 Is it worth your $99 x 12 months = $1,188 and you high-ticket upsell? I don't think so. Are they a scam or are they legit? It depends on your perspective… I do not recommend them!
A Better Solution – How We Make Money
Is there a better solution on how to make money?
There certainly is… online affiliate marketing just like GAZ but in a better way, the proper way.
My #1 Recommendation is Wealthy Affiliate for the top of the line affiliate marketing training in its industry.
Why?
There are no upsells
It's FREE to get started, in fact, you're welcome to stay as long as you want as a FREE member
Premium Membership is only $49/month and yearly is less than $1 a day
There are no shiny buttons and you will have to work hard!
You will learn the fundamentals of internet and affiliate marketing and learn how to get FREE traffic
You will have 2 FREE websites (do this in 5 minutes or less)
Be in a transparent site of over 1.5 million friendly members
Get help 24/7
You will learn how to build and grow your own passionate niche business and learn to promote any product you desire
Want to see how we are making money?
Meet Brok… CLICK HERE to read his story.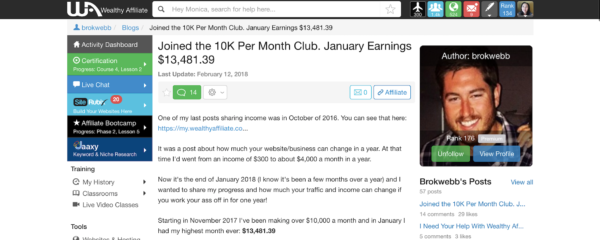 Meet Eric… CLICK HERE to read his story.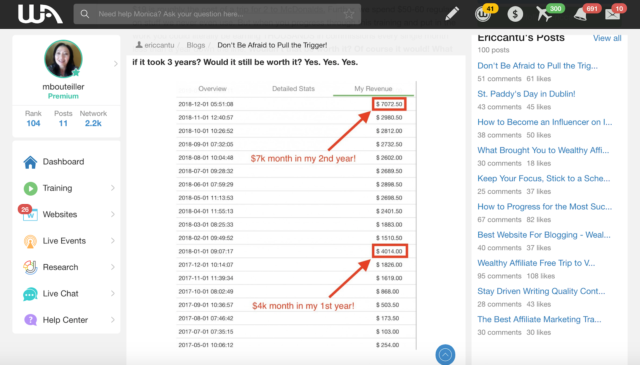 Why not give Wealthy Affiliate a try? You have nothing to lose. It's FREE to join as a Starter Member and you're welcome to stay as long as you like. BUT I warn you, you will have to work very hard.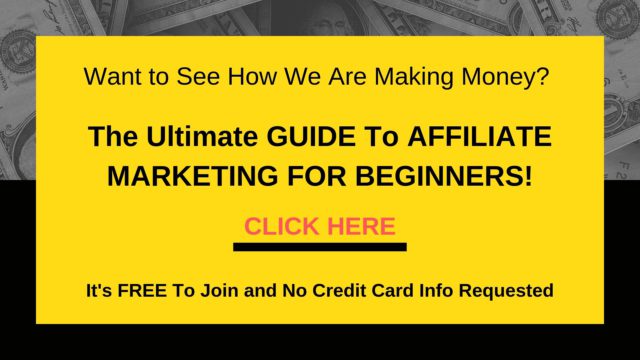 I will be your coach and mentor you. By coaching I mean I will not be selling you anything, I'll only be answering your questions. I LOOK FORWARD TO SEEING YOU ON THE INSIDE!!
Hey Folks,
Thanks for reading my review of Global Affiliate Zone and I hope it was helpful.
Are you a member or ex-member of GAZ? I would like to hear from you. If you have any questions or comments just put them in the Comment Box below.
Monica