You heard the saying "No Leads = No Money"! A lot of people have heard of Online Sales Pro. You want to join but you're not sure if it is a scam or what.
Of course, you want leads and sales. without them, our business would not survive.
There are, however, some things you need to know before considering to join Online Sales Pro.
Before I give you my findings…
Let me just say if you're new to internet marketing and don't have an existing online business Online Sales Pro is not going to work well for you.
I'll explain that below… or you can skip down to my "Who Is Online Sales Pro Best For?" from my Table of Contents. 
Want more leads and sales? Let's see if Online Sales Pro is for you…
Online Sales Pro Quick Summary Review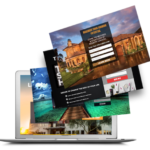 Product Name: Online Sales Pro (OSP)
Founders: Joel Kellman and Grady Polcyn
Type of Product: Software Platform, List Building & Email Marketing
Cost: $37/month (or $297/year) and Upsell $97/month ($792/year)
Good For: Anyone who has an existing internet business wanting to generate more leads and sales.
Overall Rating:  85 out of 100
Recommended: Yes but for beginners
Summary: Online Sales Pro is very legitimate. Their training on lead generation is quite simple, yet very helpful.  However, it's more suitable for beginners. There are lots of ready-made landing pages that have some editing features but not much if you want to customize it as your own. Members are getting leads and sales by promoting OSP's memberships. If you are an intermediate or advanced internet or affiliate marketer, you will find there are no advanced tools and resources.

What Is Online Sales Pro (OSP)?
Online Sales Pro was launched September 2014 by 2 co-founders, Joel Kellman and Grady Polcyn who have been in the internet business for over 10 years.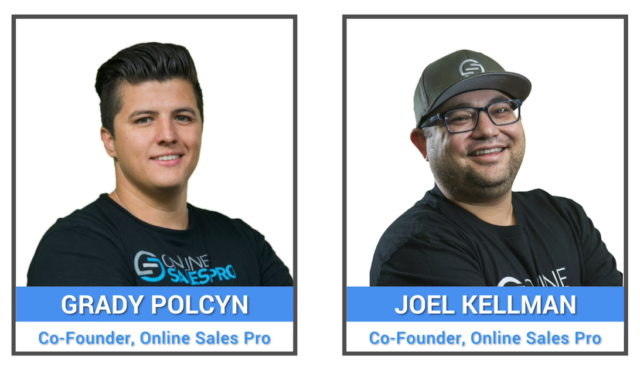 In order for online businesses to succeed it needs to have leads.
Online Sales Pro (OSP) is a sophisticated software company that offers online marketing training using their tools, software, and other resources.
Their main goal is to help your online business generate more leads and convert them into paying customers.
If you have a good system to capture leads like a landing page and a have a strategized email marketing system in place, your online business is more likely to succeed in making money.
In OSP's business model, they developed their own lead generator system with landing pages and funnel templates for members to use.
They also focus on an email list builder and their mobile app (iPhones and Androids) that gives real-time lead information so you will always know when someone clicked on your offer.
Except for their mobile app, there are lots of other companies like ClickFunnels and LeadPages for example, who provide pretty much the same type of service.  Both are legitimate page builders and lead generators.
Before I tell you which tool is going to make money for your online business, let me go over how OSP really works.

How Online Sales Pro Works
Here is a video I think you'll be interested in watching…"Online Sales Pro"
The training inside OSP is a step-by-step process on how to generate leads and sales and can be completed within a few days. 
There are 4 easy steps to follow:
Step 1: Build Your Landing Page
OSP's landing page is an opt-in page. Its purpose is to get your visitors to take quick action and give you an opportunity to collect leads from your emails.
You'll learn how to build your landing page thru their step-by-step process with their video and text. Fortunately for you, they make it easy because it already has a variety of templates ready to choose from.
You can also choose which email autoresponder you want and even put in third-party tracking codes along with other information.
Step 2: Manage Your Email Subscribers With An Autoresponder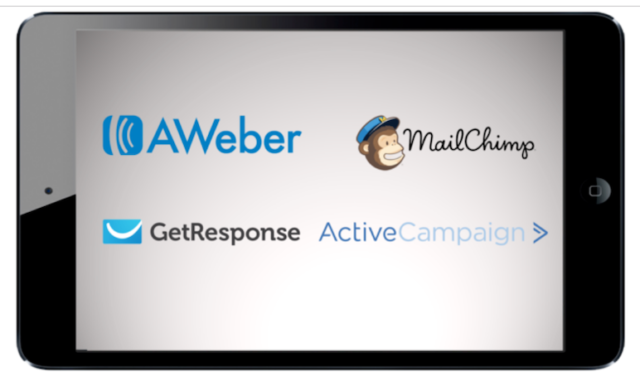 Once your subscribers start pouring in, you really need to manage the information collected.
With Online Sales Pro, you're going to have to use a third-party email autoresponder to collect and manage your email subscribers. This will cost you extra money.
However, spending the extra cost is well worth it if you want to spend your valuable time doing other work on your business.
Whichever autoresponder you choose, it will provide you with a list of your leads, easily track them to do follow-ups, build trust, and keep notes.
You can also do this on any mobile device using OSP's app.
OSP recommends the following 5 email autoresponders which they say are suitable for their software:
The prices I show here are the minimum for beginners and will cost more as your business grows with more subscribers.
OSP does have their own "mini" autoresponder but you have to join their affiliate program to use it. 
The decision is yours but I would go with Aweber and it's what OSP uses for training.
Step 2.5: Get Traffic To Your Landing Page (A Missing Step)
The training on getting traffic to your landing page is somewhat slack. It's not actually mentioned as a step here and in my opinion, it should be.
As part of OSP's marketing guide, they do give some information in their FREE bonus Traffic Foundation and Social Media Essentials so the way you're bringing in traffic is thru social media and that's it.
The thing about social media is, it can take a long time for your traffic to build trust with you.
It just seems rather odd that Online Sales Pro is missing the most crucial part since they're all about generating leads and converting them into sales.
If you don't get traffic coming to your page, you won't be successful. You won't make money.
No Traffic = No Sales = No Money!
Anyway, OSP will teach you to get free traffic from Snapchat, Facebook, Twitter, Pinterest and thru email marketing.
But your main traffic is going to come from paid traffic which could potentially cost you thousands of dollars.  It'll include Solo Ads, Facebook Ads and Adwords.
Step 3: Email Marketing – Follow-ups
So now that you've created your landing page, drove traffic to it and collected a list of email addresses, the mission here is to build a trusting relationship with these subscribers.
To do that, you need to do your email follow-ups. This could be very time-consuming, especially if you have a lot of responses. You can use any of their recommended email service provider (ESP) previously listed above or use your own inside their back office.
If you have your own business with your products inside OSP, you can set up your own Email followers using your own autoresponder or you can go into OSP's back office and set it up there.
Step 4: Make Money
It's now time to convert your hot subscribers into paying customers.
By now, you should already have products to promote which is really their memberships. You could be an affiliate for OSP and promote their memberships or promote your own products (not so well). 
Who is Online Sales Pro Best Suited For?
If you're interested in learning how to get fast leads and convert them into paying customers, then OSP can be good for you.
Online Sales Pro will say they have audiences ranging from:
Internet and Affiliate Marketers
Coaches
Local Marketers
Network Marketers
E-commerce
Speakers & Trainers
There Are Some Things You Need To Know
There are 2 types of audience that will not suit OSP:
#1. The Beginners Without An Online Business
OSP will tell you, any new beginners can make money using their platform. This is true. However, it's really not suitable for beginners who don't have an existing online business.
If you're a beginner inside OSP without your own business, you will only be promoting their memberships as an affiliate. Their training focuses primarily on how to use their tools and resources.
OSP is not what I consider a real business opportunity because they don't teach you how to start your own online business. You need to have your own online business first or you will be stuck with OSP.
In consideration of what I just said, it's going to be rather challenging to get support on your own affiliate marketing business because their OSP's training and resources are about promoting their memberships. 
Here's the reality! If you set up your online business the proper way, you can market any products you like and be an affiliate for any merchant. How does that sound?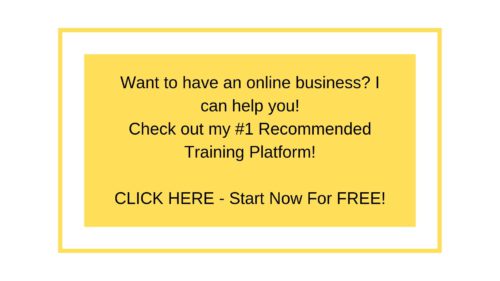 #2. Internet Marketers Using WordPress
If you have a WordPress website, OSP will not work for you. Why?
When you create your landing pages inside OSP, you are using their subdomain which is sadly hosted in OSP.
There will be no unification with your WordPress website to OSP.
What Are The Costs of Online Sales Pro?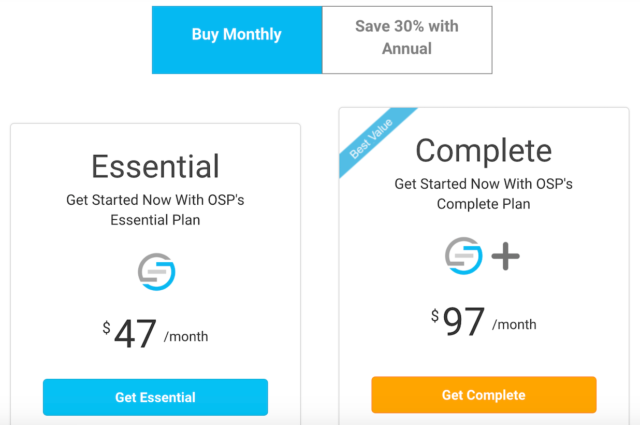 OSP has 2 plans which are quite straight forward.
1. Essential
The regular price is $47/month, but if you opt to go for the yearly, they give you a 30% discount bringing it down to $297 annually.
For this, you get the following:
Unlimited landing pages and variety of templates
OSP App for iPhones and Android (real-time)
Real-time leads 24/7
30% Affiliate commissions
Complete online training & support
Facebook community
Autoresponder integration choices
My personal recommendation is to start with the Essential Plan unless you want to qualify for the 2-Tier Commissions.
2. Complete Plan
The regular price for the Complete Plan is $97/month ($97 x 12 = $1,164), however, if you pay for the yearly, you get a discounted rate that will bring it down to $792 annually.
You will get everything that's in the Essential Plan including:
2-Tier Commission Qualification
40% on Direct Referrals
10% on 2ND  Tier Referrals
24/7 OSP Complete Marketing Training
Live Chat Support
Beta Access to New Features
Online Sales Pro's Affiliate Program
To be an Online Sales Pro affiliate means you are promoting their 2 membership plans, the Essential and the Complete.
You have access to their logo, banners and some content. They give you a unique affiliate link and when people join thru that link and pay for their membership, you earn the commission.
They also have a 2-tier commission structure. This means you can make a commission on the sales generated by the people you signed up.
There are 4 steps to follow if you want to be an OSP affiliate:
You must be a customer so you need to join.
Read and sign their affiliate agreement.
Make sure you follow their Brand Guidelines
Promote your unique affiliate links
What I Like About Online Sales Pro
1. Pre-Built and Proven Landing Pages and Sales Funnels
There are lots of landing template pages that members are using and are making money from them.
They have sales funnels already custom-made for other network marketing companies like Isagenix, World Ventures, and Nerium. Quite frankly, I have never seen anything like this.
These pre-built templates can save you a ton of design time especially if you don't know how to make your own.
2. Reasonable Price
The cost of OSP's Essential Plan is affordable at $47/month.
If you're really serious about joining with OSP, you might consider their yearly plan of $297.00… that's less than a $1 a day.
In my opinion, for all the resources, training, software, and tools you're getting from OSP, you should be paying more.
#3. Mobile Friendly and Optimized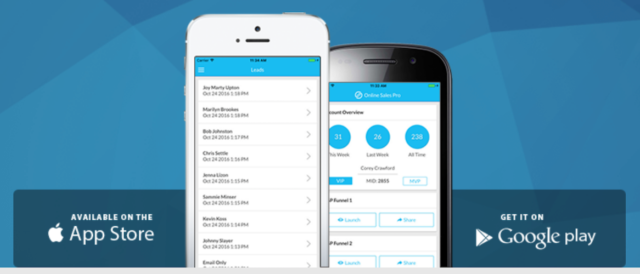 OSP's app for mobile devices is very unique contrary to what other similar sites offer.
The cool part of this app is you're notified on your phone as soon as a lead comes to your site. You can see your leads on your mobile device, easily manage, and track them.
All you have to do is respond by texting by selecting your script, send out an email or even call them.
Not finished with your training? You can also continue with your training on your phone.
#4. Easy to Follow Step-by-Step Training
OSP's training format is a step-by-step easy to follow comprehensive videos, text, and tutorials.
#5. Don't Have to Pay for Hosting
That's right, you don't have to pay for hosting because OSP has a subdomain on which your templates for landing pages and funnels run on.
So it's kind of like you're just borrowing what they have inside your back office. They still own the domain and hosting.
#6. 14-Day Money Back Guarantee

OSP does have a proven platform, however, if for any reason you are not satisfied, you can request your money back within 14 days.
#7. They Have Real Testimonials
Real members are happy with Online Sales Pro and saying they are getting leads.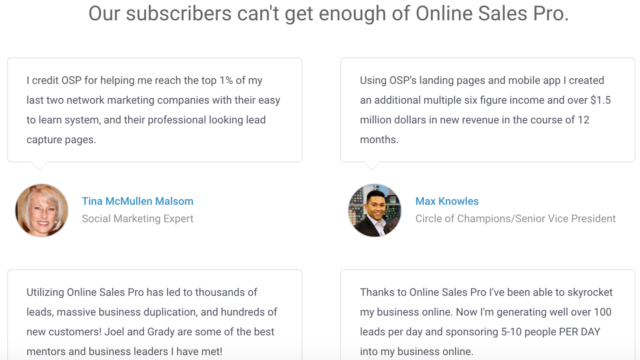 What I Don't Like About Online Sales Pro
1. Platform Does Not Integrate With WordPress
If you have a WordPress website, it will not integrate with OSP's pages and sales funnels.
The reason for this is OSP's landing and sales funnel pages are on OSP's sub-domain. In other words, your site has to use their sub-domain.
If you want the ability to create and beautifully customize your own landing pages and sales funnels on your own website(s), you can use the paid Thrive Themes or Studio Press. There is also a way you can this in the free Generate Press theme by removing the sidebar. Just some food for thought here!! ?
2. Simplistic Sales Funnels
If you like simplicity for your funnels, then Online Sales Pro is perfect for you.
However, in my opinion, for a more powerful funnel builder, I suggest you look at ClickFunnels.
3. Landing Pages Have Limited Customization
One of the features of Online Sales Pro is supposedly their landing page builder but it has limitations.
There is no 'drag and drop' interface in OSP's landing pages which I find quite unusual. You can't change it the way you like. They only give you their basic designs and the only thing you can do is edit texts and images.
The real beauty of a site who specializes in building landing pages is to be able to drag elements around therefore making it user-friendly and not so rigidly controlled like OSP.
You might want to look at GetResponse. They not only have the 'drag and drop' landing pages but they also have an awesome email marketing system.
Is Online Sales Pro a Scam or Is It Legit?
Online Sales Pro is definitely not a scam! There are many people who are satisfied using their proven landing pages and funnels. They're getting leads and making money.
I especially like their OSP App for iPhones and Android (real-time). The fact that it lets you know that a subscriber has responded to your email from your phone is invaluable.
However, I still suggest having your own online business with your own website because you can brand it and build trust which is easier than just using social media. 
Which Landing Page Builder Should You Use?
Earlier, I mentioned there were other sites that provide the same services as Online Sales Pro except for the mobile app. If you're not sure which landing page builder to use, Online Sales Pro has conveniently come up with their own Comparison Chart
This Comparison Chart is between Online Sales Pro, Leadpages, and ClickFunnels.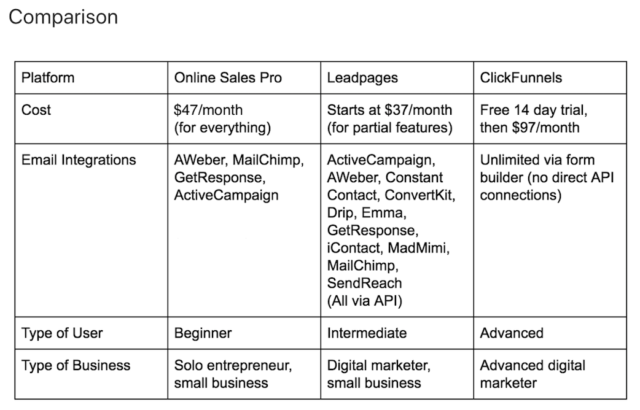 As you can clearly see from OSP's comparison chart, their platform is perfect for beginners.
I think their price in comparison is quite reasonable especially if you use the discounted price which is not shown in the comparison chart.
Leadpages is designed to give you a very cool drag-and-drop editor so you can make more complex and beautiful landing pages. It's more suitable for intermediate online marketers.
ClickFunnels give you more flexibility to fully customize your landing pages and funnels. They have a lot more to offer in regards to tools and resources. This site is for the more experienced internet marketer.
In conclusion, I just want to say that you should have an existing online business of your own if you want to use a lead generator tool.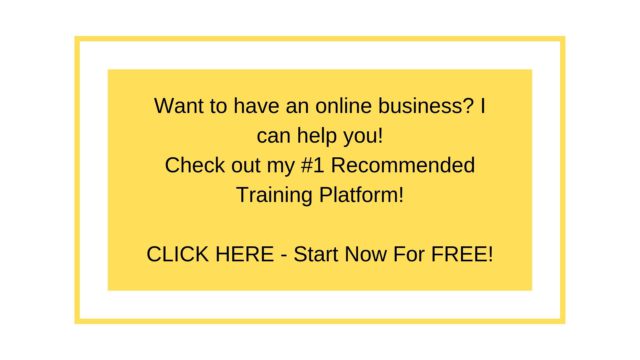 Hey Folks,
Thanks for reading! I hope you found my review helpful. Do you have any questions or comments? If you do, please put them in the Comment Box below and I promise I'll get back to you. 
Monica