Many people tend to overthink how to find a niche for affiliate marketing. Forget the word "niche" and focus on a group of people you can help. The right way.
Too often, I see people in their affiliate training platform saying they can't find their niche. Some of them seem to spend days, even weeks trying to find their niche.
Finding a niche should be fun and exciting. It's shouldn't be stressful. My goodness, you're just at the start of your exciting journey to having your own affiliate marketing business.
Honestly, I was once in the same situation and so I'm here to shed light that helped me find my niche.
What Exactly Is A Niche Market?
A niche is a group of people focusing on their specific products/services that will help their needs and issues.
It's important to choose your specific group of people because having a broad group makes it too difficult to communicate with them.
==> CLICK HERE to watch the video below or click on the image.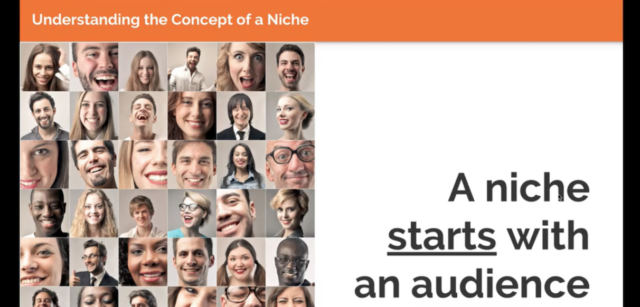 To affiliate marketers, they are often referred to as their targeted niche audience and their website will be focused on helping them.
The rule of thumb is to have one niche for one website so you will want to spend time thinking of what niche you want. But please make this just a day event.
What You Need to Consider First.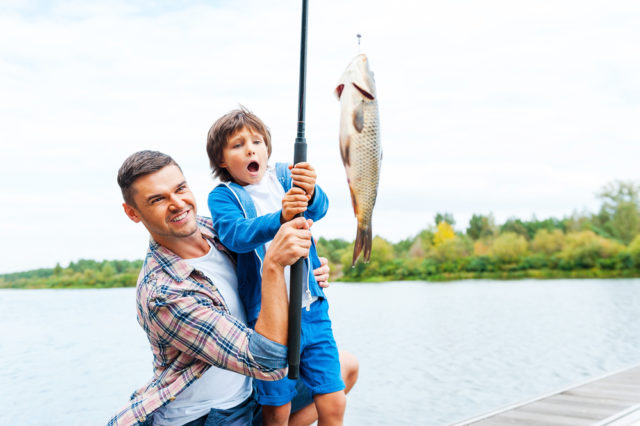 If you're new to affiliate marketing, the easiest way to choose your niche is to start with something you're interested in.
Ask yourself some questions like:
What are your interests and passions? Do you have a hobby, a sport you enjoy watching or playing?
What are you always searching for on the internet? These could be your needs and issues you want to get solutions and help on.
Pretty much anything you can think of can be considered a niche.
There are billions of people all over the world who search for solutions on the internet using Google, Yahoo, and Bing.
There are also millions and millions of products/services online all available for people to purchase.
You can see now that you can earn income on just one niche and it really depends on how you do it and how well you do it.
Why do I say to choose a niche you're passionate about or interested in?
The first reason is you're already an authority over it because you can't stop talking about it to your friends, family, and even strangers.
This makes it easier to stay motivated in your online affiliate marketing business. It's also fun and exciting and you should enjoy working on it.
When you have your online business, your mind needs to think of it as a real business. It's not a hobby any longer and you will need to put 100% of your effort into it.
This is why you want to choose a niche that you are most passionate about.
Your niche can also be something you've always been interested in doing but haven't done it yet. Do your research on it, learn about it, document it, and this way you will be an authority on it.
What's the purpose of me telling you this?
Get More Work Accomplished!

Trust me if your online business focuses on your passionate niche, you will be a lot more productive. You will accomplish so much more and your online business will prosper a lot faster.
Why will you prosper faster?
For your online business you will be doing the following:
1. You will be writing quality content for your targeted niche audience.
2. You are going to be choosing your relevant products/services for your targeted niche audience.
3. You are going to help your targeted niche audience by offering these relevant products/services which are the solutions to the needs or issues.
4. You are going to be communicating with your targeted niche audience.
5. Down the road, you will have many other niches so your first niche will not be your last.
6. Have the awareness that your niche could very well become your full-time passive income.
7. Remember perfectionism is a WASTE OF TIME! It's OK to make mistakes. Correct, Learn and Carry On.
Keep these points in your mind and it will help you decide if a niche you're thinking about is good or not for you.
What I Chose. My Niche Experience.
I could talk forever about my first niche and that is "scuba diving for beginners".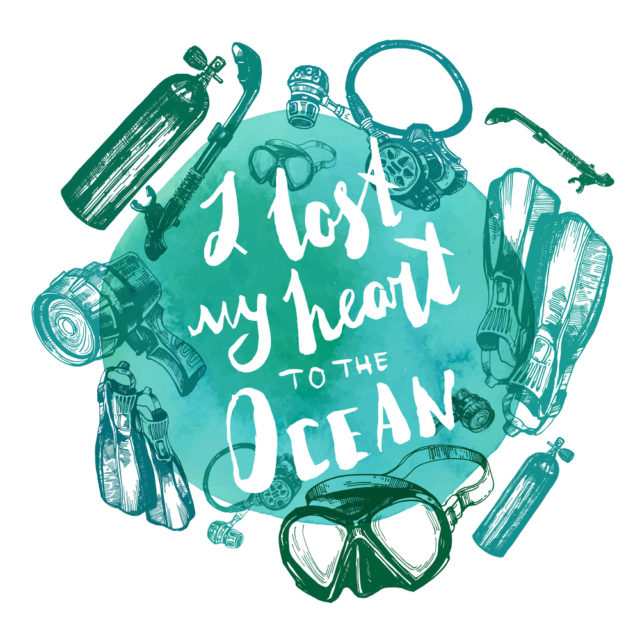 I live it, breathe it, and literally think of diving every single day. It's constantly on my mind when I'm back home. Sadly, there is no ocean, just lakes where I live.
Because I'm so passionate about diving, my dive site is fun and coming up with quality topics to write about is a breeze for me because I am an authority over it.
I give tips on diving skills, do reviews on dive products and talk about different dive destinations and relevant skills required.
Earning income on my 1st site is quite lucrative because it's so easy to work on my niche business ALL DAY, even EVERY DAY! It's hard to visit my friends and see my family because I enjoy being immersed in my niche business.
This is how your mindset should be. Choose your niche that will not make you feel like you have a job you don't enjoy doing. It should not feel like "work".
So you can see I covered all the 6 steps above except for the 7th step because I'm still a perfectionist… working on that lol!
A Group of People is A Niche
As I mentioned, there are a lot of people who over-complicate the concept of what a niche is. There is wasted time trying to understand it.
A better explanation is this. A niche is the topic of your business and you will be talking a lot about it.
In fact, don't even think of this confusing word "niche".
All you need to do when finding your niche is to only think about what group of people you want to help. In your mind, think of how you can help that group. I promise you're going to have a lot of fun.
But, Make Your Group SPECIFIC!
The most critical component is to not make this group of people too broad. When you first start, having a broad group is not a good idea.
Let me explain why. Having a broad group of people will be difficult to communicate with them because you don't know what their specific problem is.
You will also have more competition going with a broader group of people and you're really not targeting anyone.
By having a specific group of people, your targeted audience, you now have a greater opportunity to offer real solutions so they can buy from you.
Down the road, once you understand the fundamentals of affiliate marketing and your online business are bringing people and they're buying then you can go broader.
Does this make sense?
What's a Broad Niche?
Too many people make this mistake of choosing a broad niche like recreation, health, babies and even weight loss is way too broad.
Health is such a popular topic and quite frankly it's not a niche. I mean how do you really target people within "health"?
So let's dig into this "health" thing and see how we can break this down to a specific group of people.
1. A group of people who want help from hair loss. You can even just target specific genders like women who want help from hair loss or women in their 50's.
2. A group of people who want help on how to get rid of belly fat. You can even put an age factor.
3. A group of people who want to improve their circulation.
4. A group of people who want help to stop heartburn.
5. A group of people who want to find ways to fix their back pain.
Do you see what I'm getting at? Anyone of the above can bring thousands and millions of people to your niche business.
There are literally millions of people who search on the internet looking for solutions on any of the above.
Should You Be Concerned About Your Niche Competition?
Absolutely not!
When targeting your specific group of people, there could potentially be thousands if not millions of low competition search terms (keywords) you can focus on.
I'm a proud member of Wealthy Affiliate. You might have already heard of them. They are my #1 Recommended online affiliate marketing training platform.
Inside their platform, they have their own keyword research tool called Jaaxy. It's owned and designed by 2 successful affiliate marketing co-owners.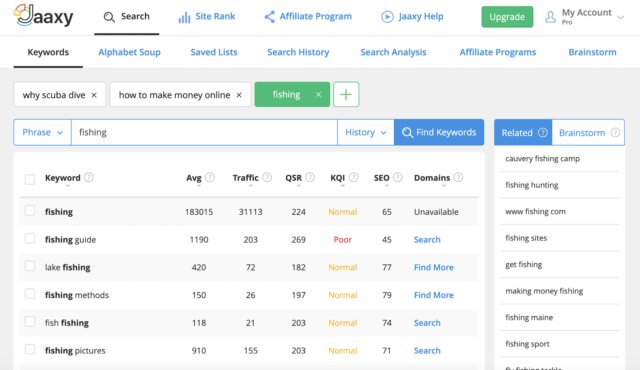 Their first online business was a huge hit because it was all about keywords back in 2005.
Long story short, their businesses, Wealthy Affiliate and Jaaxy have successfully been evolving. With Jaaxy, you have a huge advantage over your competitors on any niche you choose.
Jaaxy can also help you find your group of people too.
In Conclusion..
Don't spend days trying to find your niche, i.e., your group of people.
Take the following steps:
Choose your group of people.
Dig into it by researching and find a more specific group of people.
Just know that there are millions of people you can help in that specific group and it will continue to grow.
If you still can't find your group of people, you might want to consider Wealthy Affiliate's affiliate program and their Bootcamp Training. They have a very lucrative commission structure.
Once you find your targeted group of people, you will want to know how to get them coming to your online business. It's important to learn the fundamentals of affiliate marketing and more.
Wealthy Affiliate has the best online affiliate marketing training platform in the world. They have over 1.4 million friendly members in their community, one of the largest including BEST support.
The community is made up of beginners who have no experience, intermediate, and to the very advanced. 
If you're a visual learner like I am, their training method is videos, text and hands on. 
WARNING! If you enjoy hard work and still want to have some fun, Wealthy Affiliate is perfect for you.
==> CLICK HERE! Join for FREE as a Starter Member. You're WELCOME to stay as long as you want.
No Risk and No Credit Card Information Requested
I will also WELCOME YOU on the inside, be your coach, and mentor you all the way on your journey to having an online affiliate marketing business!
Well, folks, I hope you found this article useful. If you have any questions or comments it would be awesome to hear from you. Just put them in the Comment Box below.
What group of people interests you?
Thanks for reading,
Monica