Welcome to my Advertising Boost Review! Imagine giving your clients FREE vacation incentives. Really? Is this a scam or what?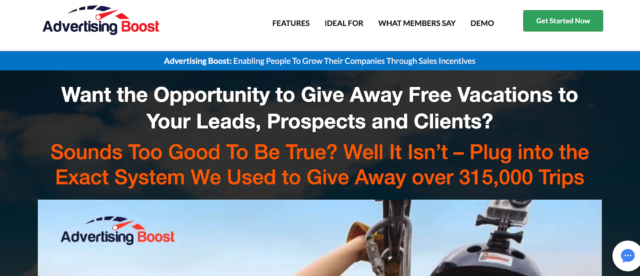 That's got to pretty expensive for your business! If you're a small company, giving free vacations is simply not an option.
BUT what if I tell you, small businesses are already doing this.
What's the catch or is there one?
First, let me commend you for doing your research here. This is the way to keep yourself from being scammed.
I'm not affiliated with Advertising Boost but I'll tell you they have an interesting program and I can't wait to tell you how they're going to help your business.
I'm not here to sell you on Advertising Boost.
My purpose here is to present my review findings to help you make a decision on whether Advertising Boost is right for your business.
Can this platform help your business? Let's find out…
Advertising Boost Short Review Summary
Product Name: Formerly Advertising Bait and now Advertising Boost
Founder: Andy Small (President) and Marco Torres (Co-founder)
Product Type: Free Vacation Incentive Program For Your Clients
Price: $49/month or $497/year
Best For: Any business who wants to increase their marketing program to get leads and sales.
Summary: Advertising Boost is legit. It's a free vacation incentive program for small businesses. They charge a small monthly fee (or yearly) to businesses so they can send their clients and leads to high-end vacation locations in the USA, Mexico, Spain, and Thailand. Affiliates are making some money thru paid ads in social media. 
My Rating:  65 out of 100
Is Advertising Boost Recommended? Small business owners = Yes, Affiliate Marketers = No

What Is Advertising Boost?
For years small organizations didn't have the powerful selling advantage of large corporations because they couldn't afford to pay the high costs of offering business promotions to their clients or prospects.
Activities like offering all paid high-end restaurants and hotel accommodations were never possible.
This is exactly what large sales and marketing organizations like Wells and Century 21 do to generate huge sales.
Advertising Boost is a monthly subscription paid program that helps small organizations like you and me.
Their site boasts about sending over 1 million clients on vacations.
The purpose of Advertising Boost is to help small businesses (including advertisers and entrepreneurs) get more leads and sales by giving away complimentary vacations to their clients and prospects.
By doing this, small businesses owners can increase their profits without increasing their advertising budget.
You as a small business owner can now offer 3 nights, 5 nights or even 7 nights to places like the US, Mexico, Spain, and Thailand.
A Wee Bit About The Owners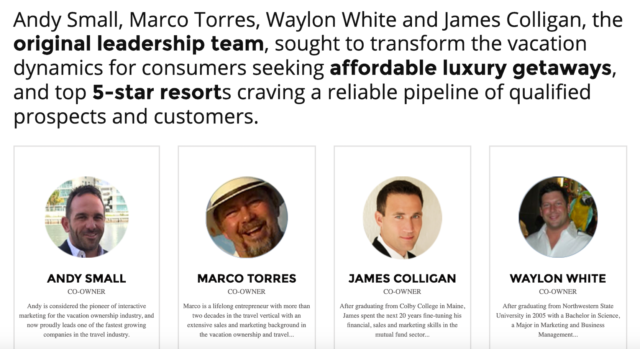 It was a bit challenging to find accurate information, so I really had to dig in and do my best to get you this.  
From what I see, is the owners are a group of people who have a lot of experience in the vacation industry.
Andy Small seems to be the President and founder of Advertising Boost launched in 2017.
He's also President of Digital Experts which was launched 2016 and is an online marketing company which supports Advertising Boost's site.
You might have already heard of BookVIP because they've been around for at least 10 years.
BookVIP was launched in 2009 with Andy as the President along with other co-founders, Marco Torres, Waylon White, and James Colligan.
BookVIP is an online travel booking company offering discounted promotional travel packages. They contract with high-end hotels and resorts around the world and partnered with Advertising Boost.
Andy has over 24 years in direct sales experience.
Inside The World of Advertising Boost

Members pay their monthly or yearly subscription fee to be able to offer complementary vacation incentives.
You can give away as many travel incentive certifications (value $500 to $1500) you like to places like the US, Spain, Mexico and Thailand.
They have a very informative FAQ that covers a lot of questions and answers their members and leads have asked over the years.
While the certificates are not intended for personal use, Advertising Boost suggests members try one of their free vacation certificates to see how well their program works.
Some of their unlimited digital travel incentives are in the form of:
Unlimited Complementary Vacations
Email
Printed certificates
Unlimited Restaurants and Entertainment
Canada and the United States
BookVIP Plus – Hotels
Free access to travel agents exclusive rates
The Extras Are:
Facebook Group
Advertising Boost has a private Facebook Group set up for all their members.
This is the best place to hang out and get more support. If you have ideas you can discuss them here with like-minded members. 
Affiliate Program
In addition to their incentive travel packages, Advertising Boost has ready-made sales funnels and videos that are specific to their industry to help you sell their memberships.
So, What's The Catch??
Aren't we always leery when we see anything 'free' or 'complementary', especially when it comes to vacation deals?
Here's the catch!
Each of your clients can only use one certificate in the US and one outside the US. There are expiration dates for certifications.
Of course, the client still pays for their own airfare.
There are citizen restrictions that apply to Canada, US, Mexico, Spain, and Thailand. If you're still interested in Advertising Boost's program, I  suggest reading their site's comprehensive FAQs.
Your clients are not subject to timeshare presentations. This is a real bonus!
What I like about Advertising Boost is they tell you everything up front like resort fees, etc. so there are no hidden fees.
According to Advertising Boost's website, your client only has to pay a very nominal fee like $20 to $50 a day rounded off. So, if you think there's a catch, well you just read it.
However, this should not be a surprise to your client because quite frankly this is pretty much standard hotel and resort practise worldwide.
Advertising Boost advises it's best to advise the recipient of the certificate of some fees that may apply depending on the resort so there are no surprises. 
How Advertising Boost Really Works
Here's a video by Advertising Boost you might be interested in watching..
It begins with you signing up to be a paid monthly or yearly member.
The good part is there is no contract to sign AND apparently, you can cancel anytime. 
Giving a free vacation to your client is just 4 easy steps:
Give a name for the industry you want… example, spa.
Select the vacation you want to offer.
Put the spa client's name in along with their email address.
Click the 'Generate Vacation Incentive button'.
Your client receives the email for redemption. Follows the instruction on how to redeem/activate the offer.
It's that simple!
I'm guessing by now you're thinking is this for real? How does Advertising Boost make this happen?
Well, read this… it's on their site…right in their FAQ. The question is "How are you able to offer these incentives?"

This is Advertising Boost's response.
 "We help fill empty rooms which the hotels, resorts turn into additional revenue from other areas of their property and future bookings. "
This is definitely a win-win situation for all parties involved.
Your small business makes sales and leads, your clients get a free vacation or a low-cost one and the hotel or resort fills the empty rooms and makes money.
Think of Advertising Boost as part of your business promotion strategy to help generate sales and leads.
BUT let's say you just want to promote Advertising Boost, well you can. You can do this by joining to become an affiliate of theirs. 
There's plenty of good training so you can learn to customize their landing pages and sales funnels to whatever industry your business is in.
In addition, they have over 500 video ads for free that you can use to promote their Advertising Boost membership.  Simply download and upload them.
Cost to Join Advertising Boost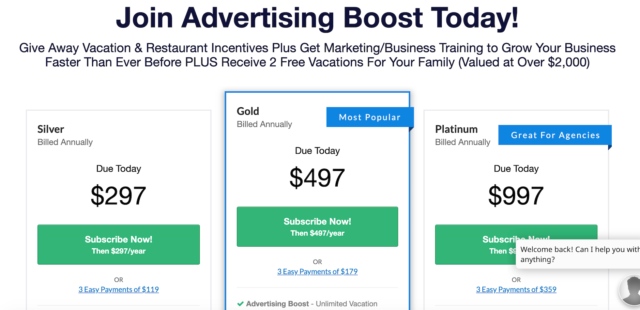 Advertising Boost has 3 plans to choose from, the Silver, the Gold Plan, and Platinum. 
Both the plans give you a FREE 14-day trial. I suggest trying their program for yourself by going on one of their free vacations. This way you can decide if it's worth your time and money investment.
Silver Plan ($49/month or $297 yearly)
Gold Plan ($497/year)
Platinum Best for Agencies ($997 yearly)
You can earn commissions in the Gold Plan whenever your client activates your complimentary vacation offer. They're not big commissions but they can add up.
Advertising Boost And BookVIP Affiliate Program
Advertising Boost has an affiliate program but it's thru BookVIP.
The commissions are 2-tier.
You earn 40% commission on your direct sales on people who you sign up and if they go yearly you get 40% on what they paid.
You earn 10% commissions on what your direct referrals earn giving you a total earning of 50%.
To keep you motivated in looking after your referrals and to bring more people into the program, you're given additional incentives.
For instance, if you bring in 200 referrals and they stay active, you make an extra $500/month for your 'dream' vehicle.
The catch, however, is the vehicle is leased and you'll want to use the extra $500 a month they give you to pay the monthly lease.
If you bring in 400 referrals and they stay active, you make an extra $1,000/month
They also give you their free 6 hours step by step bonus "Ultimate Facebook Secrets" to crush your affiliate business using Facebook ads.
BUT… I believe you will have a better relationship with people who want to join you if you build trust thru your own website.
==> CLICK HERE – LEARN HOW TO BUILD AN ONLINE BUSINESS FOR FREE
Who is Advertising Boost Best For?
Small businesses and sales managers who want to boost their leads and leverage sales can do very well on Advertising Boost's program.
However, for affiliate marketers, I don't feel you can make this a long-term passive income and you'll see my reasons below.
What I Don't Like About Advertising Boost
1. Not A Sustaining Income Potential For Affiliate Marketers
Let's do an example: Say you decide to pay the $49 a month option which will earn you 40% commission when you refer someone.
40% of $49 = $19.60
To break even on your investment of $49 for the first month, you'll need to refer 3 people and make a wee bit of profit of $9.80.
==> WANT TO LEARN HOW TO MAKE REAL MONEY FOR FREE-CLICK HERE
2. Paid Ads Can Be Costly For Affiliate Marketers
Advertising Boost teaches Facebook ads to generate traffic. While social media can generate free traffic, the problem is it takes to a while for your followers to warm up to you especially if you don't have a website. 
This is where paid ads come in because you can generate a lot of traffic quickly and you'll need a lot because they will still want to trust you.
Any type of paid advertising can be very expensive and you need to have a set budget in mind.
3. Might look like an MLM
Advertising Boost might look like an MLM (Multi-Level Marketing) business model because there are several travel MLMs around like:
Although Advertising Boost is not an MLM, I'm just saying some people might think it is especially if they've heard of any of the above MLMs.
What I Like About Advertising Boost

1. 14-Day Free Trial 100% Risk-Free
This is a great way to get inside their program and have a good look around to help you make an informative decision to join or not to join.
However, be aware: You have to still give them your credit card information.
2. Business Plan Makes Sense
Advertising Boost's business plan makes sense and everyone wins.
3. There Are Testimonials
Note: Testimonials can be made up so just do your due diligence. I don't see any evidence of foul play going on.
4. Live Chat 24/7
The moment you click into their site, there is a Live Chat representative ready to help and answer any questions you have.
5. Owners Are Real
You can see Andy and a couple of the other partners in LinkedIn.
Is Advertising Boost A Scam Or Is It Legit?

Advertising Boost is definitely not a scam and they have been around awhile. If they were a scam, they would not be still here.
Affiliate members are making money and small businesses are bringing in leads and making sales. It's a win-win for all parties involved.
Their membership fees are acceptable but I suggest you try the 14-day trial first and if you have time, try one of their complementary vacations. This will determine the real value of their program.
I also suggest reading their FAQ which is loaded with useful information.
A Better Solution – How We Make Money
What I think…
If you're serious and want to be a real online business entrepreneur and make long-term passive income then you need to establish trust and build your brand. To do that Affiliate Marketing is the best business model.
You also need to have your own website and get training online to learn how to do that. You also need to learn how to generate FREE TRAFFIC instead of having to pay hundreds, even thousands of dollars to pay for traffic.
I know you're already "pulling your hair" out after reading all this. BUT FEAR NOT!!
Did you know you can create your very own website in less than a minute? I'll show you where you can do this. No experience is required!
Having your own niche website means you can join as many affiliate programs you like.
Amazon has an excellent affiliate program and they have 562 million products (2018) you can promote.
==> CHECK CHERE – Learn Affiliate Marketing FOR FREE!
I hope you found my review helpful in making a decision to join with Advertising Boost or not.
Are you a member of Advertising Boost? Have you ever received a complimentary vacation? 
Do you have any questions or comments? You can put them in the Comment Box below.
Thanks for reading!
Monica