Things are not what it seems to be here. If you're looking for the best cash gifting opportunity, this is NOT the place. Easy1Up is really a SCAM in disguise.
First, let me commend you on doing your research. It's the only way to keep yourself from being scammed and find legitimate ways to make money online.
Let's get started…
The Easy1Up Short Review Summary
Product Name: Easy1Up – Totally Simple as Black and White
Founder: Peter Wolfing
Product Type: MLM (Multi-Level Marketing and Cash Gifting Pyramid Scheme
Price: $25, $100, $250, $500, $1,000 and Admin Fees
Best For: NO ONE. Best for the owner, Peter
Summary:
Easy 1Up is a SCAM in disguise! They claim to be in affiliate marketing. The site has no retail product or service to sell. The only way to make commissions is to recruit people into your downline. They give you a unique "affiliate link" to supposedly do that. Easy1Up doesn't even pay you because members will be paying you. Even their training is low-quality. Their compensation plan is multi-tiered.
My Rating: .5 out of 100
Is Easy1Up Recommended? NO! BEWARE – THIS IS A SCAM

What Is Easy1Up?
Easy 1Up is an educational training platform helping people start their own online business and learn how to make money online.
However, you're not going to want their system and I'll tell you why…
What happens is you're purchasing their training which enables you to only learn the Easy1Up System. In other words, you are learning how to "recruit" new people into the system.
In order to make money, your referrals must purchase the same training you bought.  From there, the cycle just continues.  But there's more you need to know…
Easy 1Up will claim they are doing affiliate marketing business and even in their Vertex course they say it's their "primary focus".

This is really disturbing to me and quite misleading. You might have already picked up on this.
The fact is Easy1Up's business model is NOT affiliate marketing but actually MLM (Multi-Level Marketing)  in an unscrupulous manner.
Who's Running The Show?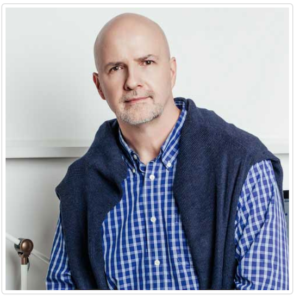 In their About page, the owner's name is identified as only Peter. With a bit of digging, I managed to find out his full name is Peter Wolfing.
Peter has been around in the internet world for some 18 years. Since then, he's been busy creating several scam sites:
Ultimate Cycler, 2014
Turbo Cycler
Infinity 100
Pay Me Forward
Business Toolbox
National Wealthy Center
What's interesting is, it seems the National Wealth Center is the only one to survive.
The thing with scam sites is they don't survive long and it's really only the owner who benefits and reaps the "rewards".
Peter uses his scam sites as holding companies in his Multiplex Systems company.
My advice is to stay clear of sites like Easy1Up and Peter.
Inside Easy1Up Products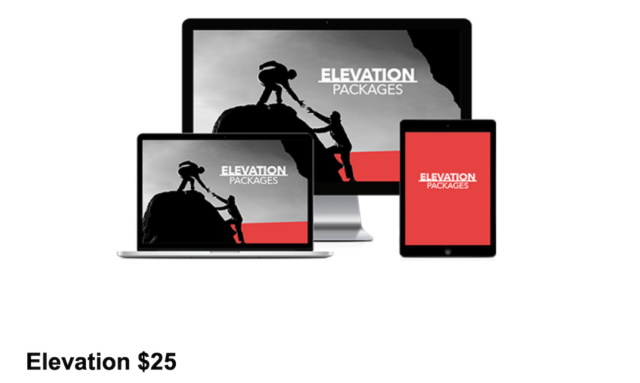 Inside Easy1Up, there are 5 levels of low-quality training in video format.
#1. Elevation Basic ($25 One-Time Fee + $5 Admin Fee)
This course teaches their basics of network marketing, how to generate leads thru social media, creation of capture pages, and setting up an email autoresponder.
In addition, it touches on writing review techniques, and how to pick your most profitable product which is their most expensive product.
#2. Elevation Elite ($100 One-Time Free + $10 Admin Fee)
This course focuses on teaching how to generate traffic thru your unique "affiliate link".
You'll learn how to do YouTube marketing, set up social media accounts, Solo Ads, use UDEMY and the actual process of using an email autoresponder.
#3. Vertex $250 (One-time Fee + $25 Admin Fee)
The Vertx is their advanced course that teaches how to get your online business started.
It focuses on teaching you how to have a positive mindset, how to give irresistible offers, build your email list, and establish a partnership with JV Zoo.
Easy1Up will spend a lot of time talking about their "affiliate marketing" concept which is really Multi-Level Marketing.
#4. Vertex Elite ($500 One-Time Fee + $50 Admin Fee)
There are 2 types of training here. You'll learn how to generate free traffic and drop shipping.
#5. Vertex Pro "Connect" ($1,000 One-Time Fee + $100 Admin Fee)
This course goes deeper into traffic generating methods like sales funnels, social media domination, Facebook Ads, free ads, and how to be an authoritative coach and blogger.
Is there a deal?
The deal is, if you purchase their higher level training, then the product levels below that are included in the price.
The catch is, if you want to upgrade then you must purchase the product levels that get you to the level you want to be at.

Support and Resources
I refuse to join and pay because they don't have a money-back guarantee but apparently they have other marketing tools.
They have 2 means of support inside Easy 1Up. It seems you can reach them thru Skype Monday –Friday 12 noon – 9 pm and thru their email.
Depending on where you live, this can be rather inconvenient and likely hold you back on your online business.
How You Make Money With Easy 1Up
Here's a video for you to watch. It gives a good explanation on how your commissions work…
Easy 1Up uses a system called Reverse 1 Up Compensation Plan.
You get paid on your first sale. When you make your second sale, that sale goes to the qualified member who is above you. Any other sales you make thereafter are yours to keep.
When your recruiters make their second sale, it goes to you.
The transfer of commissions is done between you and the people you recruited. This is why you receive your commissions so fast. The owner, Peter,  makes his commissions from the Administration Fees of each sale.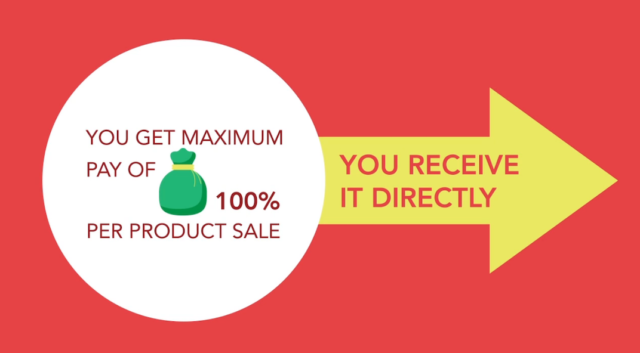 So what do you think? Is this for you?
Who is Easy 1Up For?
NO ONE!! It's only for Peter!
The Good Features of Easy 1Up
If you still want to pursue this, there are only 2 good things I can say about their system.
#1. Receive Commissions Fast
You'll get your money fast because the cash transfer takes place between you and the people you recruited.
#2. Keep 100% Commissions (Except for the second sale)
Sounds pretty good right?
The Ugly Side of Easy1Up
Here's a video worth watching by Ethan Vanderbuilt… 
Ethan has been doing reviews of scam sites for years. He's not respected by the owners and even some members of scam sites who are trying to make money because he exposes them for who they are.
I'll tell you, he is passionate about helping people not get scammed.
Here are the ugly truths…
#1. Not an Affiliate Marketing Business Platform.
Easy 1Up's system is clearly not affiliate marketing. It doesn't even come close to it.
The best definition of affiliate marketing comes from Pat Flynn…
"Quite simply, affiliate marketing is the process of earning a commission by promoting other people's (or company's) products. You find a product you like, promote it to others, and earn a piece of the profit for each sale that you make."
The problem with Easy1Up is they don't have a real retail product or service you can offer. That's why they have you recruiting people into down lines. It's the only way you'll make money.

#2. NO REFUND.
If you're unsatisfied with their system, Easy1Up is not going to give you any refund at all. All sales are final. That's it. Done! At least they do advise you to make sure you want to do this.
#3. Administration Fee.
The other issue is you have to pay an administration fee which the owner, Peter gets. This is how he makes his money.
#4. Pyramid Scheme.
Definition of Pyramid Scheme:  According to Wikipedia, a pyramid scheme is where members recruit people by a promise of payment when they bring others into the scheme instead of making a sale on the product.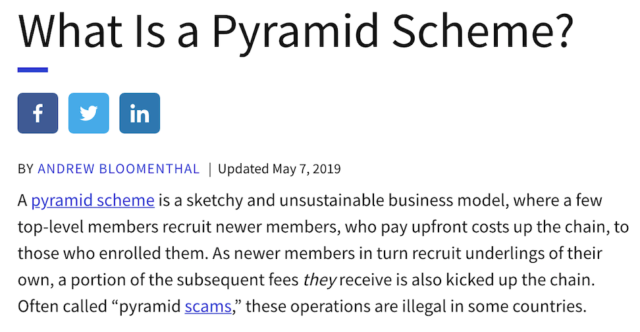 In the case of Easy1Up, members make direct payments to the person who sponsored them with the intention of receiving the benefit to take the same action.
Easy1Up's method is "gifting" meaning you are paying another member directly. Peter is not paying you your commissions. The people you recruited are paying you.
#5. The System Will Not Survive.
Because it's considered a pyramid scheme, people are not going to join so easily. This is why Easy1Up gives you their training of social media, YouTube, email marketing,  and paid ads to generate bigger traffic.
Your paid ads are going to be expensive and you need to test them. You'll be forever "chasing people" instead of having people come naturally to you.
Pyramid schemes are unsustainable, in other words, recruiting people becomes almost impossible. In many countries, this practice is considered illegal.
#6. Income Disclosure. No Claims!
Take a look at their Income Disclosure.
There is no statement that says anything about how much you can make.
#7. No FREE Trial
Most online programs have at least a 7-Day FREE Trial to give you an opportunity to go inside and get a glimpse of what the training, resources, tools, and support is like before taking your wallet out.
My Final Thoughts
CLEARLY, EASY1UP IS A SCAM 100%!!
You might be wondering why Easy1Up hasn't been shut down yet.
In reality, the training offered is very low-quality content. This is how Peter is able to cover his pyramid scheme of cash gifting.
Stay away from Peter's money making scam sites. The way you make money is from the benefit of the people you recruited who are also paying to make money, doing the same thing.
You're not making commissions from products sold because Easy1Up has no product or service. All you're doing is giving gifts to get gifts.
As far as Easy1Up's low-quality training, it's just a bonus.
How Real Affiliate Marketers Are Making Money
Most people, when they think of having an online business, will choose Affiliate Marketing as their #1 business model.
Why? Here are a FEW reasons:
You have no inventory to stock
You can build your own online business in whatever niche you want
You can do this at home or anywhere you like as long as you have internet and access to another computer
You're not chasing people
It's FREE to get started
The website you're on is relatively new and I made this thru Wealthy Affiliate's training.  I have another site that is generating in the 4-figure income that was started a couple of years ago. 
Wealthy Affiliate is and will always be my #1 Affiliate Marketing Training Platform because their training is proven and I am generating a good income.  We are a friendly community of over 1.4 million. ?
Want to See How We Are Making Money the right way?
Meet Eric… CLICK HERE to read his story: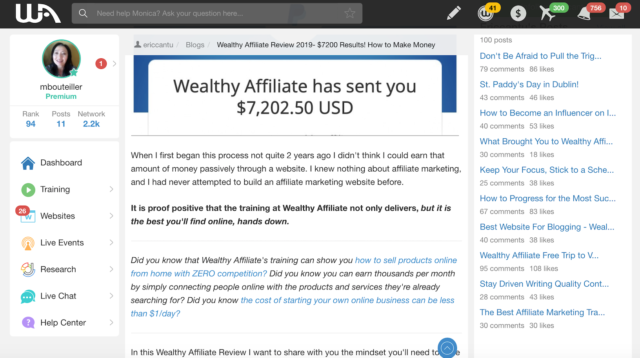 Meet RD40… CLICK HERE to read his story.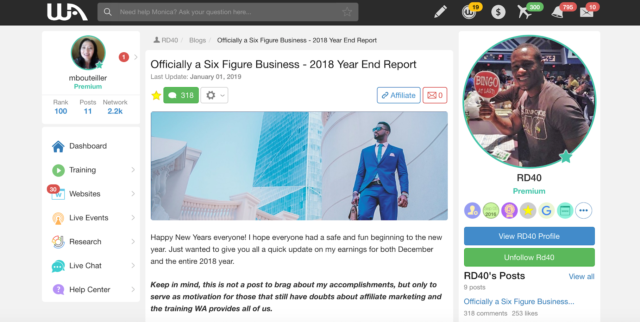 Check out my #1 Recommended Online Affiliate Marketing Training platform. It's FREE to Get Started and $49/month to go all the way AND Less than a $1 a day for the yearly plan.
I'll see you on the inside, welcome you, be your coach and mentor!
I hope my review of Easy1Up helped you to not get scammed.
If you have any questions or comments or have experiences with Easy1Up, it would be awesome to hear from you.
Thanks for reading,
Monica