Some members are claiming they are making big money with Legendary Marketer and getting 10X more on their results. The question is, are they a scam?
Is this something you SHOULD BE AWARE OF when looking for a training platform that teaches how to make money?
To start with, let me say you can definitely make money on this platform.
BUT what you need to look at is whether it's the right training platform to be in.
I first want to commend you for taking the time to do your research here. This is the best way to find legitimate ways to make money. 
I am also not a member of Legendary Marketer. My main purpose here is to give an honest review of them.
All right, let's get on with the review…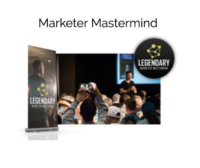 Product Name: Legendary Marketer (also known as duplicatedaves.com)
Founder: David Sharpe (CEO)
Type of Product: Internet and Affiliate Marketing Training Platform
Cost: FREE 15-Day Trial Membership Challenge, $30/month and lots of upsells totalling $30,000
Good For: The owner and for people who have the money to invest.
Overall Rating: 65 out of 100
Recommended: Not to beginners. Recommended if you have the money to invest.
Summary: Legendary Marketer is legit. It's an online affiliate marketing training platform focusing mainly on paid traffic. Their training platform has lots of expensive upsells. To make money you need to pay for their affiliate program by purchasing their training products and re-sell them.
No Risk and No Credit Card Information Requested.
What Is Legendary Marketer (LM) Version 3.0?
Founded by David Sharpe (CEO), Legendary Marketer is a high ticket affiliate program that pays larger commissions like $12k on one product.
LM's mission is to teach people how to start and build their own existing online business thru their top of the line digital courses and large live events.
They provide you with their highly skilled virtual coaches too.
David has been around a long time in the internet world and he's definitely a real person.

Have you heard of the multi-level marketing Empower Network? He was a co-founder of it and eventually left his position for health reasons.
Since then Empower Network fell into bankruptcy thru no fault of his. Thank goodness!
David also made online sales of well over $170 million dollars and had over 300,000 customers from all over the world.
This guy started 3 multi-million dollar online businesses so as you can see he really knows how to be successful.
You might even have heard of David thru his site duplicatedaves.com or endfinancialstressnow.com
By the way, both of those sites are only landing pages that take you right into Legendary Marketer's site. Isn't that clever?
So this is where Legendary Marketer comes in…
How Legendary Marketer (LM) Works
Here's one of their member's video…
David says he has proven sales funnel methods that helped him make his millions of dollars.
Here in LM, he teaches his sales marketing process and all you have to do is duplicate his online business to make money for yourself. That's why he's known as 'duplicate dave'.
In other words, whatever David tells you to do in his step-by-step training, well you just simply do it. That's it.
Not only that, he makes it so easy because everything is done for you like:
Ads (Facebook)
Sales letters
Videos of Dave
Sales Funnels
Email follow-ups
Closing the sale
Imagine that! 
All you do is follow David's training and in order to make money, you're promoting and re-selling his membership and the training products you've been learning from.
This is how you'll earn your commissions if you decide to become an affiliate for LM.

BUT during my review, I noticed something!
There is no doubt in my mind that LM has a very good training system.
BUT there really is a problem …
If you already have your own online business and want to learn to make it grow… they say you can. So I'm assuming you're marketing and promoting products that are not Legendary Marketers.
OR let's just say you want to start your own online business (they say you can on their platform) and promote other products that are also not Legendary Marketers.
The problem is, their training is all about promoting LM. Even the videos that you can use are about David and LM.
LM does say you only do 10% of the work, so that means as I mentioned earlier pretty much all the work is already done for you.
Oh sure, you're going to learn new skills, tools and resources.
But you're getting 'ready to go' sales funnels, ads, and sale letters that promote LM.
How is that going to help your existing online business that promotes something else?
How is that going to help your new online business if you want to be an affiliate for someone else?
The whole thing about LM's teaching platform is to learn David's proven sales techniques to 'recruit' other people to his platform. This is exactly what David's training platform is about.
The members have already accepted the fact they are going to be making their money by being an affiliate for LM.
They promote their products using David's tools and resources. When they refer people to the platform they earn LM's affiliate commissions.
This is how Legendary Marketer's (LM) platform works.
I don't believe LM is helping you build your existing online business.
Now that I mentioned LM's Affiliate Commissions, there's something else you need to know!
Another problem…
You see, inside LM, you're paying the big bucks on their training products (I'll discuss them below…) after all apparently, you only need to do 10% of the work.
I suppose you can say that because they have done 90% of the work for you and so you should be paying a lot of money to use their training.
Heck… they'll even close the deal for you and you get full commissions! 
So you see LM really does 90% of the work for you.
Your videos are already done for you too. They even have their people contact your customers for you, although I think you're better to control that yourself.
Anyway, all you do is drive traffic to your link so it creates leads for you
If you don't let LM look after your leads, you can set up your own autoresponder in SENDLANE SETUP account. It's free for the first month and 9.00 each month after.
You can sign-in for free on the SENDLANE or do the monthly Pro member account which is $30 a month ($360 for the year).
Now that you know how Legendary Marketer really works, let go over their memberships.
Legendary Marketer Memberships
There are 3 types of memberships here:
1. FREE 15-Day Trial Membership Challenge:
In this Challenge, there are 15 lessons each with its own video which runs for about 20 minutes.
At the end of each lesson, there are assigned tasks you need to complete.
About the end of the 4th lessons, you get a quiz.
At the end of the quiz, you're required to schedule an appointment with your coach. The information in the quiz is how your coach gets to know you.
To go forward, your coach needs to approve of you.
2. Pro Membership (Legendary Marketer's Club $30/month)
This is a monthly subscription and with it, you get a live weekly class for $30
a month.
In addition, you have access to the following:
Interviews with successful members
Training and resources on ways to start and grow your online business.
Virtual live monthly workshop
Once a month, they have a new class presented by LM's topic experts on ways to market, increase sales, and how to manage your online business.
3. Pro Affiliate Marketing ($30 a month)
To promote LM's training products in order to make affiliate commissions, there is a fee of $30 a month in addition to purchasing their training products.
If you want to make money as their affiliate, you're going to want the Legendary Marketer's Club AND this Pro Affiliate Marketing to hopefully bring real results.
What Are Legendary Marketer's Products?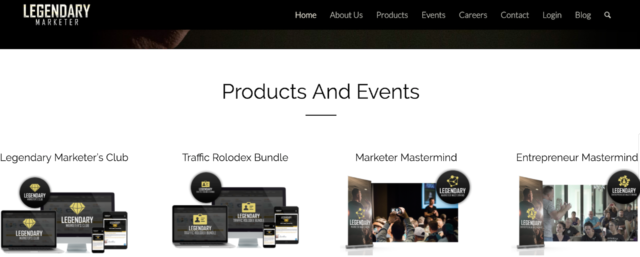 If you want to make money on LM's training platform, there are 7 training products you're advised to purchase.
Before we go any further, I suggest having a seat first because this is going to shock you!
How would you like to pay a whopping $30,247 USD including the Legendary Marketer's Club and their Pro membership?
This is the total cost of their 8 training products. You can purchase these one at a time… whew!
1) Traffic Rolodex Bundle ($247 one-time fee)
The Traffic Rolodex Bundle is made of 8 different courses.
Here, LM teaches ads like Adwords, social media ads for Facebook, Twitter, and Instagram.
You'll also learn to make compliant landing pages to get the most amount of leads possible thru all paid traffic methods.
By the way, get ready to dish out more money on your paid traffic for social media ads.
2) Affiliate Marketing Business Blueprint ($2,500 one-time fee)
Of course, the reason we're all here is to someday earn income while we sleep… 24/7. The dream we all have!
LM says their Blueprint can make your dreams come true.
In this blueprint, you'll learn what affiliate marketing is, how it works and the benefits of being an affiliate marketer.
You'll also learn to choose affiliate products and how to get set up
If you have your own product to promote, you will benefit from this Blueprint too.
3) Digital Products Business Blueprint ($2,500 one-time fee)
In this Digital Products Business Blueprint, you'll learn how to turn your passionate niche into digital offers from videos, written text, and audios.
4) Coaching and Consulting Business Blueprint ($2,500 one-time fee)
Do you want access to their coaches and consultants?
These knowledgeable people will teach you to find your passionate niche, learn to create your offer and present them in an enticing and professional manner.
Learn how to create maximum conversions and profits from this Blueprint.
5) Events and Masterminds Business Blueprint ($2,500 one-time fee)

This Blueprint, in my opinion, is really invaluable if you want to learn how to plan, host and make money from your own live events.
I don't know about you, but I still get the jitters when I host an event but this Blueprint can really change your mindset.
This is a wonderful opportunity to learn how to become a competent facilitator. Your guests and customers need to trust you to keep coming back for more information.
LM's Blueprint gives information on how to hire professional people to host your event.
6) Legendary Marketer Mastermind (3-day event $8,000 one-time fee)
For a 3 day event somewhere in the US, you can dig deep into the minds of the world's top successful online marketers.
These real masterminds focus on your membership and on David's proven sales funnel so you're going to learn how to generate traffic and get real conversions.
This event is also an opportunity to get energized and get more confident on your journey to LM success.
7) Legendary Entrepreneur Mastermind (3-day event $12,000 one-time fee)

Finally…
So this is another live in-person mastermind for a 3-day event somewhere in the US.
The topics focus on your personal development like health, wealth, and wisdom hacks
You get strategies on your business performance and growth tips
In my opinion, all the product prices are way too high and ridiculous, especially this last one.
There are other alternatives regarding LM's Entrepreneur Mastermind at a substantially less cost like…
Tony Robbins, I'm sure many of you have heard of him. 
Tony is one of the greatest masterminds in the world when it comes to life and business strategies.
His 'Unleash The Power Within' 3 ½ day event costs around $1.000 for an event in the US.
If you can't make it, you can also find it here on YouTube and even get it on an audiobook. It plays for 6 hours and 20 minutes.
It's quite long but you can watch it anytime you want. I just wanted to make a point that you don't need to pay $12,000 that's going to give you the same results as LM's.
If you want to earn MORE commissions with Legendary Marketer, you need to pay MORE for each training product! …
A total of OVER $30,000… AND MORE!! Yikes…
==> CLICK HERE –  Learn How To Have Your Own Successful Business Online
Join for FREE as a Starter Member and stay as long as you want!
Who is Legendary Marketer Best For?
This training platform is for anyone BUT you have to invest a lot of money first if you want to be successful in promoting their affiliate program.
My feeling is this platform is BEST for the Owner. He's making a lot of money from his high-ticket training products.
LM is also a great hangout place for affiliate marketers who want to learn more about paid traffic to help get more leads
If you are looking for a better way to learn how to make money, check out my FREE ONLINE AFFILIATE MARKETING TRAINING. 
What I Like About Legendary Marketer


1. 30 Day Money Back Guarantee. No Questions Asked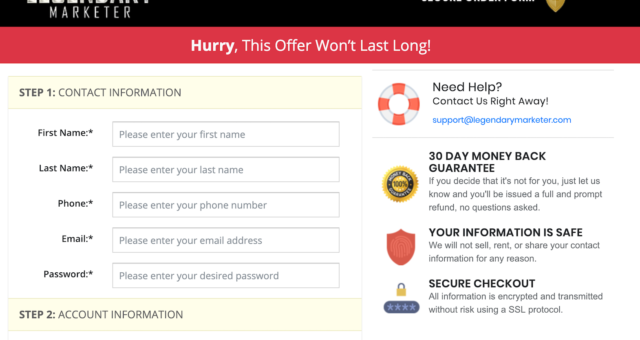 Unfortunately, this only applies to the Legendary Marketers Club of $30 a month.
If you want your money back, make sure to do this within their 30 days cancellation rule. I think 30 days is plenty of time to try their online training and decide if this is what you want.
2. 15-Day Free Trial.

This is new to their latest version 3.0
This is a good way to get a glimpse of what LM's training platform and processes are like. Go ahead, try it out, do the tasks and talk to your coach.
3. Great Coaching Every Step of The Way, Easy Steps

Your coach is available to help, answer questions and mentor you along your journey.
BUT, just be aware, the real purpose of the coach is to get you to purchase more training products and become an LM affiliate member.
4. Affiliate Commissions Are High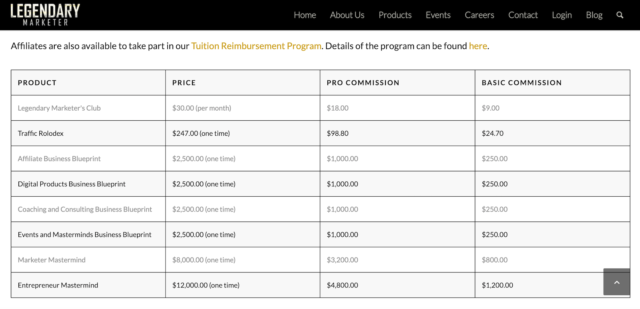 The higher the training product costs, the bigger your commission is when you make a sale,
5. $30/Month Legendary Marketer's Club Is Worth More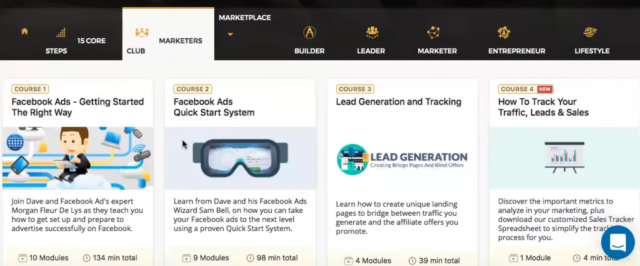 It's loaded with information for beginners on Facebook.
You'll learn how to get leads and track your traffic that is coming from YouTube Ads, Fan Page, and Instagram.
There are 15 lessons giving a total of 219 minutes, all step by step.
6. Not MLM (Multi-Level Marketing)

I have had some people ask if Legendary Marketer is an MLM and the answer is no. They are definitely not an MLM. They're an online affiliate marketing training platform.
What I Don't Like About Legendary Marketer
1. Insanely Expensive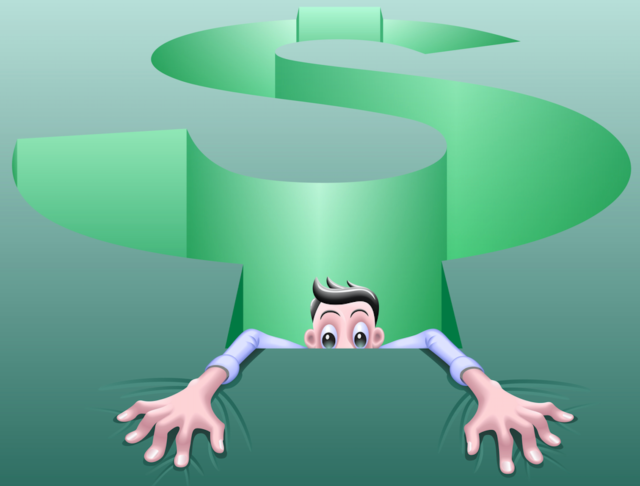 I'm assuming you're here on LM's training platform to learn how to make money online and that you probably don't have a lot of money to invest.
This really annoys me to see such outrageous prices. There's no need for this and I see a lot of sites do this.
If I was to pay this much, I would be expecting a GUARANTEE of some sort that I'm going to make $ but of course, they're not going to give you this.
A good training platform doesn't mean you have to spend a lot of money… not like this and nor does making a good chunk of money mean you're on a good platform.
Earlier, I mentioned you can make money, BUT the problem is if you're new to internet marketing you might lose a lot of money.
In order to make money in this type of platform, you need to be purchasing their high-end upsells to promote them and make high commissions as their affiliate.
Having said all this, if you're a seasoned internet marketer, you can do well here if you have the money to invest.
2. Beware Of More Costs
There really isn't a lot of teaching on how to get FREE traffic on Legendary Marketer's platform. Oh sure, you'll get free traffic from social media and YouTube.
LM's real teaching on how to generate traffic and leads is 100% based on paid traffic.
For your email marketing, for example, you'll have to pay for an autoresponder like Aweber or Sendlane. This could potentially cost you a few hundred or thousands of dollars.
Legendary Marketer's training platform is similar to many other sites in that it's all about getting fast traffic to your site so you can make money faster.
Their system works but at cost is it going to be for you and will you at least break even on your investment?
3. Their Goal is To Get You Promoting Them
Even though you can get training to promote your own affiliate products, it's primarily focused on getting you to be an affiliate for them.
The place I continue to learn new online skills is with Wealthy Affiliate and they're not like Legendary Marketer.
Wealthy Affiliate gives you the choice of your passionate niche and teaches how to promote your niche products from relevant affiliate programs.
They even teach you how to find your passionate niche in their FREE Starter Member training. Their training platform is about 85% on how to generate FREE SEO (Search Engine Optimization) traffic.
The balance is learning about paid ads and how it works and how to do it properly.
4. Low-Income Disclosure
According to Legendary Marketer's Income Disclosure, a person's annual gross income is forecasted around $500 – $2,000.
Even though they say they do 90% of the work for you, hard work is still required.
It's important to follow all the steps and do everything they say to do.
Be mindful that your coach will say you can make lots of money and that their teaching methods will show how quickly you can do this.
Should you choose to do their training, my advice is to take full advantage of the free trial and on their Legendary Marketer Club ($30 a month). Remember you can get your money back in 30 days if it doesn't work for you.
5. They Don't Teach You How To Work For Yourself

Even though this platform is not a pyramid scheme, it feels like it is.
The bulk of their training and the resources Legendary Marketer gives you are focused on promoting them.
This is certainly not the only way to make money online. In fact, you can promote products from Amazon, Walmart, Target and many other ways without investing a lot of money.
Is Legendary Marketer A Scam Or Is It Legit?
There are always complaints and it's difficult to please everyone.
Legendary Marketer is not a scam and members are definitely making some money.
Just be aware of how much their training products are going to cost you in order to make the big bucks.
It's up to you now to decide if Legendary Marketer is right for you.
Can you really get 10x more results? Sure, if you started from $0 and have the money to invest. 
A Better Way – My #1 Recommendation
By now, you might have already guessed I'm a member of an online affiliate marketing training platform called Wealthy Affiliate.
You might have heard of them.
Wealthy Affiliate happens to be my #1 Recommended method to learn how to make money online.
Yes, I'm biased and I'll give you some reasons why I am …
#1. FREE STARTER MEMBERSHIP FOR AS LONG AS YOU WANT, no credit card information asked to join the platform.
#2. Learn about online affiliate marketing the proper way for any of your passionate niche(s) and hook up with any affiliate program you want.
#3. 2 FREE WEBSITES.
#4. No ridiculous expensive upsells. In fact, Wealthy Affiliate has NO UPSELLS.
There is just the FREE Starter Membership and the Premium Membership which is $49 a month or better yet is their yearly at $359 (less than a $1 a day) and this has not changed in years.
#5. You don't need to be a computer guru. Anyone can learn to have their own passionate online business.
#6. Support is 24/7.
#7. WA does have a lucrative affiliate program BUT it is NOT the main focus of their business.
#8. I will be your Coach and I promise you I will not push you into becoming a paid Premium Member.
#9. This requires HARD WORK! Ask any successful entrepreneurs and they will tell you they put their blood and sweat into their business. They will say they made sacrifices and that rewards are reaped because of their efforts.
Hard work is a BENEFIT!
(Check out my 'FREE online guide for beginners' – Coming SOON!)
I hope I was able to help you make a good decision. 
Have you had any experiences with Legendary Marketer, if so I would like to hear from you?
If you have any questions or comments please put them in the Comment Box below and I will get back you.
Thanks for reading!
Monica