IS MARY KAY the "PINK PYRAMID SCHEME" like what some people say they are? Do they have too much power over women? There seems to be a shocking revelation going on and there are some things YOU NEED TO KNOW. This is important if you're thinking of joining.
Mary Kay Cosmetics claims "your wildest dreams come true" when you take the offer of their business opportunity. They say you can set your own hours, work part-time or full-time and earn their "amazing rewards".
During my research, I discovered they made a whopping wholesale volume of $3.25 billion in 2018. Quite impressive right? So I'm sure you'll want to know if they're a pyramid scheme or not and how to make money with Mary Kay.
First, let me commend you for doing your research here. It's the only way to prevent yourself from being scammed.
Just so you know, I am not associated with Mary Kay Cosmetics. I do tons of researching on products, write reviews on them, and offer recommendations.
I did MLM 3 times, one was in health products, the second was candles, and the 3rd time was also in skincare products  (not Mary Kay) and so I am quite familiar with how MLM (Multi-Level Marketing) works.
Let's begin…
Mary Kay Cosmetics Review Summary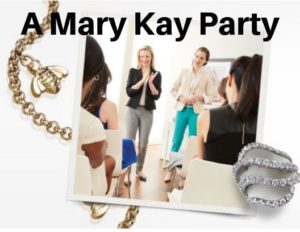 Product Name: Mary Kay Cosmetics, Inc.
Founder: Mary Kay Ash and son Richard Rogers
Product Type: MLM Company With Skin Care and Beauty Products
Price: Starter Kit $100 + Shipping and Tax, $30 Personal Website for 1st year, $60 a year thereafter, $225 product purchase every 3 months
Best For: People who are experienced MLMs and enjoy socializing
Summary: Mary Kay is a legitimate MLM company. Even though it's been around for many years, I don't recommend them. They have too many competitors. There are complaints by women who ended up with too much inventory. Were they pressured? You'll find out in the review. People are not making very much money as an independent beauty consultant and I'll explain why below.
My Rating: 45%
Is Mary Kay Cosmetics Recommended? No

What Is Mary Kay?
Mary Kay is a family-owned company that uses MLM to sell their skincare and beauty products. It is headquartered in Addison, Texas, USA.
They refer to their business type as doing direct selling, it's the same thing as MLM.
Founded on September 13, 1963, by Mary Kay Ash and her son Richard Rogers, they started the company as Beauty by Mary Kay with only $5,000. Over the years, Mary received recognition awards for her contributions for being so influential to women all over the world.
I think you would agree with me, Mary is the grandmother of MLM.  Her company has been in business for over 55 years.
The other oldest MLM company is Amway, which is 60 years old is definitely the grandfather.
Mary Kay over the years and even after her death in 2001, her entrepreneurial mindset still empowers women by offering them a business opportunity.
Her son Richard Rogers is the Executive Chairman for Mary Kay Inc. and continues her legacy.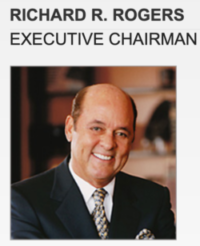 Today, Mary Kay is located in 40 countries with millions of independent beauty consultants. The company still continues to manufacture its products and has grown into a multibillion-dollar business.
Inside Mary Kay– The Products

Mary Kay's success is based on her passion for the belief of the "power of skincare" that could change women's skin to help build their self-confidence.
This is why they have 1300 patents for innovations on their products and technologies in cosmetics and skincare.
With over 300 products Mary Kay's main products range from:
Skincare
Makeup
Fragrances
Men's products
Some of their brand products are:
1) TimeWise ($25 – $318 for a set)
TimeWise is Mary Kay's anti-ageing products and facial skin repairs like cellulose mask, cleanser, night treatment crème, eye renewal crème, facial peel, and skin enhancers.
It also includes 30 different shades of foundation.
2) Mary Kay Chromafusion ($8 – $68 for a collection)
This is a collection of Mary Kay's eye shadows, blush, highlighter, and contours
3) Women's Fragrances ($32 – $50)
There are 8 different fragrances and you can get samples from your Independent Consultant.
4) Men's Products
Fragrances ($36 – $50) – 6 different fragrances
Skin Care ($14 – $81) – 6 products on skin care, facial, after-shave foam, and gel
Do Mary Kay Products Really Work?
During my researching, I always like to find out what the users say about the products. This involves looking up BBB, Consumer Affairs, Yelp, Glassdoor and so on.
So Mary Kay has been in business for over 55 years and you would think their products would have excellent user experiences. Right?
I checked BBB and they actually have an excellent rating of A+. The complaints are mostly on their services and support, and payments been taken out without approval apparently (not good).

Nothing really on the user experiences on the products.
Consumer Affairs, on the other hand, shows shocking reviews on Mary Kay products and they only have 2 stars out of 5 for an overall satisfaction rating.



From the images, you can see the dates of the complaints are quite recent. It seems a lot of Mary Kay's original formulas worked very well and were quite popular, however, once those products were discontinued it was replaced with new formulas.
Most of the complaints are on Mary Kay's TimeWise like the 4-in-1 Cleanser and the moisturizer night cream. Other formulas on serums and foundations were changed too.
Clients were experiencing severe skin irritation and dryness on their face as a result of using them.
There were a few 5-star ratings from "clients" saying how much they enjoy using the new products.

Mary Kay has a lot of products for sensitive skin and it's supposed to be excellent for women of all skin types. The company has top-notch scientists and dermatologists. They say they invest in "multitude of tests".
Let's face it, everyone's skin behaves differently to products because of chemicals used and I can only say that Mary Kay has been in business a long time and all they focus on is making your skin feel better.
Certainly, they can't please everyone, and it could be possible some independent beauty consultants wrote good reviews in hopes of making sales.
The negatives reviews could be written by ex-consultants who just wanted to tarnish Mary Kay products.
There is no way to prove any of the reviews.
Having said the above, I recently experienced severe skin irritations (not from Mary Kay products) after using a top-notch skin cleanser and anti-ageing products. My face was peeling, itchy, and extremely dry. It took about 3 weeks to recover from that.
So if you already know you have sensitive skin, you might want to at least test them first.
How To Make Money With Mary Kay
Avon works the same way…you purchase Mary Kay products at half the retail price and sell them at retail prices to anyone interested.
Typical with all MLM companies, there are 2 ways to make money with Mary Kay:
Sell products at retail prices and earn retail commissions as much as 50%.
Recruit people and when they sell products or purchase products you make a certain percentage of commissions. In other words, the more people you recruit for your team, the more money you can make.
The way Mary Kay tells you to recruit people is by:
Parties
Word of mouth
Marketing thru social media
How To Get Started With Mary Kay Business Opportunity
There are 3 steps to follow when getting started with the Mary Kay business opportunity:
Step 1 –  Connect with a Mary Kay sponsor.
Step 2 – Fill out the company's Independent Beauty Consultant Application.
Step 3 – Purchase your Starter Kit for $100 (plus shipping and tax).

In the kit bag, you get basically everything you need to do 30 facials:
Foundation
Cleanser
Moisturizer
Samplers
Brochures
Training tools with sales tips
Now that you have your kit, you can host a party and sell products at retail prices.
Mary Kay's Compensation Plan
I'm sure you've been anxious to see Mary Kay's compensation plan but there's a problem, you can't find it anywhere on their site.
Why they would not show it on their official site raises a red flag for me.
Would you join if you can't see the compensation plan without looking at it first? Would you pay $100 for your Starter Kit not understanding how the plan works?
I managed to find one dated 2014 from another site, apparently, you have to be an active independent consultant of Mary Kay first, which seems rather odd. If you would like to read it, CLICK HERE 
A warning! Mary Kay's Compensation Plan is extremely complicated. Here is a list of levels if you're serious on getting to the top:
Independent Beauty Consultant
Senior Consultant
Start Recruiter
Team Leader
Future Sales Director
Sales Director in Qualification (DIQ)
Sales Director
Senior Sales Director
Future Executive Senior
Executive Senior Director
Elite Executive Senior
National Sales Director Qualification
National Sales Director
Senior National Sales Director
Executive National Sales Director
Apparently, the Compensation Plan changes frequently… so you need to contact the company for an updated version. I don't why they can't just send you an email for that.
There are 3 streams of income:
Retail Sales – earn up to 50% as I mentioned earlier.
Sales based on your Team Orders. Start at 4% commission and it increases as you go up in rank.
Build your Team and earn bonuses and rewards starting at $50 and it goes up as your team grows.
Here's a great video to watch if you want more information…"Mary Kay Consultant pay vs Director pay"
Unlike Avon, in order for you to earn commissions and bonuses with Mary Kay, there are certain criteria that must be met:
You must be active for that particular month and for 2 months after. You must also have at least 1 active recruit for that particular month.
You must purchase products that total to $225 at a discounted wholesale price every 3 months.

What I Like About Mary Kay
1. In Business a Long Time.
Mary Kay Cosmetics has been in business for over 55 years. Mary herself has earned numerous recognitions for empowering women. 
2. Career Car Program Incentives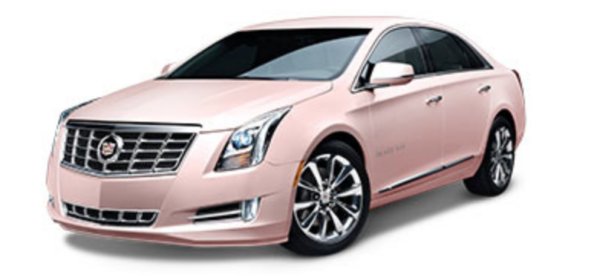 This is a great way motivation to work harder. Have you ever seen a pink Cadillac in your part of town/city?
It's quite impressive and when people see you driving around in that, they start to believe they can do what you do and before you know it, you have more people interested in your business opportunity. But first, you have to earn it.
3. 90% Buyback Guarantee (1 Year).
If you decide you want out, the company will buy back 90% of your initial inventory. You have 1 year to do this.
However, once you take that option, you cannot be a Mary Kay beauty consultant again ever.
4. Satisfaction Guarantee

If you are a consultant or consumer, the product(s) you purchased from an authorized Mary Kay consultant is not satisfactory, they will either replace it, exchange it for free or refund the full retail price.
What I Don't Like About Mary Kay
1.Competition
The marketplace for Mary Kay products and the ability to recruit people is already saturated. You can purchase the products on Amazon and eBay and there are millions of Mary Kay Beauty Consultants all over the world.
This image is from Amazon…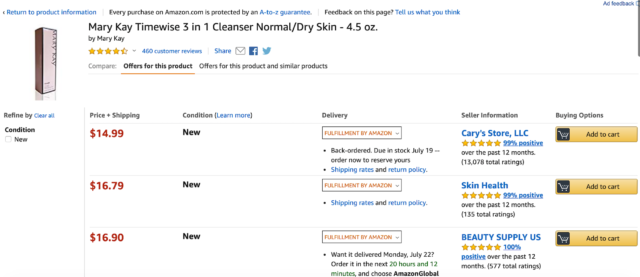 I live in a very small town and there are already 2 Mary Kay consultants and 1 Avon consultant. If you go into the city there are lots of Mary Kay and Avon consultants. Your chances of running into more are highly likely don't you think?
In the city which is about a 15-minute drive, I counted at least 8 Mary Kay beauty consultants.
2. Low Income Potential
In addition to the Compensation Plan, another piece of information missing from Mary Kay's U.S.A. official site is the Income Disclosure Statement showing consultants earnings.
You definitely want to know your income potential before you signup don't you?
I found this Canadian website, it talks about Consultants earnings.

Let me break it down for you. In 2018, there were 29,500 independent beauty consultants (IBC).
From that…
#1. There were 3,701 active members for at least 1 year who earned commissions. Out of the 3,701 active members, there were 47.1% of them who earned commissions over $100 CDN. This comes to 1,743 members who earned over $100 CDN in commissions (3,701 x 47.1%)
#2. Out of those, there were 447 members who were Sales Directors and 50% of them earned commissions in that year of $20,378 to over $100,000. This comes to 224 members out of 447 Sales Directors who fell into that range of money.
#3. There were 16 members who were National Sales Directors and 56.3% of them earned over $100,00 during the year.
There were only 9 out of the 16 National Sales Directors who made over $100,000 CDN. (16 x 56.3%)
Out of a total of 29,500 members, there were approximately 1,976 members who earned money in 2018 using Mary Kay's business opportunity.
This means there were around 27,524 Mary Kay beauty consultants in Canada who were earning $0!
However, according to its Earnings Representation, it seems most of the beauty consultants were making money selling products and so it's not just all about making commissions. Even then, if you're just selling products, you're still not making much money.
Who's making the money?  Mary Kay made $3.25 billion USD in 2018 according to Wikipedia.
3. Possible Build Up of Excess Inventory
While Mary Kay will tell you "purchasing inventory is an individual decision – and it's certainly not a requirement", they will also say that as you think about this decision, they want you to know that Mary Kay herself "believed maintaining an appropriate amount of inventory was beneficial". 
The idea behind that was apparently to accommodate the consumer's needs.

Quite frankly, when I order Rodan + Fields products in the morning from my friend who's an independent consultant, it's delivered the next day right to my door.
The build-up of Mary Kay product inventory will likely happen if you're not able to sell all your products. If you want to be an active beauty consultant and want to earn commissions and bonuses, you need to spend $225 of products every 3 months. What happens if you don't sell them all?
You're going to need storage space and if you don't sell all your inventory on a timely basis, well, you could be losing money. Your profit will diminish.
Avon is different, there is no quota of purchasing products.
Is Mary Kay a Pyramid Scheme?
Mary Kay Cosmetics, Inc. is not a pyramid scheme. The company has been around over 55 years. If it was, I assure you, the FTC (Federal Trade Commission) would have shut them down years ago.
Having said that, I do not recommend them.
For one thing, there is way too much competition. Nu Skin, Forever Living, Rodan + Fields, Isagenix, and Jeunesse to name a few are among the top-rated MLM companies for skincare products. Skincare is a cut-throat business. Oh and don't forget a lot of MLM products are also sold on places like Amazon and eBay.
Second, I mentioned the low-income potential for consultants who were striving to earn commissions and bonuses and I showed you that. Even if they were focusing on selling products, their retail earnings would not be a lot.
The reviews on Consumer Affairs regarding the users' experiences is definitely something you want to follow up on. You might end up with returns and this will affect your profit.
Third, the possible build-up of inventory is very likely to happen because you need to purchase products every 3 months if you want to earn your commissions and bonuses.
You might want to take a look at Mary Kay's Inventory Worksheet. I don't know about you, but I feel like the company expects you to have inventory…
Ultimately, it's up to you to decide if you want to be a beauty consultant with Mary Kay.
A Better Way – How We Make Money Online
By now, you probably know I favour affiliate marketing and it's my #1 recommendation. I'm also a member of Wealthy Affiliate and it's my #1 online affiliate marketing training platform
Why? If you're absolutely serious about making money online, it's important to first learn how to do that. Wealthy Affiliate teaches people how to make money using the affiliate marketing business model.
It's a community of over 1.4 million friendly people who have either no internet or affiliate marketing experience to the very skilled and successful online entrepreneurs.
Some of the benefits of Affiliate Marketing are:
Promote any product(s) you like
No recruiting
People come to you
FREE to get started ($0 risk and no credit card asked)
No inventory
Get 2 FREE websites
No skills required
Work anywhere as long as there is internet and access to a computer
Be your own boss
WARNING! Affiliate marketing is NOT a shiny button. You will have to work very hard. You won't make money right away. In fact, it might take 6 months, a year, maybe even 2 years before you're able to earn substantial passive income but this all depends on how hard you're willing to work.
Successful entrepreneurs whether they have a local or online business will always tell you they work very hard and make lots of sacrifices along their road to success.
With Wealthy Affiliate, we all learn, earn, and work very hard in our own online business helping people and provide solutions to them by promoting relevant products/services. We learn how to create our website (ain't scary at all) in a matter of minutes and continue to build and grow our site(s).
Want some success stories?
Meet RD40… CLICK HERE to read his success story.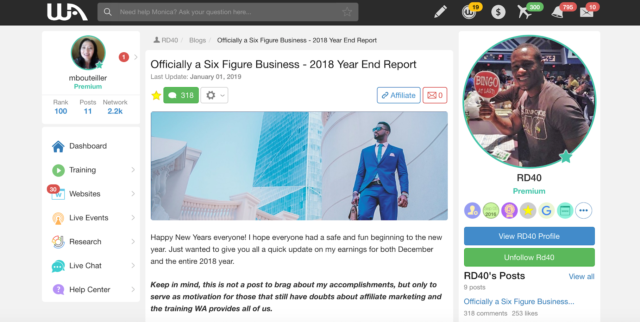 Meet Brok… CLICK HERE to read his success story.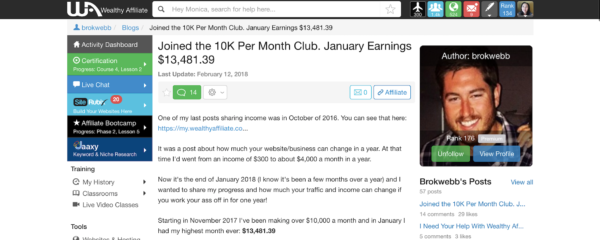 Well, what do you think? Are you ready to try affiliate marketing?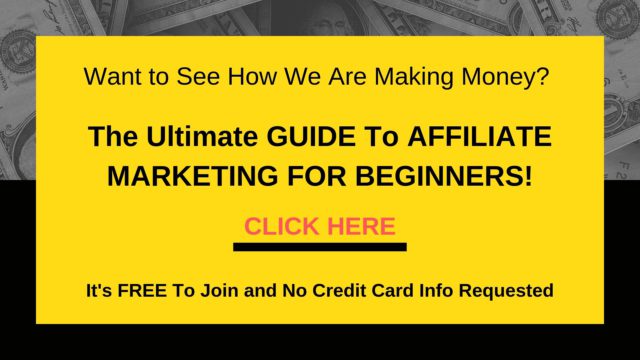 Hey Folks, thanks for reading and I hope I was able to give you helpful information on Mary Kay Cosmetics, Inc.
If you have any questions or comments, it would be awesome to hear from you. Are you currently a beauty consultant or ex-consultant? I would like to hear from you.
Monica