Are you trying to make some money or want to lose some weight? Either way, you're not seeing results. Did you know you might be able to do both thru Herbalife? Is it an MLM? Read the pros and cons in this review. Find out if they have a real business opportunity and if it works.
If you can get 2 birds with 1 stone, why not?
You might have already heard of Herbalife thru an invite from a friend or family member. Some people will say they're like a household name while others vehemently rebuke it.
Before I start with the review, let me first commend you for taking the time to do your research here. It's the only way to keep yourself from being scammed and find legitimate ways to make money online.
Just so you know, I am not an independent distributor of Herbalife. I have tried some of their protein shakes from a family member but that's it.
In that regards, I have had some user experiences on their protein powder but discontinued using them due to better prices and larger quantity from a brand company online. 
The purpose of this review is to determine if Herbalife is:
A good business opportunity
If the products really work
I do lots of researches on products and write reviews so if you're good with that, let's get on with my findings…
Herbalife Review Summary
Product Name: Herbalife
Founder:  1980 by Mark Hughes
Product Type: MLM company selling health and wellness products
Price: Initial Starter Pack for $94.10 or Super Starter Pack for $124.10
Best For: People who are into health and wellness and enjoy selling face to face, and doing presentations
Summary: I don't recommend Herbalife. The company was sued by the Federal Trade Commission because a lot of their independent distributors lost money. You'd think lessons would be learned but distributors are still being pushed into recruiting more people thru the company's events and seminars. Also, many distributors are not making a lot of money. Herbalife and the distributors at the top of the pyramid are the ones who win.
My Rating: 20 out of 100
Is Herbalife Recommended? No

What Is Herbalife?
This video will tell you a bit about Herbalife…
Herbalife is a publicly-traded MLM (Multi-Level Marketing) company founded in February 1980 by Mark Hughes and its head office is located at Los Angeles, California.
The company develops and sell nutritional products that manage people's lifestyles.
Interestingly, Mark started the company recognition by selling his original Herbalife weight loss products from the trunk of his vehicle.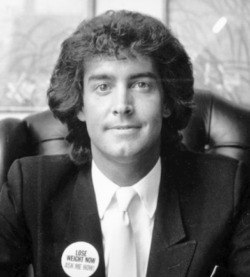 After undergoing some major challenges which I'll describe soon, Herbalife is now in 94 countries worldwide with approximately 4.5 million members. As of December 31, 2018, it reported net sales of $4.5 billion.
The company does 2 things:
Sells nutritional products
Offers a business opportunity using the MLM model to people who want to earn income part-time or full-time
Mark's goal was to change people's lives by making them healthier with his nutritional and fitness products. He passed away in 2000 at the age of 44 and Michael O. Johnson is currently the Chief Executive Officer.
Inside Herbalife – The Products
Herbalife's purpose is to help people all over the world live a healthier and happier life. They do this thru their nutritional products which are manufactured in their own facilities and is science-backed.
Herbalife focuses on 4 types of exclusive products:
Healthy weight management control
Specialized nutrition
Energy and fitness
Skin and health care
Healthy Weight (3-Day Trial Pack $12.20 – $233.90 Ultimate Program)

These are Weight Management Solutions for people who are not seeing weight loss results and want to get rid of undesirable pounds. The products are meal replacements in the form of shakes and dietary supplements.
Healthy meal shakes, enhancers, and snacks
Specialized Nutrition ($12.75 – $118.40)

No matter what age you're at, balanced and targeted nutrition is vital to stay healthy. Herbalife has products to keep your heart healthy, ageing healthy, digestive, and immune system healthy, and to control stress level. 
CoQ10, products for men and women, collagen, joint support, fibre, probiotics, sleep now and more
Energy and Fitness ($18.85 – $87.10)

If you're the sporty athletic person your body needs nutrition for best performance and faster recovery.
Some of the products are:
Herbalife 24 products for training and recovery, fitness drinks, tea, protein powders, raw Guarana tablets
Skin and Health Care ($7.50 – $282.55)

To keep your skin looking younger and healthier hair it also needs certain nutrition. You might want to check out the following products:
Cleanser, moisturizer, acne kit, collagen booster, skin type programs, serums, toner, facial mask and more
Herbalife's site will say their "products are available exclusively to and through dedicated Herbalife Nutrition distributors…" meaning you can only purchase the products thru the company's independent distributors.

Do The Herbalife Products Really Work?
Herbalife puts a lot of investment into their research and development on their nutritional products. They test their products for quality and integrity.
So I did some research on Consumer Affairs and was quite impressed by some of the reviews I read. The company has a rating of 3 out of 5 which is above average.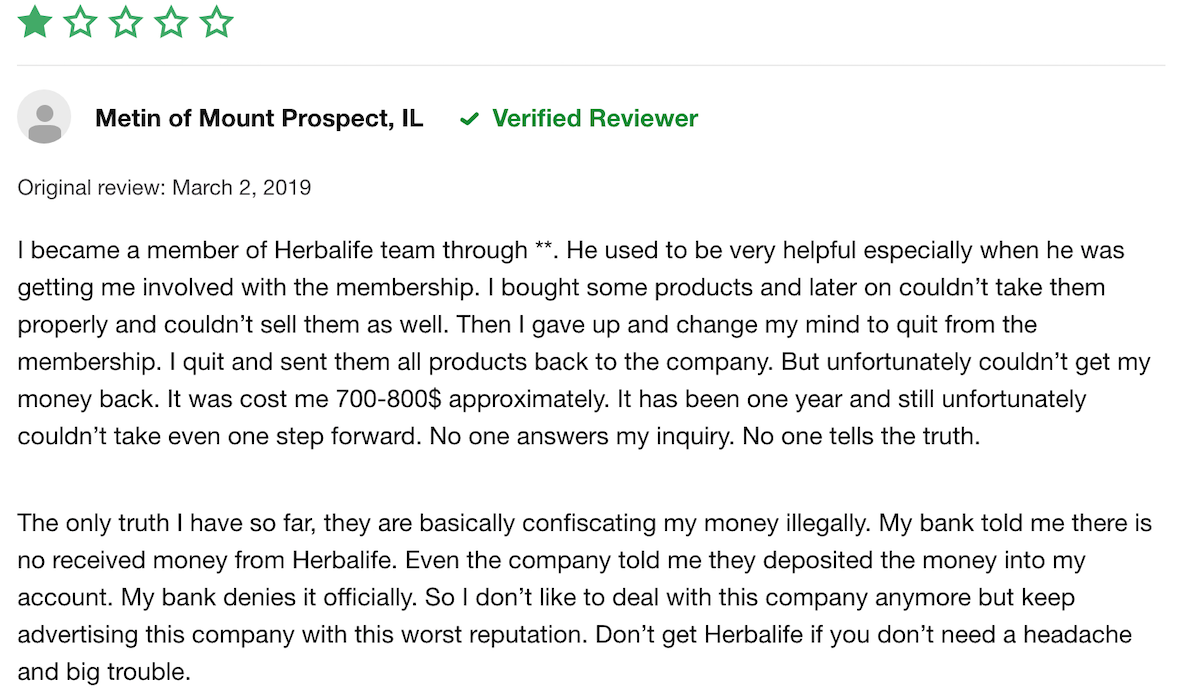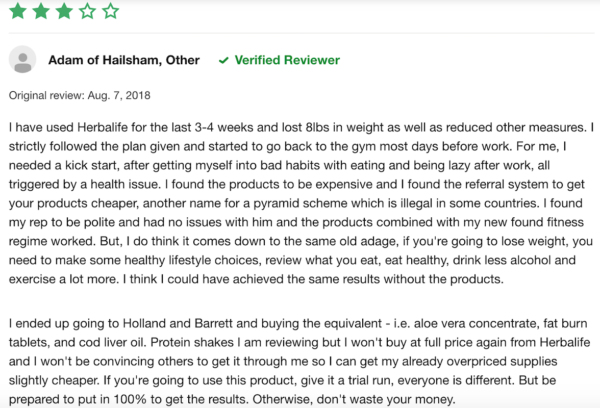 You might also want to read this article by HealthLine. 
I would also exercise caution if you have any heart-related issues while taking subscribed medications. It could have diverse effects. That's what happened to my Dad years ago. He ended up with complications and his Doctor said the Herbalife product I gave him was in conflict. Whew…that was a huge lesson.
The other thing is Herbalife will tell you their products are FDA inspected for any food or dietary supplement.  However, they're not FDA approved because they don't have drugs, vaccines or similar.
In the U.S. they're labelled following FDA's (Food and Drug Administration) regulations and while they are manufactured, they follow the standards of maintaining proper quality.
Making Money With Herbalife – The Business Opportunity
Herbalife follows the typical MLM strategy when it comes to earning income on your business opportunity.
There are 2 ways to do this once you become their independent distributor:
Sell Herbalife products (which you purchase at discount prices) at retail prices and earn retail commissions.
Recruit people and earn commissions on the sales of their products. 
Before you jump into the company's business opportunity, you need to know where to begin…
How To Get Started with Herbalife Business Opportunity
To get started with Herbalife's business opportunity there are only 2 steps:
Fill out the company's distributor application form.


Purchase the initial Starter Pack for $94.10 or their Super Starter Pack for $124.10. You also get a website to run your business.
Wanna know what's in the Super Starter Pack?
Herbal tea flavoured concentrate
15 full-size packets of flavoured Formula1 protein powder shakes
Herbalife bag
Literature
Mini-packets (3 tablets per pack) of tea extract and caffeine to instigate energy and quick alertness
3 packages of the 3-Day Trial Pack (6 mini-packets of the Formula1, 2 packets of the tea extract and caffeine)
Herbalife Compensation Plan
With a total of 11 position levels, the company offers 7 ways for you to make money:
Retail Profits – Earn 25% to 50% when you sell products at retail prices. This percentage depends on your ranking level.  


Daily Wholesale Profits – This happens when you purchase products at a discounted percentage (based on your rank) and sell them at wholesale to your downline.


Monthly Royalty Override – This is based on the uni-level compensation layout. Once you become a Supervisor you can earn up to 5% on your Supervisors sales. This takes a lot of effort because you need to convince your downline to become Supervisors.

Apparently, to get here, you need to purchase a substantial amount of products to earn your qualification "volume points" which is roughly $1 for 1 point. You need to spend at least $3,000 to $4,000 to become a Supervisor.


Monthly Production Bonuses – The top achievers of the team can earn 2% to 7% based on your team's monthly sales. You're in the 7th level here.

The bonus is based on any number of your team's levels. So if you have 30 distributors in your downline, you can earn bonuses on each level. 


Annual Bonuses – The top achievers will receive an annual bonus for achieving outstanding performances. The company also has other incentive promotions that are designed for you to make larger purchases.


Special Vacations and Training Events Incentive – Members are rewarded for their consistent growth in their business during the year.

It's designed for your sponsor to put pressure on you to meet certain thresholds by purchasing more products. The idea is the distributor at the top of the pyramid is rewarded when your downline makes more purchases.


Mark Hughes Recruiting Award Bonus – This is where you can earn 1% of the company's total revenue. It gets divvied up among the top distributors of the pyramid and of course, are usually the same people who joined way back when the company first started.
Herbalife's Compensation Plan is rather complex and so I decided a video would be best to have it explained in more detail… "Herbalife Marketing Plan". The video only goes to Level 3 but I think you'll get the jest of it…
Here's the current PDF on the Compensation Plan, rather scary, I must admit. 
What I Like About Herbalife
#1. Been Around For 39 Years
As I mentioned earlier, Herbalife has been around since 1980, that's 39 years and they're in over 90 countries worldwide.
For many people, it's become a household name. I'm sure you heard your friends talk about it. Some love it while others think it's a pyramid scheme. Either way, you've heard about them.
Regardless of its lawsuits which are coming up soon, Herbalife still survives and is financially successful.
They're also a master when it comes to celebrity spokespeople who rant and rave about how energized they feel and how much weight they lost as results from using Herbalife products.
Have you heard of Cristiano Ronaldo, Portugal's famous soccer player?

Well, he's been named as Herbalife's brand ambassador until 2021.
#2. Refunds
If you decide to cancel your distributorship for any reason within a year, you will get a full refund on your International Business Pack and this includes your shipping cost.
The Ugly Side of Herbalife
FTC Sued Herbalife!
This is a video of former Herbalife Distributors speaking out…
#1
#1. FTC Takes Herbalife To Court
In July of 2016, Herbalife gets sued by FTC (Federal Trade Commission) and settled to pay a whopping $200 million dollars.
It seems Herbalife had some relevant material facts that were omitted and their rewards were focused more on recruiting people rather than on product sales.
Around 350,000 distributors lost money in their Herbalife businesses from 2009 to 2015. Apparently, they received very little back for their investment.
FTC sent 2 rounds of cheques to those distributors. The first occurred on January 2017 and then 253,042 cheques went out after May 2019 because there was money left in the fund totalling $45 million dollars.
Individual cheques ranged from $100 to over $9,000.
Clearly, Herbalife did fraudulent activities to their distributors in order for the FTC to take such action.
As part of the settlement, Herbalife had to do a complete restructuring on its compensation plan to make it compliant to FTC's MLM standards.
#2. Still Lots of Recruitment – Events and Seminars
I've never been to Herbalife's 'Circle of Success' event but I heard a lot about it and decided to investigate this further.
According to insurancejournal.com, sometime in August 2018, a couple along with other 100,000 plaintiffs took Herbalife to court suing them on their 'Circle of Success' events.
These events are high-powered energy events that distributors from all over the world are "cajoled into attending". Before you go to the events, you're encouraged to push your downline to be present as well.
There, the top-achievers and company executives will pitch their success stories.
They get you all hyped up into pushing for more recruiting and do the same to your "downlines" who are present in the event. Apparently, that's how you get "wealthy".
One of the company's quote is "If you go to all of the events, you qualify for everything – you will get rich". Another one is "These crucial events provide you with all the skills you need to take it to the next level".
These quotes were evidenced in the lawsuit.
July 26 – 28th, 2019, this is an image of an online training seminar.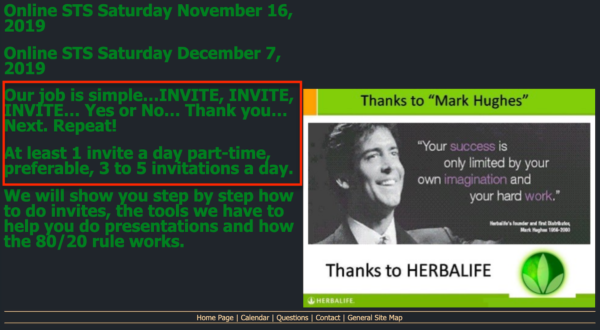 Did you notice what it says?  "Our job is simple…INVITE, INVITE, INVITE… Yes or No… Thank you,,, Next, Repeat!"
"At least 1 invite a day part-time preferable, 3 to 5 invitations a day."
"We will show you step by step how to do invites…"
Very little is said about the products. It's all about inviting people… don't you agree?
#3. Distributors Not Earning Much

According to a typical Gross Compensation Statement on Herbalife in Canada published July 11, 2019, the majority of their members purchase products at wholesale prices, that's why they join and therefore they don't have a business. This is why they say their "typical" members don't earn anything from Herbalife.
The numbers are based on the distributors' product sales who have been with Herbalife for one completed year.
There were 1,864 distributors or 17% who earned money on their recruits' product sales in their first year.
Out of that, there were 50% of 1,864 (932 distributors) who earned $408+.
There were 10% (187 distributors) who earned $5,828.
Meanwhile, the top 1% (19 distributors) earned $126,138 and apparently over $1.2m. These distributors have been with Herbalife for an average of 22 years (5-36 years).
Even if a distributor made $5,828 in 1 year, that would come to $485.67 a month. You can't live on that amount.
There were 726 distributors who earned less than $408.
The figures don't include additional expenses like the purchasing of samples, brochures, business cards, fuel, telephone, and promotional items.
The other consideration is it's extremely challenging trying to make money from the 7 streams of income I described above. This is because Herbalife has 4 discount levels and a total of 11 positions.
To top that off the positions also have sub-categories.
#4. Competition
Did you know some distributors are selling their Herbalife products on Amazon? It even has 33 reviews on it…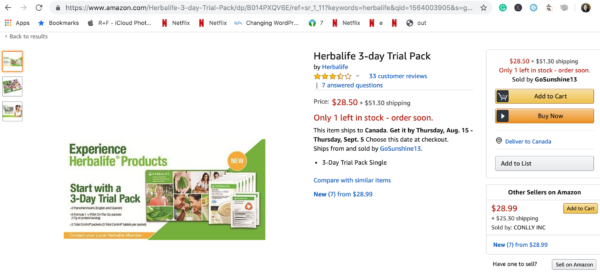 For instance, there is the 3-Day Trial Pack on Amazon.com. It sells for $28.50 plus shipping. On Herbalife's site, it sells for $12.20.
Another one is the Quick Start Kit on Amazon and it sells for $139.99. On Herbalife's site, it sells for $121.40
It's clearly cheaper to purchase directly thru a distributor even though you have to pay shipping and handling. Even with the price differences, consumers are purchasing them on Amazon.
According to bigcommerce.com there are over 197 million people a month who visit Amazon.com using whatever devices they have.
Herbalife is also sold on eBay:
Herbal Tea Concentrate on eBay is $22.98 1.8 oz while on Herbalife's site it sells for $25.65 for 1.8 oz.
The 3rd point I want to make is Herbalife distributors are everywhere. I counted at least 10 distributors in the closet city (about a 10-minute drive) from where I live (small town).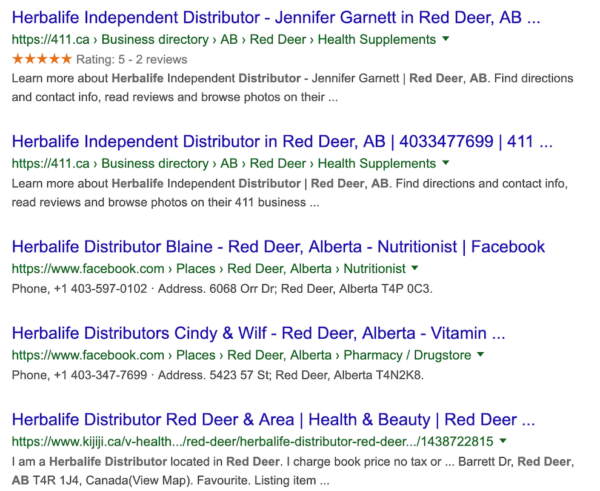 So, Is Herbalife a Pyramid Scam?
Herbalife is not a pyramid scam. They really have products that help a lot of people in regards to their health and wellness. They're also a member of the Direct Selling Associations worldwide.
Even though they are a legitimate MLM business, I don't recommend them.
First, even though Herbalife paid the $200 million in order to not be shut down by the FTC and to avoid being reported as a pyramid scam, many distributors are still being pushed to recruit more people during events and seminars.
You need to recruit, recruit, and recruit to grow your downline, and get them to purchase products in order to make a decent amount of money.
Second, I also talked about competitors, and that products are being sold on Amazon and eBay. You think that's easy to do but it's not. It's a whole new ball game you need to get educated on. Which brings me to next topic…
Herbalife gives you a website but that's not going to help you much in generating traffic. You'll be mostly using it to place your product orders in the backend and get access to your sales tools and training resources. 
You're not going to get FREE traffic on your site without getting outside training. Sure you can get paid traffic but it will cost a lot of money which could come to thousands of dollars a month.
In case you're new to MLM, you should be aware your Herbalife sponsor when you first join will get you to make up a list that includes your family and friends. It's typical with all MLMs. It's your first to recruiting.
As mentioned earlier, I've had experiences with MLM, 3 times, and I know what it can do when involving people who are close to you.
If you're still interested in joining Herbalife, click here.

A Better Way – How We Make Money Online
You probably already know I'm not a big fan of MLM anymore. Been there, done that, and lost a lot of money doing it.
If you're serious about learning how to make passive income online, I can help you.
In fact, I have the perfect solution for you with 2 of my #1 Recommendations. 
The first is to choose Affiliate Marketing as your business model but you need to get the best training to do it. Enter Wealthy Affiliate… it's the best online affiliate marketing training platform in the world.
Let me tell you why I recommend them:
NO RECRUITING
Promote any niche product you want
It's FREE to join, NO RISK, NO CREDIT CARD is requested
2 FREE websites
No inventory
No skills required
Work anywhere you want as long as you have internet and access to a computer
Be your own boss
Get support and training 24/7
Just so you know, having an online business requires hard work, patience, and perseverance. Wealthy Affiliate's training is not a "shiny button". You will not make money overnight. In fact, it might take 6 months, a year or maybe even two years before you earn sustainable passive income.
Any successful entrepreneur whether they have a local business or an online business, will tell you they made sacrifices and worked very hard to make their dream lifestyle a reality.
Wealthy Affiliate is a friendly community with over 1.4 million people from newbies to the very advanced internet/affiliate marketers and entrepreneurs.
We learn continuously, earn, support each other, and manage our own online business.
Here are a couple of success stories.
Meet RD40 … CLICK HERE to read his success story.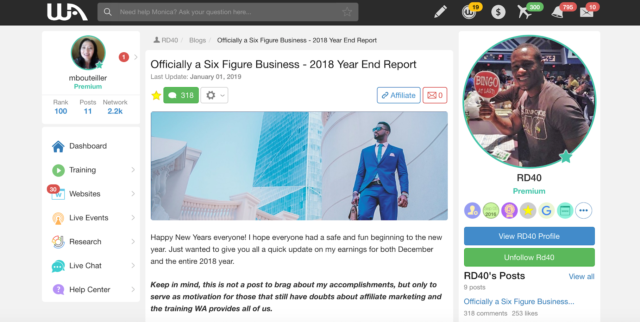 Meet Eric … CLICK HERE to read his success story.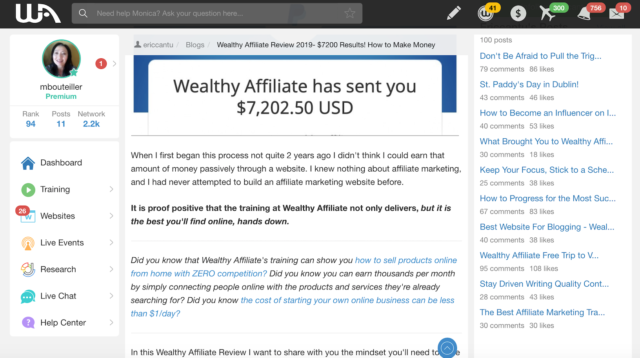 What do you think? Why not try Affiliate Marketing and get the training with Wealthy Affiliate? If you're serious about having a successful online business and willing to work hard, CLICK BELOW!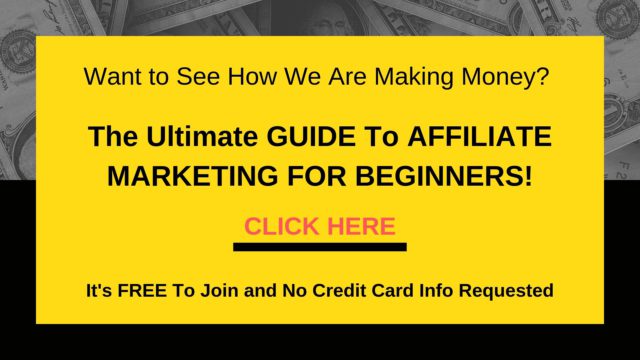 Hey, thanks for reading my review of Herbalife! If you have any questions or comments, it would be awesome to hear from you. 
Monica