How would you like to earn 20,000 shares in a publically traded MLM travel company? How is this even possible? What do you think? Is Evolution Travel for real or just another scam?
I know you're here to see if you can really make money with Evolution Travel and go on lots of vacations. I want that for you too. However, during my research, I discovered important information I want to share with you.
First I just want to commend you for doing your research here. It's the only way to keep yourself from being scammed and to find legitimate ways to make money online.
Just so you know, I am not associated with Evolution Travel.
I do researches, write reviews, and provide recommendations.
Let's begin…
Evolution Travel Short Review Summary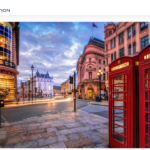 Product Name: Evolution Travel 
Founder: (2015) David McCovy
Product Type: MLM (Multi-Level Marketing) company promoting discounted travel packages.
Price: $49 (One-Time Fee) and $69.95 monthly administration fee.
Best For: Experienced Travel Agents and people who enjoy doing networking. 
Summary: Evolution Travel is a typical MLM company. When you join as their "travel agent", they really focus on you to bring in referrals for your downline. You can also promote their discounted travel packages. The first thing you'll want to do is make up a list with names of people you associate with, you know, your friends and family members. 
My Rating: 20 out of 100
Is Travel Evolution Recommended? No

What Is Evolution Travel?
First, here is a video by one of their members with a bit of information about Evolution Travel.
Evolution Travel will say they are a home-based travel business that offers consumers like you and me an opportunity to become entrepreneurs and be their travel agents.
They are also the first and only travel marketing company to be a publically traded company and so they give you an opportunity to have ownership with Evolution Travel. Sound good so far?
Joining Evolution Travel is supposed to be affordable and they include training and sales support. They also say you can make full-time or part-time income from your own personal travel and on other people's travel.
However, the truth is Evolution Travel is just another MLM (Multi-Level Marketing) travel company that sells 3rd party travel services and their own Referral Program (i.e. recruiting people into a downline).
Now, let's take a look at who's behind the scene of Evolution Travel.
Who's Running The Show? Interesting Information
Evolution Travel was founded in Las Vegas, by David McCovy in 2015 and partnered with Archer Travel Service, Inc., an established leader in the travel industry (founded in 1952 by Ron Archer).
Ron has lots of networking experience.  He sat on the Board of Director for The Signature Travel Network that made over $7 billion in travel sales annually. Ron has also been an advisor for major cruise lines and tour operators.
David also has lots of MLM experience in building MLM companies like 5Linx.
Inside Evolution Travel
Evolution Travel doesn't have a real product line of their own. Instead, they offer discounted travel packages, coupons, and tickets.
The discounts offered are on:
Vacation Packages
Flights
Hotels
Tickets (i.e. movies, concerts, sports, amusement parks, Disney
Concessions
Automotive Care and Maintenance
Dining
Together with Archer Travel Services, they partner with vendors like:
Princess Cruises
Southwest Vacations
Sandals
Funjet Vacations
Disney
Thrifty Car Rental
United Vacations
Carnival
Hertz
By doing this, you have the ability to create custom travel packages for yourself as well as for groups.
Oh, by the way, Evolution Travel has some perks and rewards to entice you into joining their membership. For example, once you become a travel agent, you can get the following:
Discounts on hotels, vehicle rentals and more.
Familiarization trips to gain knowledge and experience of what you're selling.
Earn cash and get merchandise on Carnival Cruises, Apple Vacations and more.
Earn points and get rewarded for your own vacation travels.
Get a free cruise when you take an online training course thru cruises like the Norweigan, Princess and Carnival.
These incentives are great because you can become an authority with the travel industry (if you're not already an experienced agent) and it gets you energized and focused. 
Keep in mind, this is one of the ways you bring referrals into Evolution Travel's MLM system. 
By now, you're probably thinking this all sounds really exciting, but let's get into what you really need to know… how are you going to be making money with Evolution Travel?
How to Make Money With Evolution Travel (ET)
When you join ET, you become one of their PTA (Professional Travel Agent) Consultant at the lowest level.
Making money with ET is very similar to InteleTravel, another Multi-Level Marketing travel company. As with all MLMs, there are 2 money-making concepts:
Recruit, recruit, and keep recruiting people to get them to buy into your ET downline. 
Keep selling your discounted travel products. This is your second source of income.
Maybe you're seeing $$$$ here, but don't get too excited yet because we're only beginning. There are some things you need to do.
First, you have a couple of payments to meet:
PTA (Professional Travel Agent) Membership Fee –  $49 (one-time fee) and you get full access to their Team Building program which you will see coming up next.
Administrative Fee – $69.95 a month.

The PTA fee gives you the following:
Ability to earn 90% on your travel sales (you get 80% and 10% goes to the person who sponsored you).
Your own personalized and customizable travel website.
Direct access to vendors all over the world.
The opportunity to get 60 years of proven travel training and support from Archer Travel Services.
20 to 60% discount on movie tickets, dry cleaning, dining and more.
The next part will probably "knock your socks" off…
How Evolution Travel's Compensation Plan Works
Your recruiting of people begins now.
Evolution Travel's Compensation Plan consists of a surprisingly 6 levels of positions:
#1. Consultant – When you first join, you are a Consultant. You earn 80% commission when you book travel packages and your sponsor earns 10% of your travel commission. Your goal is to sell 3 PTA (Professional Travel Agent) membership fees to become an Executive Consultant.
#2. Executive Consultant –  To be here, you now have 3 PTA members in your downline. Your next goal is to sell 3 more PTA memberships to become a Bronze Consultant.
#3. Bronze Consultant – Nice, now you have 6 PTAs in your downline. Your goal is to sell 3 more PTA memberships if you want to be a Silver Consultant.
#4. Silver Consultant – Right now, you have a total of 9 PTA members in your downline. Work harder, because this time you need to recruit 6 more people and get them to purchase the PTA membership.
Yes, that's right, Evolution Travel just doubled the number of people you need to recruit. Instead of adding 3, it's 6 people. You need to have recruited a total of 15 people into your downline to become a Gold Consultant.
#5. Gold Consultant – Congratulations, you made it this far! Now there's a catch here… You need to help 3 of any of your consultants below you to become Silver Consultants. Once you do this, Evolution Travel will gladly reward you with $750 every month for your hard work.
If you can manage to remain a Gold for 3 consecutive months, you're rewarded with 20,000 Evolution Travel shares. This is exciting because now you have ownership in the company. 
Wait, you're not done yet…
#6. Platinum Consultant – If you recruited a total of 300 PTAs into your downline, you become a Platinum Consultant. Here, you have the potential to earn $1,750 to $100k as a Team monthly bonus. 
If you remain aa a Platinum for 3 consecutive months, Evolution Travel will reward you with another 20,000 Evolution Travel shares. 
What do you think so far? The plan doesn't end here.
There is a lot more to Evolution Travel's Compensation Plan so here's a video for you to watch… it will also explain the commissions on travel bookings.
Your Travel Commissions
90% commission on all commissionable travel bookings
80% commission on your sales on hotels, cruises, car rentals, and packaged tours.
10% Sponsor of the Booking Consultant
Ladies and Gentlemen, I need your input, can you really do this? I mean once you run out of family and friends, and their friends, how would you get strangers to trust you?
When I was doing Multi-Level Marketing, I did very well because my friends and family wanted to "help" me. BUT they eventually got tired and stressed because even my friends' friends wanted nothing more to do with what I was doing. 
What I Like About Evolution Travel
1. Solid Support From Archer Travel Services
Archer Travel Services has been in the travel business since 1952 and that says a lot about their credibility.
On the other hand, Evolution Travel has only been in the travel industry since 2015 and so it's still a relatively new company.
However, David McCovy, the founder of Evolution Travel, was successfully involved in another MLM company called 5Linx and played the role of Senior Vice President in 2014.
When he left 5Linx, he joined Paycation (a pyramid scheme) which has since collapsed.  He didn't stay there long and in 2015, he began the launch of his Evolution Travel.
As you can see David has some knowledge in the MLM industry and quite cleverly formed a partnership with Archer Travel Services.
#2. Real People Testimonials
Although Evolution Travel is BBB accredited, they still received a ranking of A+ with 4 stars out of 5. Here are some great testimonials from real people.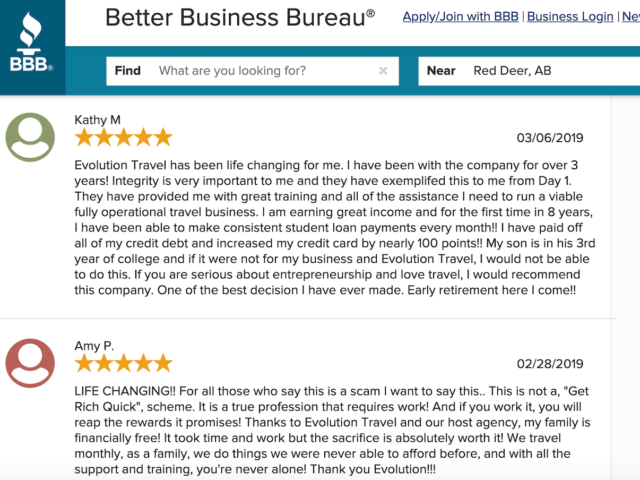 It's hard to please everyone and even though there were good positive testimonials here, there are a couple of "not so good reviews". I want to emphasize there are more positive comments than negatives.
What I Dislike About Evolution Travel
#1. Expensive To Have Your Own Home-Based Business
That $49 one-time PTA (Professional Travel Agent) membership fee is reasonable.
The part I don't like is where you pay $69.95 a month for their administrative fee ($69.95 x 12 months = $839.40 a year).
In my opinion, this is expensive for anyone just starting out, especially if they don't have a lot of money to spend. Trust me! I have done multi-level marketing before, in fact, a few times, and it's not easy finding people to recruit.
It's not that easy to make money fast and so you need to make sure you can afford to pay monthly.
The question is, are you going to get your value out of that $839.40 yearly.
To be honest, you're getting more value out of your $49 PTA one-time membership fee. Take a look at the screenshot below and you'll see what I mean. 

That $839.40 is just pocket money for Evolution Travel.  Remember, you're the one who's doing all the grunt work. You're the one who's going to be chasing after people to join into your downline.
#2. Chasing After People
I mentioned earlier I had to come up with a list of family members and friends.
Apparently, they were going be my hot list, the ones who trusted me and I had to literally "chase" them.
I even had REAL PRODUCTS… skin care product to physically show and demonstrate.
The end result in my relationships with them turned rather sour and they would avoid me as if I had fallen to some kind of plague.
Multi-level marketing is "chasing after people all the time".  Once you go outside of your "comfort zone" with your family and friends, you have to approach people who don't know you. 
Why should strangers trust you or Evolution Travel? Sure, lots of people join MLM companies because they think they can make fast money, BUT how many members actually stay? 
#3. A Hidden Pyramid Scheme
Here is what the FTC (Federal Trade Commission) says about Pyramid Schemes… 
The fact that Evolution Travel focuses feverishly on recruiting people, their system appears to be a pyramid scheme.
I'm not saying they are, just be aware!
#4. No Income Disclosure Statement on Archer Travel Service & Evolution Travel
I was not able to find an Income Disclosure Statement on either site and they should have one.
For this reason, I cannot give you information on the average income members are making. 
#5. You Have to Deal With Customer Complaints
There is no doubt in my mind, you will have customer complaints. Not all customers are going to be happy.
If you stress easily, Evolution Travel's MLM system may not suitable for you. When people go on vacations, they want a good user experience. If they don't, some of them can be downright nasty and it may not even be your fault.
Evolution Travel, in my opinion, is good for people who already have travel agent experience and networking experience.  You need to know how to deal with people and "convince" people to take your travel package.
#6. Hard to Make Money. Lots of Competition
It's hard enough chasing after people, and not only that, you're faced with "LOTS" of Multi-Level Marketing travel companies. If you don't believe me, just Google and do some research.
To name a few, here are some travel MLM companies:
InteleTravel
Global Travel International
World Ventures
Pro Travel Plus
Coastal Travel Package
And more

Is Evolution Travel A Scam Or Is It Legit?
Honestly, the fact that Archer Travel Service partnered with Evolution Travel is really important. Archer Travel Service has been in business for over 60 years and they bring with them a ton of travel experiences. 
On the other hand, Evolution Travel has only been around since 2015. Big difference right?
However, David McCovy, the founder of Evolution Travel has experience in building MLM businesses so that itself is a plus.
The other consideration is that Evolution Travel hasn't been declared a pyramid scheme by the FTC, so I will say they are NOT A SCAM.
Just use your own due diligence. Do you want to be "chasing after people" to recruit them into your downline?  Can you handle customer complaints… customers who didn't have a good holiday experience for whatever reason?
There Is A Better Solution To Make Money!
If you want to have a REAL HOME-BASED BUSINESS, one that you can do anywhere in the world, and have people come to you….
AND STILL TRAVEL…
If you enjoy helping people by offering real solutions for their needs or issues then I would like you to read my #1 business model Recommendation and that is Affiliate Marketing.
You might have already figured out I'm a member of Wealthy Affiliate. They are also my #1 Recommended Online Affiliate Marketing Training Platform. Why? Because their training system has been proven over and over again. 
Meet RD40…  CLICK HERE to read his success story.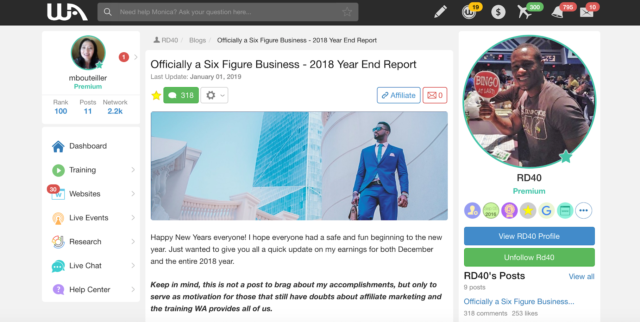 Why choose the business model of Affiliate Marketing for your home-based business?
People come to you. You don't have to chase after people.
No inventory.
Earn income while you sleep, 24/7.
Do your business anywhere in the world.
No experience required
No customer complaints
No minimum order required
Promote any physical product(s) you desire and offer solutions to help your niche audience with their needs or issues
The only requirement is having the mindset to work hard and most important getting the right online affiliate marketing training platform which is Wealthy Affiliate. This is a get rich fast scheme.
BUT, if you work hard and get proper lessons, you will certainly reap your rewards.
Inside Wealthy Affiliate, you will even learn to create your own FREE website (your asset) within 5 minutes or less (NOT SCARY and so easy) and everything you need to know to get FREE traffic coming to your site.
If you would like to know more about Affiliate Marketing and how to start, please CLICK HERE or on the banner below.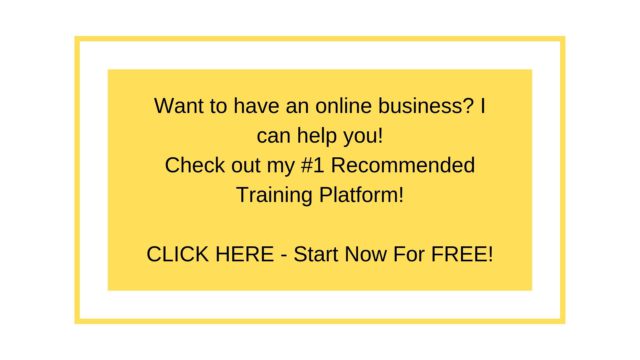 NO CREDIT INFORMATION REQUESTED!
Hey Folks,
Thanks for reading my review of Evolution Travel. I hope I was able to provide helpful information in making an informative decision.
Do you have any questions or comments about the review? Have you been involved with any multi-level marketing companies? If yes, what has your experience been like? Please put them in the comment box below and I will get back to you.
Monica