Welcome to your Step-by-Step Guide on How To Create A WordPress Website from scratch. No technical skills required. It's FREE! Do this in less than 5 minutes. 
Creating your own business website ain't scary! The only thing you need is a computer which I know you have so you're good to go.
This guide is presented in 2 formats.
There's video format which (approximately 17 minutes) which walks you thru the steps. 
I also have a detailed written step-by-step here you can follow if you prefer that.
But first, let me go over some misconceptions about creating a website and a couple of components you'll need.
The Misconceptions of Creating A Website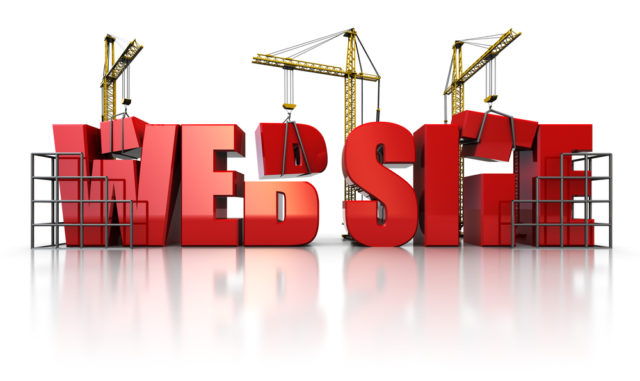 1. You Need to Know Coding to Create Websites
Years ago, people had to know code to create a website and it took a month or longer to it.
Honestly, I still don't know coding and I've been doing internet and affiliate marketing using my 2 websites since early 2016.
Technology has grown fast and furious over the years and it will never stop. People like you and me can use it to our advantage without coding and make beautiful and professionally designed websites.
Take a look around my new site and see what I've accomplished so far and it's going to get better yet! ?
According to WPForms, Google has an average of 40,000 searches a second. These are people looking for solutions.
People are starting their online businesses today and you couldn't do this years ago.
Don't miss your opportunity to help people who are looking for solutions online. You can help them with your own website filled with useful content. 
2. Creating A Website Is Expensive
It's expensive if you hire someone to build a website from scratch but it's not necessary to do that.
With the technology we have like I say, it's going to take only a few minutes to do create your website and I'll be showing you how to this today.
You can create your own website for FREE in minutes. I promise you're going to have a lot of fun when I get you to do this on your own too so keep reading.
3. Making Money On The Website Takes A Long Time
It can take a long time to make money but it doesn't have to be that way.
The website is your business and it needs your commitment to hard work and you need proper training.
Visitors won't come to your site not without providing helpful content with solutions and offers
NO TRAFFIC = NO $$
Generating traffic will be another important topic and won't be covered here.
Let's just focus on getting you started on your business, which is creating your website first and getting it fully functional. That's our goal today. 
The 2 Required Components For Your Website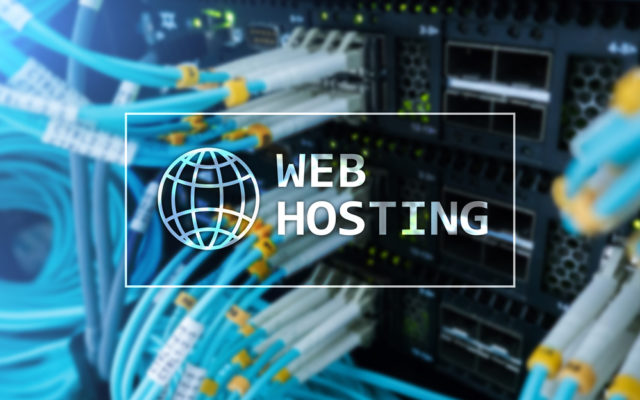 * Domain Name
Your website needs a unique name and it must be registered.  Don't worry, I happen to know of a place where you can do this for FREE.
The domain name is the physical address your visitors use when they want access to your site.
* A Place To Host Your Domain
Your website URL needs a place on the internet to store your files. This means renting space on a computer.
But again, don't worry about trying to find one, I know a perfect place you can this too and for free.
You can also check out Blue Host and Hostgator.
Confused About A Website, Domain, And Host?
If you're confused about a Website, Domain and a Host, think of them like this…. The Host is the land. Your website is the house on the land. You build your website with furnishing and renovations.
Does this make sense?
Getting a domain name, registering it, and hosting your website is approximately $14.00 a year but as I mentioned earlier, I can get you all this for FREE.
Enter Wealthy Affiliate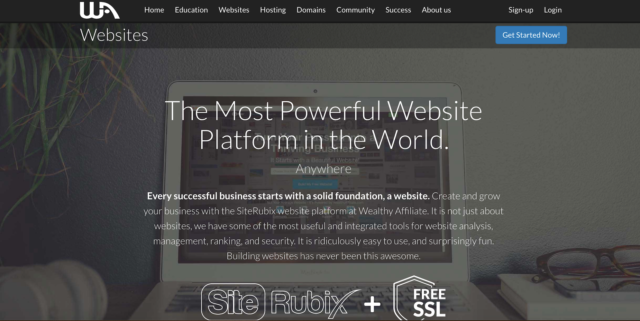 If you want to create and build your website from scratch, the best place to go to is Wealthy Affiliate.
Why??
Wealthy Affiliate has a large hosting platform and you can register your website domain name there.
In fact, they have all the tools and resources you need because it's a one-stop online platform that includes:
Registering your website name (domain)
Web hosting
Internet and affiliate marketing training platform
Support
Site backups,
One of the largest community in the world
24/7 technical support
And more…
Does this sound like I'm really promoting Wealthy Affiliate?
Well, I guess I am. The fact that their training platform has been earning me income since 2016 from my 2 websites makes feel indebted to them.
If you go anywhere else, you'll have to pay around $14 a year for your website domain name registration and hosting and pay for other services.
What I'm saying is you can get all this for FREE, including registering your site domain name and site hosting inside Wealthy Affiliate.

Let's get you going on creating your own website.
Step-by-Step – Creating Your Website
Here's a step-by-step video put on by the co-founder of Wealthy Affiliate…Kyle.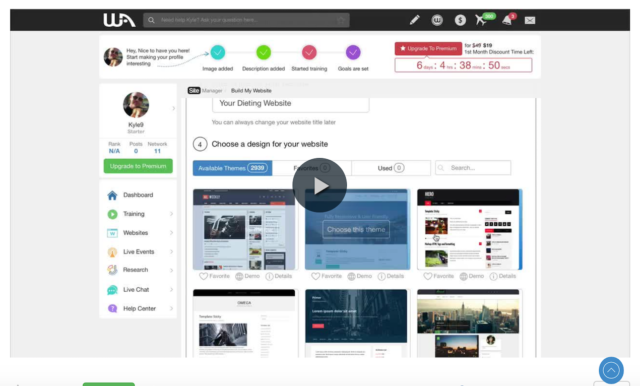 The first thing you're going to do is click on "Websites" and "SiteBuilder".
Step 1: What kind of website do you want?
Choose "On a free domain".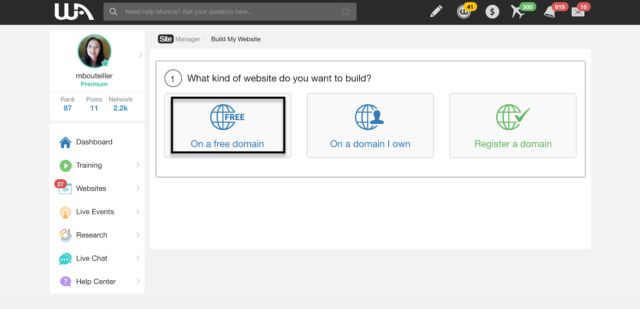 When you're starting out as a FREE Starter Member and you don't have a website yet, the free domain is the best way to go.
The reason Wealthy Affiliate can give you free domains is because they have their own Website Platform called SiteRubix. It's a sub-domain of theirs and so you don't really own the website.
I started with their free website.  
Your free websites are created on WA's .siterubix.com domain and it would look like yourdomainname.siterubix.com.
Once you decide to be more serious about your online business, then you can purchase your own domain inside WA using the same domain name but without the .siterubix.
It would look like yourdomainname.com.
This is what did after a few months. I purchased my own domain for around $14.00 a year and it's my real estate.  My website domain name is workanywherebusiness.com.
There are many reasons why you would eventually want to purchase your own domain name:
You own it. It's your asset
Search engines love it
Your URL looks more professional looking
Step 2: Choose a Domain Name
The domain name is the name of your website and so you might want to take a couple of minutes thinking about it. The name should be relevant to the group of people you want to target (this is your niche).
NOTE: The name you enter is not changeable once you submit this at the end of the steps.
Once you have a domain name thought out, enter that name in the box just under "Choose a domain name…". The name should not have any spaces or special characters.

Example: In the image, say you entered "losebellyfatforwomen" so your website is called "losebellyfatforwomen.siterubix.com".
If that name is available it will let you know. If it wasn't available, it will let you know the domain name is already taken by someone else and you just choose another name.
Step 3: Give Your Website a Title
Use the same domain name from Step 2 but make it grammatically correct with spaces in between. This title will appear on your website and you can change it anytime.

Enter the title in the box just under "Enter a title …"
Example: I entered "Lose Belly Fat For Women".
Step 4: Choose Your Website Design
The design is called a theme and inside Wealthy Affiliate's platform, you have access to 12 free beautifully hand-picked WordPress designs as a FREE Starter Member.
If you want to see what a theme looks like, just click on the "demo' and it'll display the design framework and style.
Please don't need to spend a lot of time trying to choose your "right" theme because you can change it anytime you want.
When I first started, I picked out a simple free theme with a lot of white and later once I felt more comfortable and knew what I was doing, I changed my theme… well actually more than once.
Once you're comfortable with your online training, you'll want to become a Premium Member which is what I am and have access to 4,081 themes to choose.
You don't need to be a Premium Member yet, just focus and enjoy having the benefits of being a FREE Starter Member.
The theme I chose in this demonstration is the Omega theme and when I clicked on the "Demo", this is what it looks like…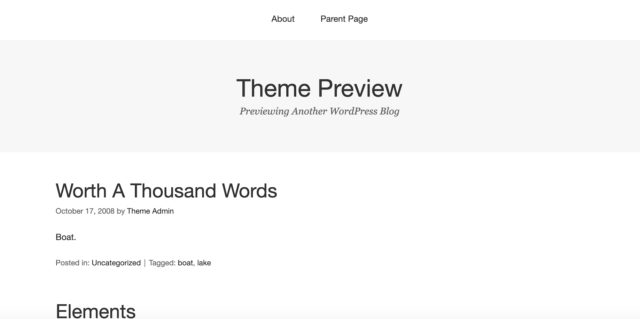 You might think it doesn't look like much BUT… let me tell you, THIS IS WHERE THE FUN BEGINS!!
And NO, you don't need to be a designer to build out your website theme. When you go thru the Wealthy Affiliate training, you'll learn to beautify it and make it your own brand.
What you're seeing right now is a skeleton of your site's theme. It looks pretty bare and has no content. There's no logo, and you will want to change your menu navigation to make it user-friendly.
The exciting part is your journey has begun in the internet world.
Start your free training inside Wealthy Affiliate and learn how to get your site ranking, learn to write content, generate FREE traffic, and earn income.
Step 5: Click To Build Your Website
The last step is to click that green button down below that says "Click Here to Build This Site!". It'll take less than a minute to do the building.
When your website is installed, you'll see your Website URL. In this demonstration, the screenshot shows "losebellyfatforwomen.siterubix.com".
Go ahead and click that blue button "Login Now" and it will take you into your WordPress Dashboard.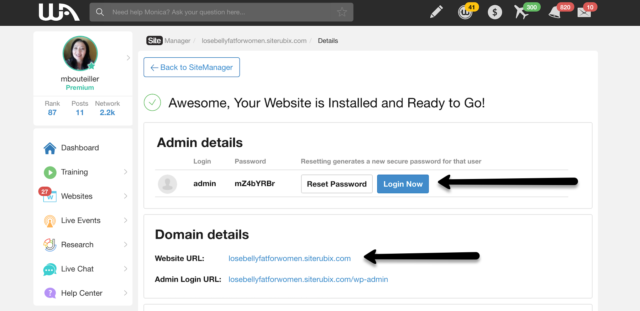 This is about as far as I'm going to go because I only wanted to take you thru the process of creating your website which really takes less than 5 minutes.
See how easy it is to create your own website? NOW IT'S YOUR TURN…CLICK ON THIS SCREEN BELOW.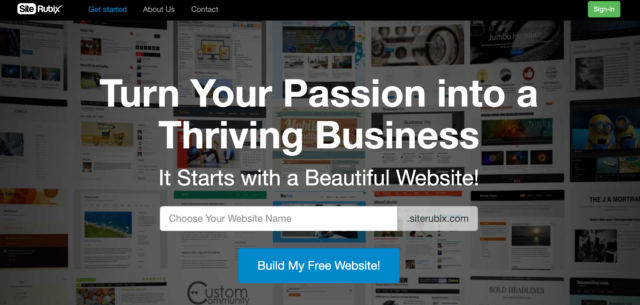 Here's what I recommend, if you didn't go into Wealthy Affiliate's training platform yet, go ahead and click on the green button below.

No Risk and No Credit Card Information is requested.
I'll welcome you on the other side, be your coach and mentor you on your journey to success. 
Wealthy Affiliate's training is similar to what I have shown with you here. You'll get videos and step-by-step text instructions along with tasks.
Make sure you complete each task because that's how you're building your website and branding it as your own.
I hope you feel better about creating a website.
Do you have any questions or comments? Please put them in the Comment Box below.
Thanks for reading,
Monica