Can you make money with CBD BioCare? It is possible you can make a 40% commission rate. This MLM company is really different and you probably already heard about them. Is CBD BioCare a Scam or what? I'll tell you everything you need to know here.
According to a well-known cannabis researching company, BDSA, by 2024 the CBD market in the USA is forecasted to bring in $20 billion of sales.
Guess what? CBD BioCare is right smack into this! This review will be an interesting read for you!
First, let me just say I'm not associated with CBD BioCare so rest assured that I'm not here to sell you their products. Having been involved with MLM companies as a sales rep in candles, health and wellness and skin care products I am familiar with how the MLM business model works.
I also congratulate you for doing your research here because it's the only way to find legitimate ways to make money online.
Let's begin this review…
CBD BioCare Review Summary
Product Name: CBD BioCare
Founder: Matthew and Stacey Pitts (Husband and Wife)
Product Type: (MLM) CBD Skin Care, Health and Wellness
Price: Free to $359+ USD for Sales Rep Package Kits
Best For: Anyone who has experience with MLM selling and CBD knowledge
Summary: CBD BioCare is a legitimate MLM company. Their CBD oil-infused products are guaranteed to be high quality through multiple 3rd party testings. Even their compensation plan is easy to follow and provides a good income opportunity.
My Rating: 80/100
Is CBD BioCare Recommended? Yes!
What is CBD BioCare?
Founded in 2016 by Matthew and Stacey Pitts, CBD BioCare is an MLM (Multi-Level Marketing) company headquartered in Largo, Florida, USA. 
They manufacture and distribute their CBD oils into their skincare, health and wellness products.
A wee story of how CBD BioCare came to be…
Years ago Matthew visited a good friend, Daryl, who was suffering from cancer and loss of weight. He discovered Daryl's only pain relief and appetite for food came from the then illegal cannabis plant. 
After Daryl passed away, Matthew had never forgotten his friend's terrible sufferings and how this outlawed plant helped.
Then, in 2016, Medicinal Marijuana became a legal reality. Matthew and Stacey researched stories of how CBD, a bi-product of cannabis, was not a drug and that it was helping many people worldwide. It was available anywhere in the states because of the low level or zero concentration of THC (intoxicating effect).
Through the memories of Daryl, Matthew and Stacey made it their quest to help people get legal access to the medicinal benefits of CBD. 
The good news is CBD BioCare grows their own plants in the USA. If they were harvesting them in other countries, who knows what contaminants go in the finished products. The company's farmers follow the US Farm Bill passed in 2018 and work together with the Department of Agriculture along with state universities to comply with best practices of growing their hemp plants. 
Another plus is the company has 3rd Party testing on the plants to the actual manufacturing of the products. This is to ensure there are no pesticides or chemicals and even the soil richness and health is consistently tested. 
Inside CBD BioCare – The Products
CBD BioCare products are infused with CBD that can be used for many medicinal purposes. There are products you can ingest as well. 
All of their products are listed under the following categories:
Wellness – Immunity boost, liquid capsules, gummies, peppermint gum and coffee pods
Pain Relief – Relief balms, roll-on gels
Try-It – A variety of samples, pain palm, all natural anti-aging CBD cream, coffee pods, gummies, etc. 
All Natural – Anti-aging CBD cream, pain relief cream, ageless cream, CBD scrub
Skin Care – Anti-aging creams and moisturizers, stem-cell rejuvenating cream, etc.
Pet Care – Soft pet chews, pet spray for hot spots, etc. 
Full-Spectrum CBD Oil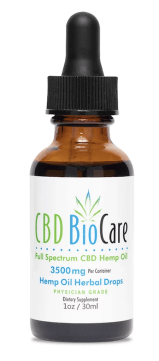 CBD BioCare's flagship product is their Full-Spectrum CBD Oil. This company is one of the first to offer 100% hemp oil extracted completely (ie, from leaves, flowers and stalks) from the cannabis (hemp) plants.
The actual ingredients are made up of cannabinoids and in particular the cannabidiol (CBD) and terpenes. The terpenes (organic compounds) are infused into the oil to provide more desired effects like aroma (essential oils) and flavour.  
The Full-Spectrum CBD Oil also includes a minute amount of THC (tetrahydrocannabinol), the "getting high" ingredient but no more than the federally authorized maximum amount of 0.3%. Noooo, you can't get the "high" feeling experience. 
INSTEAD, you can get the medicinal benefits to relieve your pain.
As the base oil, the company uses hemp seed oil which is considered to be a superfood rich in its omega fatty acids and also helpful in absorption. 
The FDA (Food and Drug Administration) from 2015 going forward has issued numerous warnings to companies not approved who are carrying cannabinoid products used in human and animal foods. Thankfully, CBD BioCare is not on that list.
If you're interested in their ingestible products but feel unsure of what's actually in them, fear not. The company has a QR code (Quick Response Code)  on the label of each of their tinctures that's scannable. This helps you view the Certificate of Analysis from their 3rd party testing agencies. 
This is what a QR looks like…
Do CBD BioCare Products Really Work?
I did some research to see how CBD BioCare's Sales Representatives and customers are enjoying their products. I came up with the following:
CBD BioCare's Facebook Page:
Lots of people are commenting on how pleased they are with their products. Here are some images..
On CBD BioCare site:
There are excellent product comments but they should be taken with a grain of salt because it's on their site.
A couple of comments:
BBB (Better Business Bureau):
There were no product comments. 
It seems CBD BioCare products really do work BUT I can't prove the testimonials. If you're interested in purchasing their products or joining to become a Sales Rep perhaps try the samples first to see how your body responds to them.
Making Money With CBD BioCare – Business Opportunity
This company, although they are an affiliate business model, is really a MLM business and there are differences.  Should you decide to join into their business opportunity, you'll be doing the following:
You'll sell their hemp-infused products at retail prices.
You'll recruit, recruit, and recruit other people to join your sales team.
You can join their wholesale program and earn commissions.
How to Get Started With CBD BioCare?
If you want to be a sales representative for CBD BioCare, you just join their business opportunity.
There are not many MLM companies that do this…CBD BioCare actually has a FREE Option giving you access to your member's area. This allows you to monitor your sales activity, have your own marketing dashboard, support, and even live training once a week.
However, if you're really serious about making money you'll want to choose one of their representative packages (upgradable) at a cost. 
There are 3 Sales Representative Packages:
$99 Sales Rep Package: This gives you everything in the free option in addition to your personal URL link, sales dashboard, landing page, and a 5% Coupon Code. 
$199 Sales Rep Package: Here, you'll get everything in the $99 Package in addition to your very own CBD Biocare email address, some products like CBD Pain Relief Roll-On, Peppermint CBD Oil (1000mg), and their popular Apple Stem Cell Rejuvenation Cream. 
$359 Sales Rep Package: You'll get the $199 Option, except for the Apple Stem Cell Rejuvenation Cream and receive instead other products like their CBD Collagen Retinol Anti-Aging, Pain Relief Cream, etc.
Apparently, the $199 Sales Rep Package is the most popular one and it's actually not a bad price for what you're getting.
There's one more thing you need to consider and that's your yearly renewal fee of $49.99 which won't start until you begin the 2nd year of your package purchase. This is to maintain your personalized landing page and to keep your coupon code active ensuring you still get the best deals. You'll definitely want the landing page to drive your traffic.
Add-ons are expensive if you want brochures, business cards, sales binders, product catalogues, etc.
CBD BioCare Commission Structure
The company's Commission Structure is rather pleasing to the eye.  While it still follows the MLM business plan, this one is so much easier to understand.
There are only 3 rankings:
Sales Representative
Sales Manager
CBD CEO
When you look at the diagram, you can see CBD BioCare focuses more on sales with the rank system influencing your commission percentage. Let me explain what I mean…
Sales Representative Rank:
This is where you begin. Here, you'll earn 20% commission when you sell products up to $999 and when your sales volume gets up to $1000 your commission rate goes to 25%. 
Sales Manager Rank:
Once you hit $5,000 in sales you're promoted to Sales Manager and earn a 30% commission. When you reach $15,000 in sales volume, your commission rate goes up to 35%.
CBD CEO Rank: 
To reach your final ranking, you must have a sales volume of $25,000 to earn 40% commission and you're at that for life. 
Apparently the average product sale is around $65.
How easy is it to rank to CBD CEO? Here's the thing, the sales volumes are based on your own personal sales and have nothing to do with your team's performance.
Your only saving grace is at least your sales volume is accumulated and unlike most MLM companies, it doesn't get reset back to 0 each month. According to CBD BioCare, this means getting to that 40% commission rate should be much easier because you don't need to maintain your rank. 
In my opinion, I think it's still going to take you a long while to sell $25,000 worth of products. 
Here's an excellent video to watch that explains CBD BioCare's ranking system…
CBD BioCare Building a Team to Make Money
While you work on trying to get to that promotion of CBD CEO ranking, you'll probably want to make extra money, right? 
This is where your recruiting begins. CBD BioCare allows you to build a team by having sub-representatives. Thankfully, it's not complicated. 
For each new person you recruit, you'll earn 10% commission on their sales. 
For example, say you sign up Sarah and she sells products so you make 10% on her product sales as an override on her sale. 
Now, say Sarah recruits Kay and Kay sells products you will not make any commissions on her product sales. Sarah will earn 10% commission because Kay is her sub-rep. 
The company only encourages you to sell more products so you can increase your commission rate ranking of up to 40%. 
Unlike the majority of MLM companies, CBD Biocare went off the beaten path by setting you up with a 180 day cookie. All of your future sales from your visitors who sign up as your customers are remembered under you so you'll keep earning commissions anytime they purchase within that time frame.
What I enjoy with CBD BioCare's plan is that they have no monthly minimum product purchases requirement. They do offer you their Autoship Plan but you're not obligated to take it. This means no real inventory accumulation.
CBD BioCare's CBD Oil Wholesale Program
If you already own a business in health and wellness, pet, or beauty and skin care business, or already in a CBD market you might be interested in their Wholesale Program.
It can help you save up to 55% thru their wholesale discount coupons. 
By joining in this program, they'll give you the following:
MLM opportunities
Wholesale CBD oil bulk orders
Partnership
White labelling opportunities to sell the company's products with your owning branding and logo on
Pros – The Good Stuff!
✅ Very High Quality Products
The CBD oil undergoes multiple testing by 3rd party agencies from the plant to the product. Each product label is scannable to view the 3rd party results. 
✅ Giving Back 
CBD BioCare donates a minimum of 10% of their profits to a ministry in Nicaragua called Youth to Christ. It teaches Christianity and educates youths into leadership and evangelism. 
✅ Compensation Plan is Amazing!
First, it's very easy to understand. With an average sale of around $65 you can easily earn $12 on the starter commission rate of 20%. That's not bad at all!
Unlike the traditional MLM method where your sales volume is zeroed at the end of each month, here your personal sales are accumulated. This means you have a better chance of reaching that $25k sales and earn the highest rate of 40% commission. 
You also don't have to maintain your rank like other MLM companies.
Still, it's going to be tough selling your products locally and on social media unless you're an expert at selling. 
✅ No Minimum Product Purchases
Unlike the typical MLM companies, CBD BioCare doesn't have a minimum monthly product purchase requirement. This is less pressure on you and should prevent excess inventory buildup. 
You will however want to invest in some of the products to display and have samples for your guests to try out. 
✅ No Autoship Pressure
They have an autoship plan but you can change it anytime and not be penalized on your commission rate.
Cons – The Ugly Truths
❌ Competition
Here are some of CBD Biocare's competitors:
There are many many more…
❌ May Be Limited to Where You Can Sell
Because each country has its own set of rules and opinions, it really doesn't matter if CBD BioCare's products only have a slight trace of THC (tetrahydrocannabinol) based on the US legal 0.3%. 
Europe for example, the THC can't be more than 0.2%.
Also CBD is not easily accessible in other countries. These products infused with hemp are questionable because of the Marijuana, the main portion of the plant is illegal in some countries and therefore considered illegal just by that name.

Is CBD BioCare A Scam?
CBD BioCare is definitely a legitimate MLM company. This one is a rare find. 
Their products are organically grown, manufactured in the USA and undergo multiple 3rd party testing. This is why they have high quality products. 
Even their commission plan is easy to understand.
However, having said all this, the actual commission rate isn't all that impressive and to earn a decent amount of money, you'll be needing to recruit, recruit, and keep recruiting people.
If you're interested in selling CBD BioCare products, click here.
If you're serious about having an online business of your own and want to sell any product(s) your heart desires without the MLM rules, it would be worth your time to consider what I do…
A Better Way – How We Make Money Online
By now, you probably already know I'm not a fan of the MLM business model. I don't like selling products face to face and have never done well trying to recruit people into a downline. The products are expensive and most of the time there are too many restrictions to follow.
Instead, I chose Affiliate Marketing as my business model. I've been doing this since late December 2015 and have been quite successful with it. It's my #1 Recommendation if you're looking for ways to earn a decent amount of money.
Why?
You don't have to recruit people to make money. 
You won't have any inventory.
You can promote any product(s) you desire. You're not stuck with the MLM products.
It's FREE to get started!
Here are some SUCCESS STORIES which I thought you might like to read…
I will warn you though, any successful entrepreneur whether they have a local or an online business will always tell you they worked hard to make their dreams a reality.
If you're willing to work hard, come check out Wealthy Affiliate's affiliate training program for FREE (NO CREDIT CARD) and I'll welcome you on the inside and be your personal Coach!
Thank you for reading my review of CBD BioCare. Do you have any questions or comments, I would like to hear from you and I will get back to you.
If you are a Sales Representative of CBD BioCare, I would like to know how you're doing.
Kind Regards,
Monica