You might have already read or heard about Younique. Some say they're a pyramid scheme while others absolutely love them. Before you join this MLM, there are some things you just need to know.
"I'm having the best time of my life selling Younique", "we're really rocking this now", "I love doing this job",  "..love being able to start my own job at home selling life-changing products", "perfect for Moms"…
Doesn't this make you feel like joining the company right now?
First, let me commend you for doing your research here. This is the best way to prevent yourself from being scammed when looking for legitimate ways to make money online.
Just so you know, I'm not associated with Younique in any way. I do hundreds of product researching and write reviews from my findings so you will find lots of information here that independent presenters (same as distributors) and the CEOs don't want you to know about. 
In this review, you'll definitely want to know whether the products really work or not and if the presenters are making a decent amount of money.
Let's begin…
Younique Review Summary

Product Name: Younique
Founder: Founded September 2012 by Derek Maxfield and Melanie Huscroft 
Product Type: MLM Company in Cosmetics and Beauty
Price: $99 Starter Presenter Kit / $199 for Premium Presenter or Artist Presenter Kit
Best For: Experienced in MLM and passionate about beauty products
Summary: Younique is a legitimate MLM company in cosmetics. You're going to want to stay away from this one. Some of their products are flawed and due to company unethical practices, many independent presenters (distributors) have quit.
Rating: 1.35 out of 5 Stars
Is Younique Recommended? No

What Is Younique?
Younique is an MLM (Multi-Level Marketing) social media-based company founded by Derek Maxfield and Melanie Huscroft (brother and sister) in September 2012.  It's headquartered in Lehi, Utah (USA).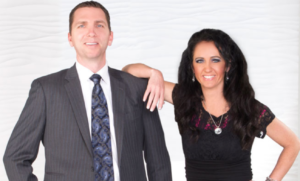 The company brands itself as a leader in cosmetics and skincare that sells foundations, eyelashes, mascara, lipstick, moisturizers, and more.
In 2017, Coty Inc., one of the oldest (1904) and largest global beauty players, acquired 60% of Younique shares for $600 million cold cash. They have over 70 brands which include famous ones like CoverGirl, Clairol, Calvin Kein and many other popular ones. 
Younique still operates independently with Derek and Melanie owning 40% shares.
Their mission is to "uplift, empower and validate women across the globe" giving them self-esteem and to provide them with a business opportunity for their own financial freedom and inner growth.
Younique is actually pronounced "unique" but they are not as unique as you think they are. The reason I say this is because their products are cosmetics and skincare.
There are lots of other companies like them for example, Avon, Belcorp, Mary Kay, and Arbonne. A great number of these independent distributors market their products and recruit on social media too. I'm sure you've seen them around on Facebook, Twitter, and Instagram.
Younique's marketing approach for their presenters is to market their cosmetic products and recruit people worldwide mostly on social media. This is how they grow their business.
The company will say you don't even have to have to do traditional home parties because on social media you can reach out to anyone
Currently, Younique has a total of 1,284,134 members.
Inside Younique – The Cosmetic and Skincare Products

The following are the product categories with SOME of their highlighted items:
Makeup
Eyes – eyeliner, eyeshadow, eye brushes, lash sets
Lips – lipstick, lip gloss, lip care, lip brushes, lip sets
Skincare
Moisturizers
Toners
Serums
Cleansers
SPF skincare
YOU-OLOGY products
Fragrance
Signature Scents
Rollerballs
Fragrance sets
Tools
Brushes for eyes, lips, face
Sponge applicators, fillable palettes
Collections
Lash sets, lip sets, eye sets, face sets, brush sets
How To Get Started With Younique Business Opportunity
The great part is Younique offers sale specials on their kits and the images below are the prices for July 2019.
You can join if you reside in the following countries:
Australia
Canada
France
Germany
Hong Kong
Ireland
Italy
Mexico
New Zealand
Portugal
Spain
United Kingdom
United States
There are 3 steps you need to take to join Younique:
Step 1: Create an Account on Instagram, Facebook, and Google.
Step 2: Find a sponsor.
Step 3: Purchase a Presenter Kit.
There are 3 Younique Presenter Kits to choose from:
Standard Presenter Kit ($99 USD/$119 CDN)
2 ea. Moodstruck Epic mascaras (black) & Splash Liquid lipsticks
YOU-OLOGY brightening mask & mask sample pack
Touch Mineral foundation sample card
White Status Presenter Charm
Marketing materials – catalogue, Presenter Guide
Purple leather makeup bag
Premium Presenter Kit ($199/$239 CDN)
You get everything in the Standard Presenter Kit including:
1 extra Moodstruck Epic mascara (black)
2 Moodstruck Epic waterproof mascara (black)
Moodstruck pressed blusher, shad quad palette with shadows
YOU-OLOGY cleansing cloths, rose water toning spritz
Younique shadow
Artist Presenter Kit ($199/$239 CDN)
The Artist Kit has the most popular colour cosmetic products for your full-face look and includes everything from the Standard Kit except for the waterproof mascara.
The additional add-ons are:
Touch Behold setting powder
Tinted lip balm
Moonstruck lash serum and blusher, pencil eyeliner
Eyeliner
Younique deluxe brush
Regardless of which kit you choose, you get free online access to:
Website
Training
Business tools to manage your business
Younique Facebook membership
Making Money With Younique – The Business Opportunity
The way you make money with Younique is typical to the MLM business model. As usual, there are 2 ways to do this:
Sell Younique products at retail prices and earn retail commissions.
Recruit people. Earn commissions and bonuses when they sell products.
Next, let's look at the way you actually get paid…
Younique Compensation Plan
Younique's Compensation Plan doesn't look too complicated and it's structured on the hybrid-unilevel plan.
There are 4 ranking levels:
Entry Presenter
Exemplary Presenter
Elite Presenter
Exclusive Presenter
Fortunately, there are only 2 charts you need to understand when you join:
The first is the Status Chart. It explains what you need to have to advance to each colour.

PRS = Personal Retail Sales
When you start, you're in the White status and the highest status is black as you can see in the image.
The numbers like the 125, 500, and so on are the actual total $$ of retail products you need to reach in order to move forward into the other colours. Once you get past the Yellow, you must be busy recruiting people and push them to sell products and recruit. That's how you make money.
When you're in the White status, you're at the 20% commission level. See the Royalties chart below. 
You don't get to the Yellow status until you sell $500 worth of retail products, that's when you earn your 25% commission and you never go below that.
The second chart is the Royalties Compensation Chart for each status. It shows the commission percentage for each status. On your retail sales, the most you can make is 30%.

Of course, your commission percentage increases as your status goes higher in rank. 
So far so good but there's catch here… Every month, you go back to the Yellow status and start over again! This is bizarre crazy don't you think??
Here's a more detailed video on Younique's Compensation Plan.

Presenters Are Not Making Much Money
Even though a lot of Younique presenters boast about how happy they are working their own business from home, how well they're doing and so on, some of them are not telling you the whole truth. 
They're not making a lot of money, even though they market worldwide on social media.
Because Younique does not have an Income Disclosure Statement, I did some digging on the internet and found their financial data for the year ended December 31, 2016.

Let's look at some of their numbers…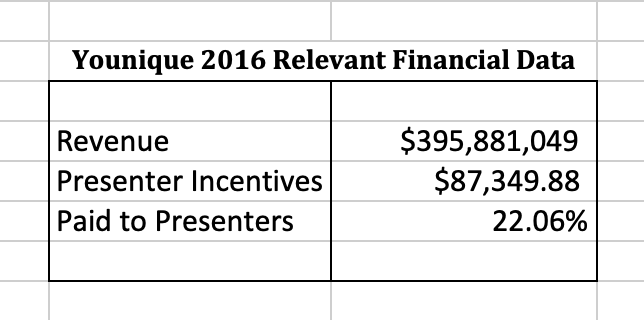 Younique paid out $87,349,881 to the Presenters who earned the commissions.
With a bit of math, I determined the Presenters earned 22.06% of the company's total revenue of $395,881,049.
If you add up the percentages in the Black Status Chart, that comes to a total of 48% in commissions, the highest you can earn. 
As you can see there was less than half of that was paid. Not good right?
Anyway, according to Younique, they have about 1,000,000 presenters total worldwide.
Using that number, each of the presenters would have made $87.39 in 2016. 
But did Younique really have 1 million qualified presenters?? I doubt it…
Let's say there were at least 500,000 qualified presenters, this would come to  $174.70. This would be the average earnings in the year. Monthly, it comes to $14.50.
I do a lot of researching and write reviews on MLM companies and I find many distributors (same as presenters) join only to purchase products at discounted prices.
So let's assume there were 300,000 active presenters, well that would come to $291.17 a year. Monthly, it comes to $24.26. ($87,349,881 / 300,000)
Would you want to join Younqiue knowing that the average income earned is $14.50 or $24.26 a month? Break these numbers further and it comes to $3.62 or $6.06 a week. You can live on that!
What I Like About Younique
1."Younique" Marketing Strategy
Because Younique is an MLM company they still need presenters recruiting people to make additional money.
Unlike the traditional Avon and Mary Kay ladies who have home parties, Younique's presenters are encouraged to do most of their marketing and selling of cosmetic products thru social media
This means you're able to host virtual parties using virtual tools thru your personal website which is set up by Younique.
However, they boast in saying they're the "first direct sales company to market and sell almost exclusively through the use of social media,"…
This is not quite true, Rodan + Fields, an MLM skincare company has been doing this for years and have been around longer than Younique.
2. Get Paid Your Commissions Every 3 Hours
When you make a sale thru your website, Younique deposits your commission into your account within 3 hours. This is impressive.
The Ugliness of Younique
1. Product and Support Complaints
We can't please everyone on the products we promote. Companies will always say their products are the best and Younique is no exception to that.
However, when I did my research on Consumer Affairs, it was alarming to read so many complaints about the products not working, lack of company support and un-kept promises. 

These are just some of the complaints…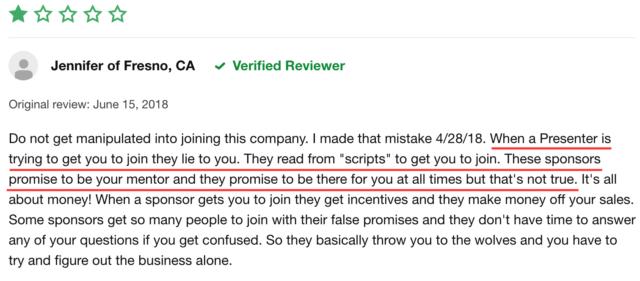 There are lots of YouTube videos of Younique ex-presenters who say the "products don't work". They talk about certain foundations, skincare, and of course the infamous Moodstruck 3D Fiber Lashes that brought grief to many women and finally to a class-action lawsuit (read below). Customers were complaining and presenters were losing money. 
Here's a video from a purple status presenter who resigned and here's her story…
Obviously, Jenie worked hard to accomplish her purple status and yet she quit due to product flaws and working with unscrupulous company behaviours.
Here's another video, Kara's story as a black status representer…
YouTube "Why I Resigned From Younique As A Black Status"
Kara was at the top status, black… she quit to start over again from 0 with another MLM company.
Repeated complaints on Younique's products are mascara, lip products, foundation, and skincare. The sad part is the founders of the company are aware of the problems.
You can't have a successful business if you don't believe in the company.
2. The Feeling of Being Brainwashed!!
This wording might seem rather harsh and unbelievable, but there are some women who feel they've been brainwashed into unethical situations by this company.
For instance, the presenters know the products don't work. They don't even like using them for their personal use. You hear this in their stories on YouTube.
When they report the flawed products, they're told by the company to keep quiet and keep selling the products and recruit and eventually they will make it to the top and make more money. They do what they're told because they believe they're going to make big money. 
In Guardian's article, theguardian.com read Lindsay's heart-breaking story. She lost around 3,000 pounds (around $3,572 USD today) while being a Younique presenter. In fact, read the entire story of how women fall into "cultish grips" of giant online MLM beauty companies.
Younique is about empowering, uplifting, and validating women. They want to women right?? What do you think? Who are they really helping?
3. No Income Disclosure
Red flag, red flag… beware!
Younique does not have an Income Disclosure Statement and this is a huge red flag.
It's important to know how much presenters are making at each level on average a year.
Don't take the word of other presenters, you need to get the real picture of what you can potentially earn.
If they don't ask what they're hiding!!
4. Class-Action Lawsuit
On August 14, 2017, Younique has a class-action lawsuit filed against them for falsely marketing its Moonstruck 3D Fiber Lashes Mascara products.
I had no idea my closest friend purchased this…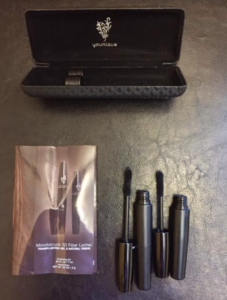 She used this while on vacation and quit using it because she had challenges applying it on her natural lashes. She didn't file a complaint nor did she talk to her presenter about it. She stays away from Younique presenters.
For years, customers and presenters have been complaining about this specific product.
The fiber lashes were supposed to be made of "natural fibers", being "100% Natural Green Tea Fibers.", instead they were made from ground-up nylon. Definitely not from natural substances.
Younique sold 14 million of these lashes which presenters sell for $29 USD mostly on Facebook from October 2012 to July 2015.
The court ordered Younique to provide all their customer data in California, Florida, and Ohio.
Younique apparently "filed an emergency appeal to fight this Order."
The company since incorporation, have said their products are "inspired by nature" and this is unfortunate for them.

Is Younique A Pyramid Scheme?
Younique is actually a legitimate pyramid even though they did some unethical practices.
I don't recommend them.
Let me quickly summarize why.
If you go on YouTube, there are lots of videos from ex-presenters who don't like Younique's products. They don't want to sell products that don't work.  They're not even happy with the services and support.
They lost customers and some of the people they recruited quit. 
Would you recommend products knowing they have flaws in them?
Like I mentioned Younique does not have an Income Disclosure Statement on their site. This raises the red flag for me and hopefully for you. Are they hiding something?
Would you want to recruit your family member or friend knowing the average earning is less than $100 a month?
I don't believe presenters are intentionally trying to scam you. I remember years ago when I was doing MLM on skincare products, I really believed I was going to live my dream lifestyle. This is exactly what the presenters feel.
A Better Way – How We Make Money Online
By now, I'm sure you know I'm not a fan of MLM.
If you're serious about having an online business and want to earn sustainable passive income that could potentially help you live your dream lifestyle, Affiliate Marketing is my #1 Recommendation.
You will also need proper training on how to do affiliate marketing and for that, I highly recommend my #1 online affiliate marketing training platform Wealthy Affiliate. They will teach you how to make money using that business model. I am a member of theirs.
Here are some reasons why you should consider my 2 recommendations:
FREE to join
For anyone, no experience required
No recruiting
People come to you
No inventory
Promote any product(s) you like (not stuck promoting the MLM product)
2 FREE websites
Work anywhere in the world as long as you have access to the internet and a computer
Like MLM, having your own online business requires hard work and patience. Affiliate Marketing and Wealthy Affiliate are not shiny buttons. You will not make money overnight. It may take 6 months, a year and even a couple of years to make sustainable passive income to the point you can retire.
This is up to your work efforts. Work hard and the rewards will be there. Even successful entrepreneurs whether they have a local or strictly an online business will tell you they worked very hard and made sacrifices to get what they want. The trick is to treat your online business AS A REAL BUSINESS!
One of the real beauties of Affiliate Marketing is you can sell products from Amazon, eBay, Best Buy and so on. 
Meet Brok… CLICK HERE to read his success story.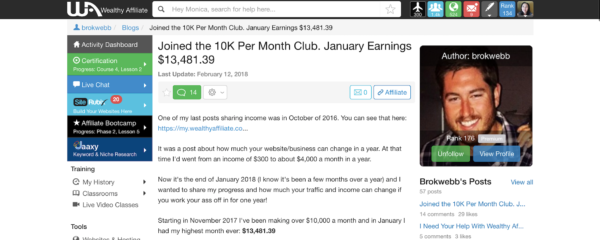 Meet Eric… CLICK HERE to read his success story.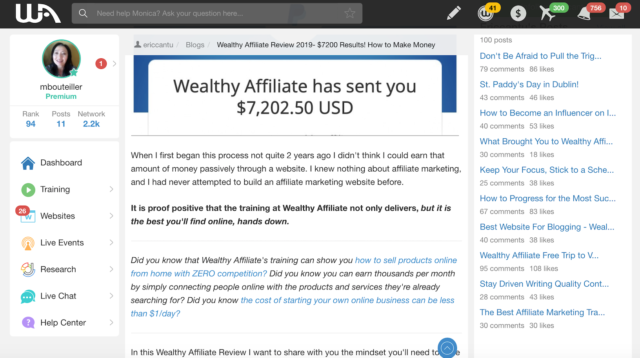 Well, what do you think? Why not give Wealthy Affiliate a try? You have nothing to lose. There is ZERO RISK AND NO CREDIT CARD IS ASKED.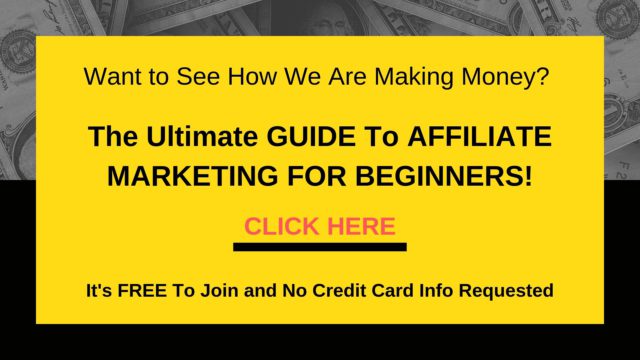 Thanks for reading my review of Younique. I hope you found it helpful.
Do you have any questions or comments? Are you an ex-presenter of Younique? Either way, it would be awesome to hear from you.
Regards,
Monica