Sometimes paying for expensive products may not be the best quality! There's a crazy truth inside Digital Experts Academy. Is this a scam or what?
I can tell you now that even though Digital Experts Academy will say you shouldn't look at the cost but to think of it as an investment to your business and personal growth… your hair will still stand when you look at the $$$ they want you to pay. 
Is the high cost justifiable? What's the reason behind it? We'll look into that too here.
This platform is different from other training academies.
Their approach is appealing in that it seems the founders really want to teach you everything you need to know to have a successful online business with a long-term plan.
But the question is, is Digital Experts Academy a good choice for you?
Let's find out!
Digital Experts Academy Review Summary
Product Name: Digital Experts Academy 
Co-Founders: Founded in 2011 by Stuart Ross and Jay Kubassek
Product Type: High Ticket Coaching and Mentoring  to Online Affiliate Marketing Training (Six Figure Mentors)
Price: $2,500 to $20,000+
Best For: Owners and those who have the money to invest. People who are already successful online entrepreneurs and want more knowledge.
Summary: Digital Experts Academy (DEA) is not a scam. Their platform is high-end coaching and mentoring. This sounds straight forward, however, the owners are using Six Figure Mentors (SFM), another site of theirs to teach online affiliate marketing. There is a catch… both sites are expensive and you have no choice but to pay a very expensive price to SFM first before you get access to DEA training.
My Rating: 20 out of 100
Is Digital Experts Academy Recommended? No

What Is Digital Experts Academy (DEA)?
Here is a video of Stuart during his live event in Phoenix, 2017. 
Digital Experts Academy is a training platform that teaches members how to make money online using the affiliate marketing business model.
They say the platform is not an opportunity to earn income. It's strictly educational.
Digital Experts Academy was founded in 2011 by Stuart Ross and Jay Kubassek. Both owners are multi-millionaires having learned online marketing from other successful mentors.
Both Stuart and Jay also own Six Figure Mentors which is another high-ticket program… yikes!
Stay with me because this part is important…
Digital Experts Academy has its own high-ticket coaching and mentoring in the back end of their platform. It's actually the parent company to Six Figure Mentors.
They promote their Six Figure Mentors platform on the front-end which provides the training on how to make money thru their affiliate marketing training program.
I guess you can say, Digital Experts Marketing and Six Figure Mentors are very similar to their offerings and you can see how they're quite locked in with each other. As far as I'm concerned, this is done to only benefit Stuart and Jay.
You'll see what I mean in this review.
What? Six Figure Mentors (SFM)? How did they get here?
Six Figure Mentors the training part is all about list building and driving traffic. They teach the art of email marketing but here's the thing, you're not learning the fundamentals of online marketing. It's important to understand at least the basics of it. 
I must also warn you that its platform also has lots of pricey upsells.
Student Access ($29.95 one-time fee)
Essential Membership ($97/month and $297 upfront)
Elite Membership ($2,500/year and $97/month)
Getting back to Digital Experts Academy (DEA)…
So just so you understand, because DEA and SFM are fully inter-linked to get access to DEA, you have no choice but to pay  SFM's Essential membership of $297 one-time fee and pay $97 a month.
I think you can see what's going on. The real problem here is that both SFM and DEA's pricing are extremely expensive.
They're just like a lot of other sites I've reviewed that have lots of expensive upsells. Upsells are fine but they don't need to be expensive… that just seems wrong in my opinion.
The other thing is, what if you just want to join SFM and not DEA … that won't matter, you're going to be faced with expensive DEA costs.
Yep, sad, but true…
What Are DEA's Products? (Courses)
There are 4 membership program levels and it's just a matter of you choosing which level is right for you depending on where you are with your business.
If you're unsure what level to choose your coach/mentor will assist you:
DEA Silver
DEA Gold
DEA Platinum
DEA Black
The first 3 levels can be taken together or independently.
The catch…The DEA Black can only be taken only after you've done the first 3 levels.
Digital Experts Academy's justification to their high prices is because apparently with there levels you are leading up to partnering with them. In other words, it would be like a franchise and so they are investing in you.
Here is a further explanation of what you will get in the levels:
1.DEA Silver ($2,500/year + must be at least an SFM Elite Member)
DEA Silver used to be training in mindsets and life-skills for success in the future.
However, Stuart recently partnered with Anna Davidson Thawe and Lewis Wade, who are experts and well-respected individuals in the e-Commerce world.
In this level, you learn to set up an e-Commerce business thru Importxperts, a platform co-owned by Stuart.
So I did some research on Anna Davidson Thawe and Lewis Wade, and it turns out they have a workshop called 'The Ultimate Amazon Masterclass'.and their fees are quite reasonable too.
Anyway, going back to Importxperts… their video actually takes you to Yiwu, China. It's the world's largest mall.
Here is a video of the world's largest mall in Yiwu, China..
Yiwu is a place where you can find and purchase products in bulk at an inexpensive price and sell them online.
Unlike factories where you have to purchase in large bulk, with Yiwu their minimum quantity is much less giving you a better opportunity to test your products.
Ready for a challenge?
You're given 30 days to learn everything you need to know to start and launch your Amazon FBA online business and the person who sells the most products wins an all paid trip to Yiwu, China.
2. DEA Gold ($8,000 + Elite Membership)
Here, you'll learn how to drive traffic, create leads and convert them into sales. The Gold, even though it's way over-priced is a lot better than Six Figure Mentors.
In this level, there are lots of good resources and tools.
For instance, they will teach you:
How to write quality content
SEO (Search Engine Optimization) to get free traffic
Email marketing
Sales Funnels
E-Commerce marketing
Social media
Paid traffic
This level has a lot of value however I don't think it's worth the price. 
3. DEA Platinum ($11,000 + Elite Membership) (Pay within 10 days for discount)
The Platinum is a 3-day live workshop where you learn to develop your brand and build trust with your visitors, establish a positive mindset and become an authority in leadership.
This is where DEA gives you your own professionally designed website and your social media setups.
Again, this is way over-priced.  $11,000 is a bit much to learn how to brand yourself.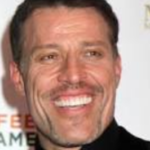 Have you heard of Tony Robbins?
Tony, is the absolute leader when it comes to teaching leadership skills and personal development of your mindset for sales and marketing. He's been doing this for 39 years.
Check out Tony's prices and you'll see a huge difference in the price. If you can't make it to his events, there are books you can purchase on Amazon.
4. DEA Black ($20,000 + Elite Membership) (Pay within 10 days for discount)
This is the yearly Mastermind Retreat.
To get the Black level, you need to purchase the 1st 3 levels.
You get to hang out with successful online masterminds along with Stuart and Jay. To be on this level, you should already be in the 6-figure income. This is where you are taught to become a mentor and given the opportunity to joint-venture with DEA.
When you get to this level, before you pay the $20k, which is ridiculously expensive, I suggest making sure you are absolutely confident and committed to following this thru.
Apparently, not every SFM or DEA member will be invited to do this level. They choose the people they know that will be successful.

What I Like About Digital Experts Academy
1.Lots of Resources and Training
There are lots of helpful and proven resources and training. You will definitely learn.
2. Dual Training
You'll learn affiliate marketing thru their Six Figure Mentorship and the mindset of what it takes to be a leader, an entrepreneur, and gain personal growth.
3. Great Mentorship
You will learn from the great masterminds and be energized.
What I Don't Like About Digital Experts Academy
1.Forced to Join Six Figure Mentor (SFM)
I don't like the idea of being forced to join Six Figure Mentors (SFM) first to get access to the Digital Experts Academy (DEA).
Furthermore, the DEA's Gold has way more to offer than the SFM so, in a way I feel, the inter-linking with SFM is a money grab for Stuart and Jay.
I would like to know why Stuart and Jay did this…
2. Way Too Expensive
Having to pay SFM's Essential membership of $297 one-time fee and pay $97 a month to too expensive. Your cost would be $97 x 12 months = $1,164 + $297 = $1,461 for your first year.
That's not including what you would be paying to get the training from Digital Experts Academy.
As I say, the DEA's Gold covers more important training than SFM's.
3. No Money Back Guarantee
I don't see a money back guarantee.
You're paying a lot of money and if Stuart and Jay truly believe in their platform, why not offer at least a 14-day money back guarantee.
4. No FREE Trial
Digital Experts Academy does not have a FREE trial.
Some ex-members pointed out it was very limited and not very helpful. They didn't learn much.
Again, if Stuart and Jay believed in their platform, why not offer a few days to give the 'nervous' folks a glimpse into their training before they take their 'hard-earned' money??
If Digital Experts Academy lowered their prices to make it affordable for people like you and me, I would say this platform could be very powerful. Combine this with their mastermind training… wow!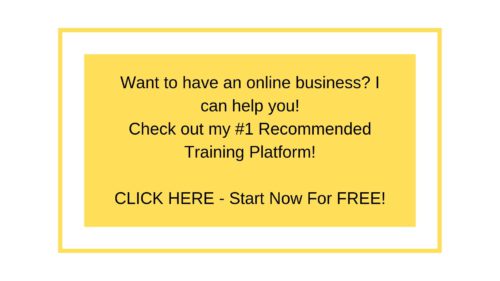 Is Digital Experts Academy A Scam Or Is It Legit?
Digital Experts Academy is not a scam. Stuart and Jay are definitely real people.
They have good training and lots of resources.
I just wish they didn't have such ridiculously high prices. It's pretty hard for anyone who doesn't have the money to invest and learn how to make money and develop leadership skills. BUT don't worry, I have a BETTER SOLUTION FOR YOU AND IT'S FREE! (CLICK HERE…)
In a way… it doesn't seem right! Digital Experts Academy seems to be more for people who already have lots of money and want to make MORE MONEY!
The part that is unfortunate like so many other sites, is this is not an online affiliate marketing platform where members are given the opportunity to promote other products.  
Digital Experts Academy really focuses on its products and products from their Six Figures Mentors.
The DEA Silver has the most value where you can look at other products thru their "Ultimate Amazon Masterclass".
Anyway, my final say on Digital Experts Academy is because of the high prices, I don't recommend their platform!
How would you like to learn affiliate marketing the proper way AND for FREE?
A Better Solution – How We Make Money
Do you want to see how we make money online?
By now you probably already know I'm a member of Wealthy Affiliate. It's a large community of over 1.4 million friendly people from all over the world. Their platform teaches people how to have a successful online affiliate marketing business in any niche they desire. 
Meet RD40… CLICK HERE to read his story!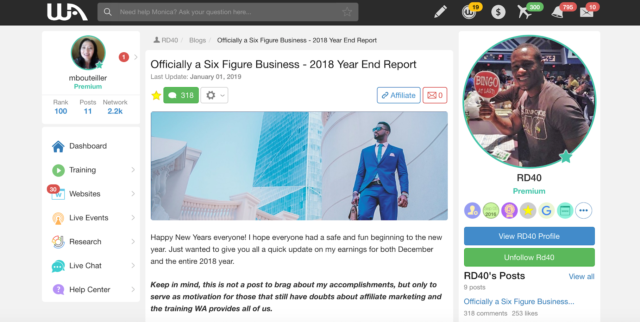 Paying for something expensive does not mean high quality!
Why not join Wealthy Affiliate as a FREE Starter Member? No  Risk and No Credit Card is requested. Stay as long as you like. There are no upsells!
If you decide later to become a Premium Member which is what I am, the cost is less than a $1 a day (yearly) or you can do $49 a month.
Honestly, the yearly is a better deal. 
Once you join, I'll welcome you on the inside, be your coach and mentor. That is my promise to you!
Thanks for reading my review of Digital Experts Academy. I hope I was able to provide helpful information.
Do you have any questions or comments for me? Are you a member of Digital Experts Academy? It would be awesome to hear from you.
Monica