So you're looking for a better body solution and want to feel better. What if I told you Yoli also has a business opportunity for you to make some money? Imagine selling great products, feeling awesome and wealthy. BUT is Yoli a Scam? There are some things you really need to know before you join.
The company claims you can lose 15 pounds in 1 week. However, I'm wondering what the risks are to your body to lose that much weight so fast. After all, you're going to be feeding your body with a bunch of protein shakes, pH balancer, and energy drinks.
According to Health Line, experts say "losing 1-2 pounds a week is considered a healthy and safe rate.
The other thing to consider is the side effects. There must be some don't you think?
The purpose of this review is to determine whether the products are beneficial or not and to see if Yoli is a good business opportunity for you. I'll also go over the pros and cons of this company.
First, just so you know, I am in no way associated with Yoli. I have researched hundreds of products and write reviews on them to help you make an informed decision. 
I have also been a distributor of 3 MLM companies, (health and wellness, candles, and skincare) and so I am quite familiar with how the MLM business model works.
Let's begin…
Yoli Review Summary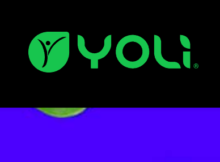 Product Name: Yoli 
Founders: (2009) Robby Fender, Corey Citron, Daren Falter, Michael Prichard, and Bobby Jones
Product Type: Health and Wellness MLM Company
Price: Prices vary… $69.94 and up to $3,697.97/per kit wholesale
Best For: Owners and people who enjoy face to face selling and recruiting
Summary: Yoli is a legitimate MLM company that offers you their business opportunity. There are very little product complaints. The ones who complain are about side effects and payments taken out unnecessarily. There is no Income Disclosure Statement on their site and so it makes me think the majority of their members are not making money.
My Rating: 1.9 out of 5 Stars
Is Yoli Recommended? No

What Is Yoli?
Yoli is an MLM (Multi-Level Marketing) company specializing in health and wellness products. Its main focus is on weight loss and optimal health.
Founded in 2009 by 4 entrepreneurs, Robby Fender, Corey Citron, Daren Falter, and Bobby Jones, you might be wondering why the name Yoli?
In Aztec, Yoli means "to live".
The company's mission is to charge up your body by helping you lose weight and keep it off. They claim they'll help you change your life "physically, emotionally, and financially".
They want you to live your life the best way possible. This is why Yoli is giving you 3 experiences:
Physically, they can help you lose weight with their weight loss and immune system products.
Emotionally, once you lose weight, feel healthier and energetic, you'll feel better and have more confidence in yourself by using Yoli's weight management kits.
Financially, a business opportunity that they say can change your life thru their MLM compensation plan.
Inside Yoli – The Products
Yoli has 3 types of product lines:
#1. Better Body System: This is the main package. It's made up of 5 body target products for weight loss, healthier immune system, total nutrition, energy, and muscle and bone builder.
Apparently, according to Yoli, people using this package have had an "average weight loss of almost fifteen pounds" in a week.
#2. Transformation Kits ($279.94 Wholesale): This 30-day kit is supposed to help you lose weight fast. You'll start by detoxifying your body while maintaining your pH balance, take supplements for energy, follow your daily meal plans, and drink protein shakes. You will even get your own Better Body System Workbook. 
To see Yoli's product prices, CLICK HERE.
#3. Lifestyle Kits ($69.94 to $165.89 Wholesale): The Lifestyle kits are also made up of products from the Better Body System. If you want to keep maintaining your body after the Transformation Kit you can move on to the Lifestyle Kits …Alkalinity Kit, Weight Management Kit, Energy Kit or make up your own kit.  
Do Yoli Products Work – Can You Really Lose Weight?
I thought we should delve into whether Yoli products really work or not. After all, you do want to market products that are healthy for your customers, don't you?
I also believe it's important to know what kind of support/services you can expect to get from Yoli and your sponsor.
Yoli claims they're the "Better Body System", but are they really?
I did some research and here's what I found…
BBB

BBB gives Yoli a rating of A+. This is because Yoli LLC corporate did their due diligence by responding back to the complainants. In the last 3 years, there were 7 complaints filed and 2 in the past 12 months and Yoli replied back to all of them. 
If you want to read them all, CLICK HERE. 
Do Yoli products really work? To be honest with you, I workout 4 days a week at a local Bootcamp and so I have no need or desire to use their products. People get individual results with any type of health and wellness products. What works for others may not work well for your body.
If you want to lose weight Yoli's way, then it's best to try them out and see for yourself. 
Making Money With Yoli – The Business Opportunity
Typical of MLM, Yoli offers you 2 ways to make money.
Sell the company's health and wellness products at retail prices and earn retail commissions.
Recruit people and build your downline so you can earn commissions and bonuses on the products they sell.
BUT before you can earn your commissions and bonuses, there are some actions you take to take first. This means you must be qualified.
How to Get Started With Yoli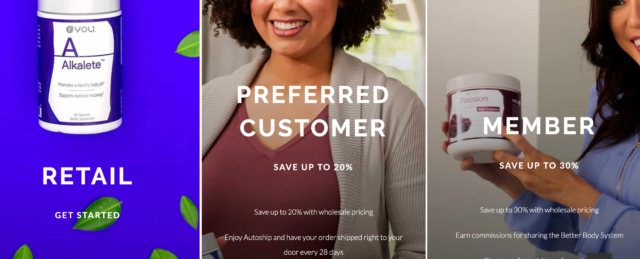 There are 3 ways to start with Yoli:
1. Consumer: You can join as a consumer and purchase products at retail prices.
2. Preferred Customer: If you want to try out the products and save up to 20% with wholesale prices then the Preferred Customer option might be the right choice.
The good part is Yoli gives you a 30-day money-back guarantee HOWEVER you will not be able to earn commissions and bonuses.
Yoli will offer you the opportunity to do the Autoship and I would think twice before doing that. Its purpose is to send your products to you automatically every month but with my experience of that, you can build up inventory quickly if you're not paying attention. It's only a money grab for Yoli owners.
If you have an inkling of joining as a member, I suggest starting with the Preferred Customer option first. 
3) Joining as a Member: If you really want to take Yoli's business opportunity and earn commissions and bonuses, then you will want this option.
But this is going to be EXTREMELY EXPENSIVE! Apparently, you need to purchase 4 Transformation Kits (4 x $285.94) so that's going to cost you around $1,143.76 at the wholesale price in addition to SHIPPING and TAXES. You'll save up to 30% with wholesale pricing.
Next, in order to unload all that inventory, you need to hustle and start selling those kits (I suggest keeping 1 kit to demo and 1 kit for your personal use) and find people to recruit into your downline so you can start earning your commissions and bonuses.
I MUST WARN YOU … PLEASE BE SURE YOU REALLY WANT THIS BUSINESS OPPORTUNITY! Yoli's site is NOT VERY TRANSPARENT. They lack their Income Disclosure Statement which all MLM companies, in my opinion, should have so you can see how members are faring in each level of ranking. 
Yoli Compensation Plan
Yoli's Compensation Plan is like all MLM companies. They're complicated plans. The most popular one is the Binary structure.
However, Yoli likes to make it more complex using the hybrid plan which is a combination of the Binary and the Unilevel structures.
The Binary splits your business into a left leg and a right leg so you can share the Personal Volume (PV) from both of those groups.
The Unilevel is where you can earn residual income. When you personally recruit/sponsor people to your downline team you can earn commissions and bonuses.
There are benefits to both structures.
To earn any Yoli compensation, you must either be an ACTIVE or a QUALIFIED member.
If you're an ACTIVE member you can earn SOME commissions.
Requirements for the ACTIVE member:
You must purchase products totalling a minimum of 50 PV (Personal Volume) every 4 weeks or sell that amount to your customers.
You must also be enrolled in Yoli's monthly Autoship.
To be a QUALIFIED ACTIVE member and have the opportunity to earn all commissions and bonuses,  you need to recruit at least a minimum of 2 active members and place them on each leg (left leg and right leg). This is the start of your Binary Tree (see the image above)
PV (Personal Volume) – These are points placed on products you purchase, sell online from your personal Yoli website, and sell to your Preferred Customers.
10 Ways to Earn Commissions As An ACTIVE QUALIFIED Member:
#1. Retail Profits  – Purchase the products at wholesale prices and sell them at retail prices and you earn the difference which is retail profits.
#2. Rebate Bonus Program  – This is a unique program that sets Yoli apart from other MLM related companies. When you enrol Preferred Customers and Retail Customers and make product sales that exceed 600 PV in a week, you can earn a nice rebate commission.
#3. Fast Start Bonus  – When you enrol new members, you earn a 20% commission when they purchase their first product order along with the PV points.
#4. Refer 3, Get It Free – You can get a free product when you enrol 3 members and/or preferred customers during a four-week period.
BUT there's a catch, you need to first join their Autoship and have a minimum of 50 PV points. There are other challenging conditions here.
#5. Binary Team Commission – When you sponsor people and place them into your downline (the left leg and the right leg) you can earn a residual income from their performance.
#6. Unilevel Executive Matching Bonus – This bonus is based on your personally sponsored members' performance. Your rank determines your percentage.
#7. Global Bonus Pool – You can earn ½% shares of one of the company's total PV split into 3 pools when you get to the Diamond rank or higher.
#8. Multiple Business Centers – When you get here, this means you're at the very top and maxed your Binary Tree structure. Yoli offers you the opportunity to build another downline and earn multiple binary commissions.
#9. Travel Incentives – Every year, Yoli gives an opportunity to the qualified members to travel exotic places in the world.
#10. Luxury Car Program – This is an incentive for Yoli's top members. If you meet certain requirements, you'll be awarded $600 every 4 weeks that will go towards your car loan or lease payments.
There are other bonuses but these are the main ones.
Now you might be quite thrilled about the bonuses and commissions, but I can assure you that it's not easy to get to the top.
According to FTC , 

To be honest with you, the only ones who really make good income are the distributors who started early when the company first offered their MLM business plan and the owners themselves.
This video is Yoli's Compensation Plan Intro…
If you look on YouTube, they have 4 videos… Compensation Plan 1, Compensation Plan 2, Compensation Plan 3, Compensation Plan 4. Complicated? Yep!!
For more detailed information CLICK HERE  for Yoli's 2018 Compensation Plan… 

What I Like About Yoli
1. 10 Years in Business
The fact that the company has been in business since 2009 and haven't been shut down by the FTC is definitely a good sign of legitimacy. 
2. BBB Rating

Yoli has been given a rating of A+ by BBB. The high rating is because the company does its due diligence of responding back to the complainants and taking action according to their policies.
The good part is there are just a small handful of complaints, 7 filed and closed complaints in the last 3 years is pretty impressive.
What I don't Like About Yoli
1.Takes Over a Minute to Get Into Their Website
It takes over a minute for Yoli's website to popup. Yoli gives you a personalized website when you become a member and if it's a sub-domain, your site could take just as long to show up.
I went to a distributor's site and it was slow to come up too. This delay could cause your visitors to go to your competitors' sites which brings up the point. 
2. Too Many Competitors 
Health and wellness are one of the most popular niche markets in the MLM world. Yoli has many competitors, to name a few:
3. Recruit Forever
The only way you're going to earn your commissions and rewards is to keep recruiting. That's simply the way the MLM business model works and Yoli is no different.
Yoli will get you to make up a list of your friends and family members first. When you run out of people you're then forced to really push anyone you cross paths with to try and unload your inventory.
That's why Yoli has the Refer 3, Get It Free… they want you to recruit!
3. Inventory From Autoship
The reason I dislike Autoship so much is you can literally build up inventory very easily and that's why you need to keep selling your products and recruit, and recruit, and recruit…
The sad part is when you keep your Autoship on, you get great commissions.
4. Official Website is Not Transparent
When you go on Yoli's site, I don't know about you but it feels like they're hiding a lot of information.
For instance, they don't have an Income Disclosure Statement. That statement helps you decide if you can make money with them. Without that I suggest don't join.
If you don't know what the Statement looks like, here is Plexus's Income Disclosure Statement…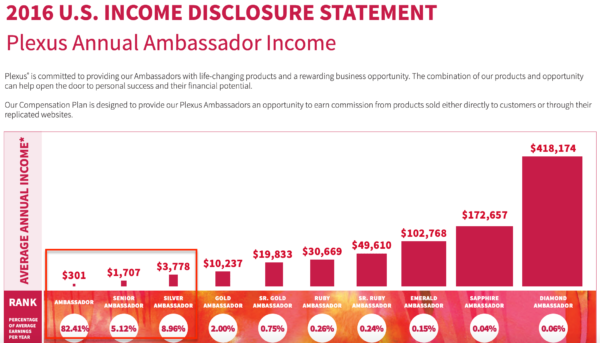 As I mentioned earlier from FTC's studies, less than 1%  are successful in MLM.
5, Products Are Questionable
Yoli's products are not backed by any clinical studies.
The only way to find out if the products work is to try them out for yourself.
Like all the MLM health and wellness sites, there are the usual complaints …
Gas
Diarrhea
Headaches
Blockage in the intestines
6. Products Are Overpriced
Yoli's product prices are expensive in my opinion and quite frankly you can purchase similar products at your local health and wellness store that are less.
For example, Yoli's retail price on a Transformation Kit is $340
Preferred price (20% off $340) is $279.94 wholesale.
It's much cheaper to work out at a gym or a Bootcamp (what I do) which has a nutritionist and pay a yearly $1200 membership and eat portioned healthy foods without Yoli's products. Trust me you will feel much better and naturally energized.
Yoli's Better Body Solution is not a viable long-term solution both in weight-loss and business opportunity. 
Is Yoli A Scam, A Pyramid Scheme?
Yoli is a legitimate company. It is not a scam nor is it a pyramid scheme.
It's pretty obvious Yoli has been around for 10 years and haven't been shut down so far.
BUT I still cannot recommend them. If they can't show you their Income Disclosure Statement, in my opinion, they're hiding the fact that not many of their members are making much money if any.
Along with their complex Compensation Plan and Autoship, you're better off to not join Yoli.
How We Are Making Money
You probably already know I'm not a huge fan of MLM. I've been there and done that 3 times! I was involved with health and wellness, candles, and skincare MLM companies… In my opinion, the only ones who really benefit are the owners and the people who joined early around the time the company was founded.
The other reason I don't like MLM is face-to-face selling. I'm not comfortable doing that and the home parties, well that's just not me. Do you feel the same way??
I'm sure you're also quite aware by now that I am an affiliate marketer. 
That's because it's the BEST way to make money online. Affiliate marketing business model is my #1 recommendation.
Why?
No recruiting
No face to face selling
Promote any product(s)/services you desire. You're not stuck with just promoting products from an MLM company.
I'm also a member of Wealthy Affiliate, and yes, it's also my #1 recommendation for the best online affiliate marketing training platform that teaches you how to make sustainable long-term income the right way. 
Meet RD40… CLICK HERE to read his story.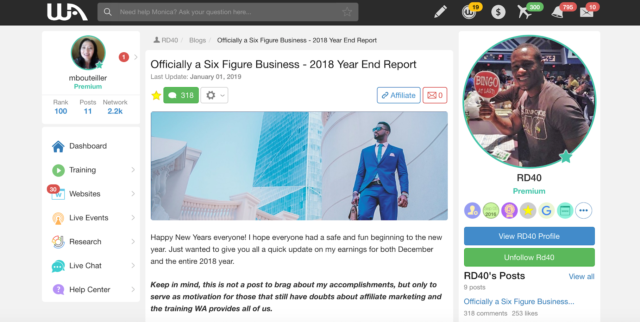 Well, what do you think? Would you like to join Wealthy Affiliate as a FREE Starter Member, NO RISK, AND NO CREDIT CARD REQUESTED! Seriously, you have nothing to lose and much to gain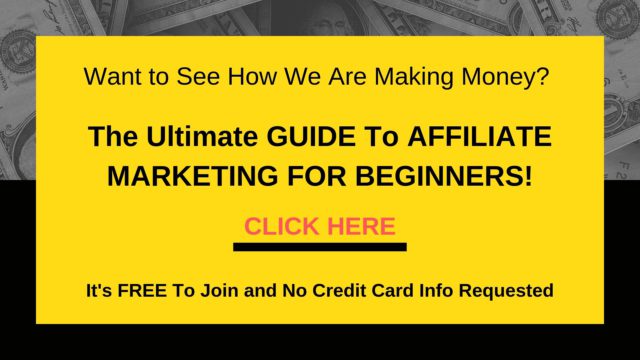 Come take a good look inside and I'll welcome you there and help you every step of the way to you having your very own successful online business in any niche your heart desires.
Thanks for reading my review of Yoli.
Do you have any questions or comments? Are you a member or ex-member of Yoli? I would like to hear all about your experiences.
Monica