Does iBuumerang work or is it a business opportunity gone wrong?
So you heard of iBuumerang, the buzz of discounted travel products and people making money on it.
No? Well, that's ok. I'll tell you everything you need to know about the company. Just imagine for now being able to afford to travel anywhere in the world and make money at the same time. 
Some people think it's a scam. Is it? You'll find that out here.
One thing interesting about iBuumerang is they'll say you don't even have to sell or recruit anyone but it's apparently optional so you can if you want to. 
Are they different? You'll find out soon.
This review will tell you what iBuumerang is about, how their business opportunity works or not, pros and cons and more.
First, let me congratulate you on doing your research here. It's the only way to find legitimate ways to make money online.
I have done MLM (Multi-Level Marketing) in skincare, candles, and health and wellness products and have knowledge of the industry.
Just so you know, I am in no way an independent distributor of iBuumerang. My job is to research products and write reviews on them. 
If you're good with that let's begin…
iBuumerang Review Summary
Product Name: iBuumerang 
Founder: Holton Buggs
Product Type: Discounted travel company with an MLM business opportunity
Price: $49.95 to $1,000 Memberships + up to $99.95 Monthly Subscription Fee
Best For: Experienced MLM and people who like to sell and recruit
Summary: iBuumerang is a legitimate MLM discount travel company. Thousands of people joined in the first 6 months and are earning commissions and bonuses. As good as that sounds you should be aware the founder, Holton Buggs has a shady past. Like all MLM companies, you must recruit people if you want to earn a meaningful amount of commissions and bonuses. Their compensation plan reveals it all. 
My Rating: 2.35 out of 5 Stars
Is iBuumerang Recommended? Not really

What Is iBuumerang?
iBuumerang is an MLM (Multi-Level Marketing) membership company offering discounted travel services and a business opportunity. 
The company's mission is simple. "Give the goodwill and savings and you'll get rewarded with travel savings bonuses in cash!", hence the boomerang. They claim you can make money weekly "without selling, recruiting or convincing". This is their new MLM approach and it's why they say they're different from other MLM companies.
I'll get into that as you read on …
Headquartered in Houston, Texas, USA, iBuumerang launched its brand in March 2019.
It's definitely been the talk in the MLM world. Thousands and thousands of people joined because they've been told the travel industry is an $8 trillion business a year. They all want a piece of that pie.
But I have to tell you iBuumerang is not the only MLM company promoting wholesale travel. For instance, take a look at…
Another piece of news is iBuumerang partnered with Xstream Travel which I'm not surprised to hear.
Owned by CEO David Manning, Xstream has been around for over a couple of decades now and making well over $1.5 billion in travel sales. It offers a variety of travel-related services and training to help you become a better travel expert.
That's impressive don't you think? Take a look at Xstream's awards.
David is also the founder of TraVerus Travel. If you heard of Paycation, well it was actually replaced by Traverus which by the way offers Xstream services.  David founded both of these MLM discount travel companies and both are known for selling cheap vacations.
David has challenges…
Paycation didn't get very far possibly due to battles with Global Platinum Services, another MLM travel competitor. 
It seems David doesn't give up. If it doesn't work well, he just recycles it and that's why Paycation is now Traverus. 
About Holton Buggs
Holton Buggs known to many as HB is the founder and CEO of iBuumerang. He's definitely not a veteran in the MLM industry.
In fact, Holton has over 28 years of experience in MLM and quite successful at it too.
He joined Organo Gold (an MLM coffee and personal care products company) in 2008, and by June 2012, he was making $900k a month.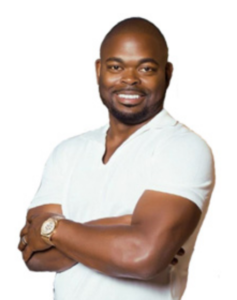 Why he left Organo Gold seems to be a bit of a mystery. Perhaps he was looking for something different or it could be because of a lawsuit Melaleuca vs Organo and Holton Buggs.
Yes, like David, Holton has some challenges himself…
It seems Holton was a Preferred Customer of Melaleuca and he was sued for "duplicating key portions of the Melaleuca's business model". Holton and Organo ended up paying Melaleuca over $3 million dollars.
But Holton, like David,  doesn't give up, he pre-launches his Countdown4Freedom which became iBuumerang.
Holton says iBuumerang is not the usual MLM business where you have to scramble to recruit people. The truth is you need to recruit people that's why the company has its MLM Compensation Plan (more on that below).
Inside iBuumerang – The Products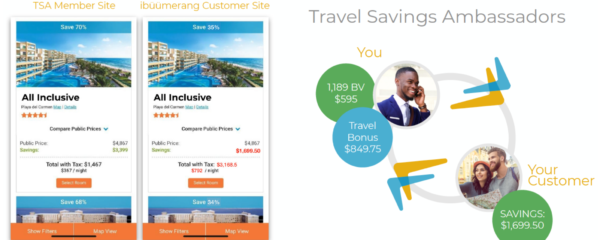 iBuumerang's product is their own booking engine called iGO which means  "I go for less". It's where you get access to travel deals on the following:
Flights (no savings on flights)
Hotels
Cruises
Car rentals
Timeshares
Homes
In addition, iBuumerang offers various activities for your lifestyle with savings and rewards:
Shore excursions
Activities outdoors
Shopping rewards
Golfing
Theme parks
Tours
Gift cards
Restaurants
Wine club
Travel emergency services
With iBuumerang's partnership with Xstream Travel in the backend, you're entitled to the following:
Enticing travel packages for groups
Refer XStream travel requests and earn travel bonuses
iBuumerang travel support
iGo Membership support
Education on travel
Exciting member trips that will give you memorable experiences
Exciting, yes? Before you join, let's find out how this company really works.
How Does iBuumerang Work?  
iBuumerang is definitely no different from other MLM discount travel.  This concept has been around for years.
The idea behind iBuumerang is to give. You send out a free website by a "boomerang" email with an access code to your friends and family members. You just let them know they can save money for travelling.
It's like other travel portals like Expedia and Travelocity. It's a one-stop place. Your guests create an account, book their travel, and save money.
So if your customers are interested, they'll click into your iBuumerang offer, join first, and then sent to the iGO services (run by Xstream) where they can get discounted travel.
The only way you're going to get these boomerangs is from a TSA (Travel Savings Ambassador) otherwise known as an Independent Representative. If you want to earn commissions and bonuses you need to become a TSA.
You earn your commission when your customer books a discounted travel product.
Sounds easy right?
BUT there's a catch!
You see, the number of boomerangs you can send is dependent on your type of membership.
The obvious of course is the more you pay the more boomerangs you can send out to get higher commissions.
For instance, if you have 5 boomerangs, well you have an opportunity to get 5 customers each month. But I'm sure you want more…
Contrary to what Holton will tell you that that "recruiting is optional", if you want more commissions, you need more customers that's how MLM works. Your goal is to build your team, your downline.
Yup, this means recruiting, recruiting, and recruiting… remember iBuumerang's business model is MLM.
If recruiting is not your thing, it seems iBummerang has a solution for you.
They have an automated tour video called iDecide. Here's the video if you want to understand the presentation more.
It's an interactive presentation that explains everything about iBummerang and its services and how to make money with them.
They say if you're uncomfortable doing face to face selling to your prospects they can watch the presentation. You don't have to worry about making a script to convince anyone.
When someone asks what you do, you just let them know you boomerang. They'll ask what it is and you say you help people save 70% when they travel and do they want to try it. If they say yes, ask for their name and email address and send them an email.
The video presentation concept is certainly nothing new in the MLM industry but it will help make some sales.
There are thousands of people joining but it's because iBuumerang is a new MLM company and anyone joining early can do quite well until it becomes saturated.
How to Get Started With iBuumerang
After you join from their website and give them your name, phone # and email address, you first need to pay for the Standby enrolment subscription fee of $49.95 monthly.
You'll get the following…
Standby Enrolment Kit ($49.95 Monthly) 
A customized customer website with 'a wholesale travel booking platform'
Send out 5 buumerangs with code (email invitations)
Receive a 25% commission on your referrals
An iDecide customized interactive presentation for your customers. It's the easiest way to do presentations so you don't have to do face to face selling.

TSA (Travel Savings Ambassador, also known as an Independent Representative)

Online Management System
You have 3 choices if you want to upgrade and make the big commissions. I'll just highlight what you need to know below.

1. Coach Class ($250 Upfront + $49.95 Monthly Subscription)
iGO booking engine
Send 10 buumerangs a month
Travel saving bonuses of 50% on hotels and vehicle rentals
And more
2. Business Class ($500 Upfront + $99.95 Monthly Subscription)
iGO booking engine
Send 25 buumerangs a month
Travel saving bonuses of 100% on hotels and vehicle rentals
Etc.
3. First Class ($1,000 + $99 Monthly Subscription)
iGO booking engine
Send 50 buumerangs a month
Eligible travel saving bonuses of 100% on related travel and activities
And more
As you can see, the most expensive level is the First Class and the highlight is you can give 50 buumerangs a month.
NOTE: If you want to upgrade to any of the 3 membership options, you only have 60 days to pay the difference, otherwise it's the whole upgrade membership price.
How to Make Money With iBuumerang
iBuumerang is still very typical to the MLM industry when it comes to making money. For instance, there are 3 ways to do this:
Retail sales. When someone books from your personal iBuumerang website, you make a retail commission.
Recruit people to your downline and when they book discounted travel products and recruit others you also earn various commissions and bonuses.
Each travel product has points referred to as BV (bonus volume), It's based on your rank and so you can earn a certain percentage of commissions on it.
iBuumerang's Compensation Plan 
iBuumerang's compensation plan is again like the typical MLM plan. It's complicated.
There are 6 ways to earn your commissions:
1. Refer Travel Booking – when someone you refer books on Xstream Travel you earn a 25% commission.
2. Travel Savings  – when your customer saves money through your boomerang you make 50% or 100% on the savings depending on your level of membership.
For instance, say a trip will cost you $1200 on average when researching at other travel sites and iGo offers it for $800. You would save $400.
Say your friend, a retail customer, is interested in this trip too and books through your boomerang on iGo. That friend receives 50% savings on that $400 which is $200 ($400 x 50% = $200). Your friend's retail price is $1000 ($1200 – $200 = $1000.)
This means your friend is saving $200. If you were an independent iBuumerang distributor you would get a better deal on the same trip from iGo of $800.
When your friend pays the $1000, that extra $200 belongs to iBuumerang commissions.
Are you with me so far? I know it sounds complicated…
Remember I discussed earlier the memberships? Well, your membership level determines your commission.
Say you joined the Coach Class membership you would receive 50% of what your friend saved. This means (50% of $200) $100 is your Travel Savings commission.
Similarly, if you had joined the First Class membership you would receive 100% which would be $200.
The balance of $200 goes to iBuumerang which they use for their compensation payouts.
3. Build Your Team (downline)
When you join as iBuumerang's TSA  you can also earn a bonus when you recruit new TSAs and when they recruit others into their downline.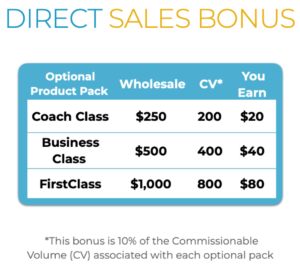 The bonus is membership level dependant. For instance, when your new TSA signs up for the Coach Class, you make $20, or $40 on the Business Class, or $80 for First Class.
4. Dual Team Bonus Commissions
When it comes to recruiting, iBuumerang uses the typical MLM binary compensation plan meaning there are 2 legs, a right and a left side.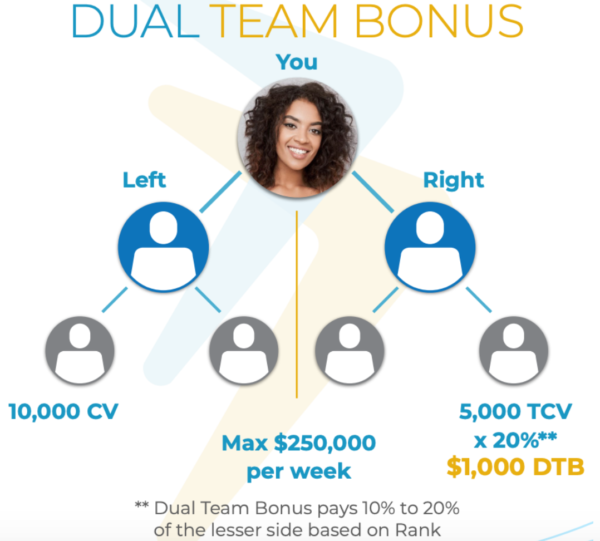 The Dual Team commissions are based on your team's volume on the smallest leg. You can make 10% to 20% depending on your membership level.
You can make these commissions when your team members in your downline recruit others and make money through their own efforts on sales of membership fees and travel bookings made.
5. Unilevel Bonus
iBuumerang uses the Unilevel MLM compensation model as an incentive to motivate you into recruiting more people to the TSA membership. There are 7 levels under you.
Depending on your rank you can earn anywhere from 5% to 10% on the total paid bonus volume of your monthly subscriptions and travel savings from the boomerangs sent to your customers.
And of course, the higher you rank, the more you make.
6. Leadership Development Bonus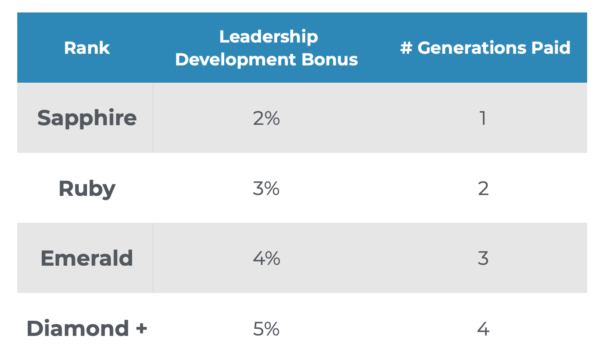 When you help your recruits iBuumerang will reward you with a 2% to 5% Leadership Development bonus when any of them reach the Sapphire rank or higher.
The maximum number of Sapphire's is 4 generations within your organization.
There is a lot more to iBummerang's Compensation Plan and so I included this video…
Here's the PDF of the plan… 
If you're an expert on MLM you already know that the more people you recruit the greater your rewards are.
The big question … how successful are the TSA with their buumerangs?
Meet Edwin Haynes. he has an impressive rank of Global Master Distributor and apparently has been making $3,000,000 a month with iBummerang.
Can you be a successful MLM like Edwin? Sure you can. You just need to be comfortable doing sales face to face selling and doing live presentations.
Because iBuumerang is still quite new, I'm not really surprised members would have great results within 6 months from the time of its launch. That's what happens with new MLM companies. Most people already familiar with the industry know they have a better chance of making money if they join early.
According to Business For Home, these are the results in the company's first 6 months…
"Over $20,000,000 in total sales
Over $12,000,000 in commissions to distributors
Over 120,000 active customers
Over 30,000 distributors"
I did the math and here's what I come up with:
If I take the $12,000,000 in commissions and divide that by the 30,000 distributors that will come to $400 per TSA distributors. Unfortunately, it doesn't show what level they're at with a percentage.  
Anyway, that $400 might just pay for a couple of nights stay at a motel somewhere. Not what I consider an adequate vacation.
Next, I was thinking about the 120,000 active customers, they're supposed to be customers who actually took the boomerangs and booked their trips.
Are these 120,000 "active" customers really all retail customers? If you were an iBuumerang TSA wouldn't you be booking discounted vacations like crazy? Just a thought… this would mean the TSAs are the ones who are buying most of the company's travel products.
How do I know this? I can personally tell you when I was doing MLM, I purchased thousands of dollars of products. Even my sponsor and her sponsor did the same thing. Why? It's because as independent representatives we get a much better price deal.
What I Like About iBuumerang
1. New Company
Because iBummerang is relatively still a new MLM company, you actually might have a chance to make some decent commissions and bonuses as long as you're willing to find people who will accept your boomerangs.
The problem is once this company gets saturated with other TSA members your chances of recruiting get slimmer and don't forget iBummerang has a lot of travel MLM competitors.
2. Interactive Presentation
If you're not into recruiting people face to face you can always send your customers and prospects to iBuumerang's interactive presentation. It does all the explanation of the company's services and support and shows how to save money on travel and earn commissions and bonuses. 
3. Price Guarantee
If you or your customers find a travel price lower from other travel sites the company gives you a refund. 

What I Don't Like About iBuumerang 
1. Discount MLM Travel Competition
The ones I listed earlier are just some examples of the MLM companies that offer discount travel services with commissions and bonuses and their members have their own personal website, training, and support. There are many other MLM travel competitors.
iBuumerang is no different!
2. Holton's Shady Past
You already know Holton's been around in the MLM business for over 20 years and he's been extremely successful with it BUT he does have a shady past.
Holton was a preferred member of Melaleuca from September 2008 to August 2009. He was sued by Melaleuca. Here's the story.
Here's another one. Click here to read the lawsuit from  AmeriSciences, 2016.  
I know no one is perfect and we all make mistakes so I can only hope Holton has learned his lessons and will not be a detriment to his iBuumerang company.
3. You Still Have To Recruit
I know iBuumerang will say you don't have to recruit and that it's your option if you want to. The truth is you need to recruit other people and rank higher if you want to make money. They do MLM, that's why they present you with their Binary and Unilevel compensation plan. 
You'll want to start with your family and friends first and after that, well…
4. Monthly Subscription Fees Are Expensive
You can make money just by doing direct selling because the company has its inexpensive Standby Membership of $49 BUT you still have to be an active member to earn commissions. This means you have a quota to meet a minimum of 200 BV points.
You can build up these points from your buumerang commissions, however, your sponsor will push you into buying into one of their optional memberships, the Coach, Business or First Class because apparently it's the fastest way to be active. 
If you do that you'll pay anywhere from $250 or $500 or $1000 one-time fee and don't forget those monthly fees that will cost you $49.95 or $99.00.
You must pay to play! I can tell you Holton and the members who joined early are the only ones who will win. That's how MLM works. iBuumerang's concept is nothing new in the MLM world.
Is iBuumerang a Scam?
I don't believe iBuumerang is a scam. So far the members are getting paid and I haven't seen any real complaints on BBB and Consumer Affairs although the company is still quite new. Not even a year in business.
I still do not recommend iBuumerang but it's still your decision. If you want to join iBummerang, CLICK HERE!
As I said, their MLM business system is nothing new in the MLM discount travel industry and they have a lot of competitors.
It's challenging to make decent commissions and bonuses. Years ago I was an independent distributor for 3 different MLM companies, skincare, and health and wellness and as hard as I worked and was motivated I I made very little. Some of their products were very good but as a business, the niche was too saturated and I lost money.
Can you make money with MLM? Click this!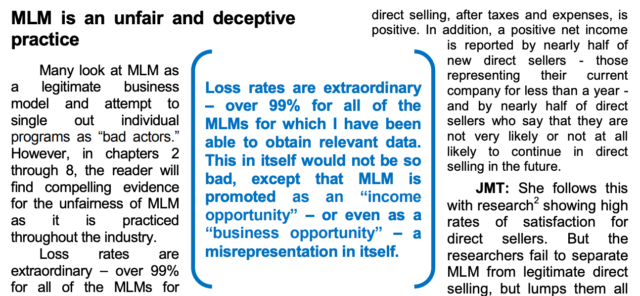 A Better Solution!
As you can see, I'm no longer a fan of MLM but if you're really serious about being your own boss and want to be the owner of your successful business, I have a BETTER SOLUTION FOR YOU!
Affiliate marketing is the easiest AND THE BEST way to make money online. It's my #1 RECOMMENDATION.
I can prove it to you. Just click here or on the image below…
If you want to know the real differences between affiliate marketing and MLM, you might be interested in reading Affiliate Marketing vs MLM. 
Why choose affiliate marketing?
There is no recruiting. You don't have to chase after anyone.
You don't have to do any face to face selling.
You can promote any number of products your heart desires without carrying an inventory.
You are your own boss and you can make your dreams come true.
You can earn while you sleep.
The success stories you just read are from some of the members of Wealthy Affiliate. It's also my #1 recommendation for your online affiliate marketing training on how to make long-term passive income.
Do you want would an idea of what you'll learn to have a successful online affiliate marketing business with Wealthy Affiliate? Read my Easy Beginners Guide to Affiliate Marketing.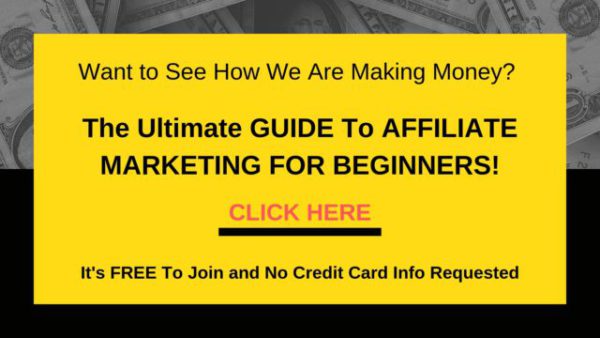 Well, this is it for my review of iBuumerang. I hope it was helpful so you can make an informed decision to join them or not.
If you have any questions or comments or if you are a member of iBuumerang I really would like to hear from you. 
Thank you for reading!
Monica