Yep another health and wellness review. BUT ARIIX's quite unique when it comes to their business opportunity. They claim their compensation plan has the highest commissions in the MLM industry. Is it a scam or what?
I have to tell you something has gone terribly wrong.
In this review, I'll talk about ARIIX's compensation plan, how you can make money or not, whether their products really work, the pros and cons and more.
First, let me commend you. By doing your research here, you're preventing yourself from being scammed and helping yourself find legitimate ways to make money online. 
I also want to say I'm not affiliated with ARIIX in any way. I have done hundreds of researches on products and have written reviews on them to help people make good decisions.
Having been involved with MLM companies as a rep in health and wellness, skincare, and candles, I have experience with MLM companies.
So let's begin…
ARIIX Review Summary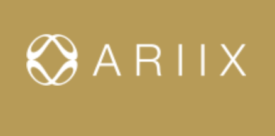 Product Name: ARIIX
Founders: Dr. Fred Cooper, Mark Wilson, Jeff Yates, Riley Timmer, Deanna Latson, Wenhan Harry Zhang, and Ian Chandler
Product Type: Health and Wellness MLM Company
Price: Enrolment products range from $308.95 for the lowest level and as high as $2,084 for the top-level
Best For: Anyone that's good at selling face to face and good for the owners
Summary: ARIIX is a legitimate MLM company. Many of the owners are ex-executives of USANA, another health and wellness MLM company. From what I can see there are no real product complaints and so good news there. As a business opportunity, only about 10% are making a decent income so that's not inspiring at all. To be successful in making money you have to do a lot of recruiting which is typical of the MLM business model.
My Rating: 2 Out of 5 Stars
Is ARIIX Recommended? No on the business opportunity, yes on the products

What is ARIIX?
ARIIX is an international MLM (Multi-Level Marketing) company that specializes in weight-loss, health and wellness supplements, and beauty products.
Headquartered in Bountiful, Utah, USA, ARIIX was founded in 2011 by Dr. Fred Cooper, Mark Wilson, Jeff Yates, Riley Timmer, Deanna Latson, Wenhan Harry Zhang, and Ian Chandler.
All the founders except Deanna Latson held top executive positions with USANA,  another health and wellness MLM company, so you can see they brought with them to ARIIX a wealth of knowledge.
Some subtle differences between ARIIX and USANA are:
ARIIX has more marketable and diverse products while USANA is well-known for its nutritional, dietary supplements, and skincare products.
ARIIX has been around less than a decade, while USANA has been a leader in the health and wellness niche internationally for over 25 years.
ARIIX offers more ways to make money, while USANA is your typical MLM binary compensation plan. 
In such a short time, ARIIX has expanded quickly. For instance, they already have offices in Japan, Russia, Taiwan, Hong Kong, and South Korea.
Quite honestly, I think you're better to go with USANA in regards to taking health and wellness products for your own use and to resell to others because of their years of experience. They also have very little product complaints from consumers.
ARIIX is like USANA in that they also claim to manufacture toxin-free products which we'll get into that soon.
There are 2 things ARIIX does which is typical of MLM companies:
They offer you a business opportunity so you can become an independent distributor.
They sell their products exclusively to you as an independent distributor so you can use it for yourself or resell them to consumers.
Latest News: August 29, 2019, ARIIX merges with LIMU, another health and wellness MLM company. Watch for my LIMU review coming soon.
Inside ARIIX – The Products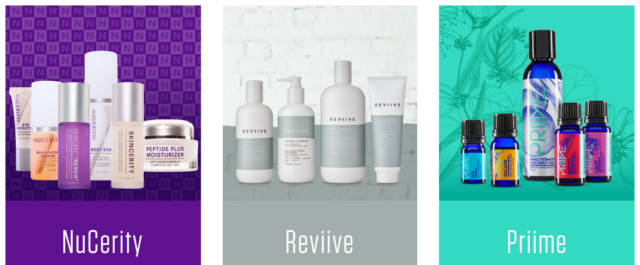 ARIIX products are all free from GMO, soy, artificial sweeteners and flavourings, sugar, and synthetic colours.
Good News: The company is registered with the US FDA (Food and Drug Administration) in order to manufacture their dietary supplements, cosmetics and personal skincare products.  This means they're subject to audits to ensure their products are free from contamination.
ARIIX products are broken down into 7 different brands:
Nutrifii – These are supplements to give nutritional support in order to keep your body healthy.
Slenderiiz – These are weight-loss management products to help you lose weight, keep weight off by curbing your appetite and boosting your metabolism.
Puritii – These are air and water purifiers and filtration products to remove pathogens and toxins.
Reviive – These are toxic-free personal care products like toothpaste, hair products, and body wash.
Priime – These are therapeutic essential oils to help you relax and feel stress-free.
Jouvé – 3 Skincare products. If you want to remove dark spots and desire a more youthful-looking skin, Jouvé has facial tightening and restoring serums and night cremes.
NuCerity – There are dermatologic skincare products to give you a more youthful face.
Do ARIIX Products Really Work?
I don't use ARIIX products so I did some research on Amazon because I usually find users' experiences are unbiased not like what you see on most product company sites.
ARIIX products on Amazon are marketed by ARIIX's independent distributors.
On Amazon.com, the Rejuveniix Energy Boosting Capsules is ARIIX's brand name Nutrifi  ($50.00). Based on users' reviews, this has 4 out of 5 stars which is pretty good.
The capsules are supposed to get you more focused, fight fatigue and give you more energy naturally.
Some of the user experiences coming from Amazon on the capsules are:
They felt more energy and more focused.
An individual complained of being kept awake after consuming 4 capsules. This person was unable to get the content information.
Next on Amazon, I found Slenderiiz, ARIIX's dietary supplements. Most weight-loss companies will validate their claims and give individual research study results and even talk proudly about the science behind their products like the way USANA does. 
Slenderiiz doesn't seem to have any study results.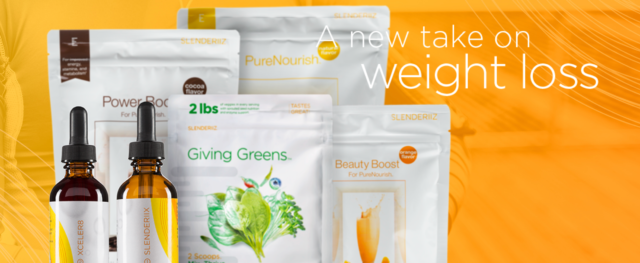 So on Amazon, here are what some customers are saying about Slenderiiz:
A customer gave the maximum 5 stars and has been consuming this product since 2012 and continues to lose weight. 
Another customer says "Don't buy this" and only gave 1 star. After following the directions, calorie counting, the diet plan, and even exercising 5 days a week, apparently the weight remained the same.  Overall on Amazon, 55% of customers gave 5 stars, 27% gave 1 star, the rest is in between.
If you want to read the rest of the Amazon reviews on ARIIX products, click here… 
Next, I looked at BBB and Consumer Affairs and found no user experience complaints or positives on ARIIX products which is unusual.
However just because there are no comments, I will say like all health and wellness products, there will be side effects from some of ARIIX's products like nausea, gas, diarrhea, dehydration, stomach cramping, insomnia, etc.
The symptoms will vary with each individual and most of the side effects don't last. Your body just needs to get used to it.
If you're already on certain prescribed medication or pregnant, I recommend talking to your family doctor before consuming the products.
So do the ARIIX products really work? I strongly believe you have to try them for yourself. The results will vary.
The good news is, if an ARIIX product doesn't work you can return it used or unused within 30 days of your purchase date. You must follow their procedures to return it for either a full refund or do an exchange.

How To Make Money With ARIIX
ARIIX is typical of the MLM business model when it comes to you making money. There are 2 ways to do this:
You purchase the products at wholesale prices and resell them at ARIIX's recommended retail product prices. The differences you earn are the retail commissions which are around 30%.
You must recruit people to your downline and when they purchase products you earn commissions and bonuses.
Who Are ARIIX Consumers
ARIIX has 4 types of customers:
Retail Customers – You are a retail customer if you're only interested in purchasing products at retail prices for your personal use from Members and Representatives.
Preferred Customers – You are a preferred customer if you join ARIIX to purchase products at retail prices. You are not eligible to receive commissions and bonuses.
If you sign up for the Auto-Delivery option the company will give you a 15% discount off the retail product prices.
Members – These are people or businesses that are sponsored by ARIIX Representatives.  If you join here, you are not qualified to earn commissions and bonuses until you meet certain Representative conditions which is coming up in the next section.
Representatives – These are members who have a Distributorship business. If you are here you must recruit Preferred Customers and Members because this is where you make real money.
You are entitled to earn commissions and bonuses structured under the ACTIV8 Compensation Plan which I'll be discussing soon.
Representatives must sell ARIIX products to consumers.
IIX Membership – If you're a member and in the 2nd level (Business level) you are entitled to double your bonuses and awarded with other specials.
How to Get Started With ARIIX Business Opportunity
To get your membership going, you need to be either a Member or a Representative and purchase some ARIIX products either for your personal use or resell them to consumers.
To get started with the business opportunity:
1) You must enrol and purchase the company's Starter Kit referred to as B.O.S.S. (Business Orientation System) for $29.95. This is a great deal because you'll learn about the company and get their support and training. It also puts you under your sponsor's downline.
 (If you decide to leave apparently the company will buy this back).
The BOSS (video presentations) will get you familiar with ARIIX and its company vision along with their knowledge on how to generate leads and marketing campaigns. Basically everything you need to know to get your business running, they will teach you and much more.
2) When you enrol as a new Representative, you'll be greeted with a question that wants to know your goal level. There are 4 levels and you must decide to choose one of them… 
Activated (200 – 499 PV)
Business Level (500 – 999 PV)
Elite Level (1000 – 1499 PV)
Ultimate Level (1500 + PV)
Each level has products that are commissionable. Each product has a selling price with a certain number of points volume (PV) identified with it.
For example, take a look at this image… let's say you want to be in the Activated Level ( the 1st level). This means you need to purchase products that add up to at least the minimum 200 PV.
For 223 PVs, this could cost you $334.17 USD
Another example… for $326.88, you could have 209 PVs.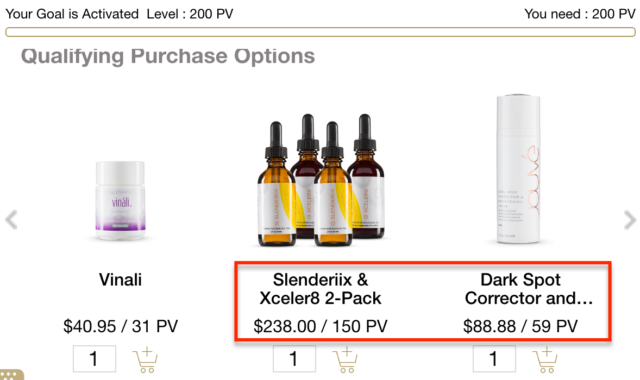 Rather expensive don't you think?  
Let's say you want to upgrade to the 2nd level, the Business Level. You need to have a minimum of 500 PVs. Well, that will cost you $445 which will give 300 PV in addition to your 209 PVs to reach that level. Your total cost could be $445 + $326.88 = $771.88.
If you're not good at selling products or recruiting people to your downline, and you still want to stay in the game it's going to cost you a lot of money every month just to stay as a qualified active Representative.
This gets us to your next requirement.
3) You must meet the Minimum Sales Threshold of 100 PV (Personal Sales Volume) points each month if you want to be qualified for commissions. 
I know from experience having been involved with 3 MLM companies as an independent representative that there is the danger of building up unnecessary inventory from this threshold and so I'll tell you now the only ones who win and make massive amounts of money here are the owners.
4) As an ARIIX Representative, you must be an Active member every month to earn your bonuses, commissions, and accruals. 
ARIIX is no different from other MLM companies when it comes to the PV. You see, the 100 PV is not $100, in fact, you can easily spend as much as $152 or more a month.
Of course, the idea is to resell the products so you're not stuck building up inventory. If you recruit people like crazy to your downline and get them to buy lots of products, your job will be easier.
ARIIX's Unique Compensation Plan
In case you're curious, the word ARIIX from my research comes from a combination of Latin words.
"Ari or aurum" means gold
"IIX" means twice the earnings 
If you put them together, it means "infinite wealth" and symbolizes the opportunity to reach the company's "gold status" as their Representative.
ARIIX's compensation plan which is currently in patent-pending status is referred to as ACTIV8.
Typical to the industry, the most common compensation plan structures are:
Binary – You can earn and build your downline by the infinite depth
Matrix – This restricts you from earning and building infinite depth and width
Unilevel – This allows you to earn and build by infinite width

Each structure above has its pros and cons.
But ARIIX is different because their compensation plan structure is "multiline". This means you can earn unlimited income because their plan is designed for unlimited width and depth.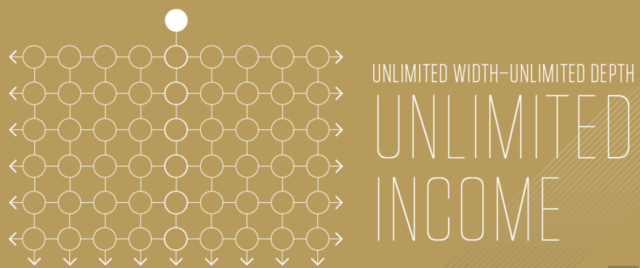 ARIIX claims they're the only company in the MLM industry "that actually pays out $.50 on every dollar, making it the highest paying commission structure available".
This is based on 3 of their multiline features:
Auto-Balancing (patent-pending) – This is an algorithm that automatically knows the best spots to place your earned personal points as well as your customers' points that will generate profits at its maximum.
Cost of Living Allowance – This is really cool! The algorithm automatically calculates your cost of living increase which is dependent on where you live.
Another benefit is ARIIX's Power Re-Entry (patent-pending). Imagine yourself enrolled in multiple teams within the organization. This is definitely unheard of within the MLM industry. It's an excellent way to help your team.
There are other ways to earn income like their Team Lead Bonus, Base Commission, Income Position Bonus, Pay Line Bonus, Savings Bonus, and Matching Bonus.
For detailed information on how the ARIIX Compensation Plan ACTIV8 works, click here. 
Here's an interesting video…

Can You Really Make Money With ARIIX?
Let me show you what I discovered first before I answer that question…
The figures here represent ARIIX's 2016 Income Disclosure Statement. Unfortunately, I was not able to find anything more current.
"Full-Time Representatives" are reps who are ranked in the higher titles from the position of "Officer" and up. They're here even if they only earned the title for 1 week.
When you look at the image you can see that the majority of the reps fall in the lower titles from Team Lead, Supervisor, and Manager.
If you look at their Average Annual Income for 2016, it doesn't look good for most of the Representatives.
51.5% (Team Lead) averaged only $70 a week ($280 a month)
25.4% (Supervisor) averaged only $167 a week ($668 a month)
13% (Manager) averaged only $275 a week ($1,100 a month)
This means 89.9% of ARIIX Representatives made less than $275 a week. Imagine putting that time and effort to earn a mere $275 a week to promote their products.
This doesn't even include your fuel, office supplies, shipping and handling costs and other additional expenses.
It seems even if you're really serious about making money on ARIIX's business opportunity it's more than a long shot for a lot of people. You have to be super-great as a salesperson.
The truth is ARIIX is no different from other MLM companies even with their patent-pending compensation plan.
What I Like About ARIIX
1. Compensation Plan (Patent-Pending)
As I talked about this earlier, ARIIX's Compensation Plan, ACTIV8 which is in patent-pending status is very unique from other typical MLM plans.
You can earn unlimited income because their plan structure ("multiline") is designed to have unlimited width and depth.
2. Comprehensive Support and Training System
I also mentioned to you earlier about the company's B.O.S.S (Business Orientation System), they actually have a decent training system and it's only $29.95. It's worth much more than that.
Here's a video by Tim Sales who created ARIIX's B.O.S.S….
What I Don't Like About ARIIX
1. Expensive To Start
Earlier, I spoke to you on how to join as a new Representative. You'll be greeted with a choice of 4 levels to purchase products.
Even if you started at the lowest level "Activated",  it could cost you as much as $326.88 just to reach your minimum 200 PV (personal volume).
BUT if you're really serious on ARIIX's business opportunity and want the opportunity to make more commissions, bonuses, and awards, you're going to want to jump into higher levels. It could cost you as much as $771.88 or more just to get to the 2nd level.
If you were to choose the top level, you need a minimum of 1,500 PV and that my friend is going to cost you a whopping $2,084 for their Ultimate Pack.
Wondering how to make real money with ARIIX? That's next…
2. Recruit, Recruit, and Forever Recruit
Yup, this is the answer!
Once you've gone through your family and friends, you need to keep recruiting other people into your downline. The more people you recruit, you earn more points and make more money when they purchase products from you.
This is why you need to keep recruiting. This is typical of the MLM business model.
If this is not what you want, you might want to consider my #1 recommendation 
3. Competitive and Saturated Market
I'm sure you're already quite aware there are numerous MLM health and wellness companies. In fact, it's one of the most popular and saturated niches in the world and so you'll be faced with tons of competitors.
Perhaps your friends and family members are talking about the products they've been purchasing from their reps.
I've done hundreds of researching and reviews on MLM companies in health and wellness. To name a few…
The one I like is USANA, although I don't recommend them as a business opportunity their products are one of the best in my opinion from my researches.
4. Majority of Members Have Not Made Much Money
ARIIX is no different from other MLM companies when it comes to "trying" to make money. For instance….
I showed you the chart and showed how ARII representatives did not make much money.
89.9% of ARIIX Representatives made less than $275 a week.
If you're not comfortable with doing your sales pitch face to face and not into socializing, you might want to consider a different business opportunity.
5. 100 PV/$152 a Month
In order to even be eligible for ARIIX commissions, bonuses, and awards, you must be an "active" Representative every month.
This means you must purchase products for your personal use or resell them to your customers. However way you do it, you need to have a minimum of 100 PV points which will cost you $148 or more a month.
If you're not recruiting people or selling products, you will end up with a ton of inventory just to stay in the game
6. Auto-Delivery
This Auto-Delivery, should you decide to sign up for it means an order of products will be delivered to you each month automatically.
The fact that ARIIX gives you a nice enticing 30% discount off their retail prices might seem quite attractive to you.
I can tell you from my experience, this Auto-Delivery, if you're not doing very well as a rep, will get you building up inventory so fast you won't even realize how much money you invested. 
The honest truth is, this is where ARIIX makes the bulk of their money.
7. You Really Do Need to Buy Products
Now, the company will tell you "No person is required to purchase ARIIX products or services to become a Representative".
Pretty much all the MLM companies I have researched and written reviews on and I have written hundreds, will tell you the same thing.
They will not force you or make it mandatory to purchase their products but it will be extremely challenging to sell products when you have nothing to show.
Why should strangers people take their wallet out if you have no products to show?
The other thing is if you decide to enrol as a Representative, you are forced to choose 1 of the 4 levels I spoke about earlier and that means purchasing products.
Is ARIIX A Scam? A Pyramid Scheme?
Many people think ARIIX is a scam or a pyramid scheme, the fact is, they are neither.
ARIIX is a legitimate MLM company because they have good products but I still do not recommend them.
Granted they have an interesting patent-pending ACTIV8 compensation plan and the design is supposed to help you make more money, but only 10% of the reps are making a decent amount of money.
As to whether they're a viable successful company remains to be seen as they are still quite new having only been around since 2011.
I definitely don't like their options to join with their PV thing as that's how ARIIX makes a ton of money along with their Auto-Delivery.
These are just some of the reasons why I don't recommend ARIIX but it's totally up to you to join them or not.
If you're really serious about making a passive long-term income I encourage you to read this next section…
How to Build a Successful Online Business 
You probably know by now I'm not a huge fan of MLM. I've been there and done that 3 times! 
The other reason I don't like MLM is face-to-face selling. I'm not comfortable doing that and the home parties, well that's just not me. Do you feel the same way??
I'm an affiliate marketer which I'm sure you know by now. If you want to know the real differences between affiliate marketing and MLM, you might be interested in clicking here. 
Affiliate marketing is the BEST way to make money online. It's my #1 recommendation and online business model and it will always be.
Why?
There is no recruiting
You don't have to do any face to face selling
You can promote any number of products/services your heart desires.
Imagine being able to promote any product(s) you want and not be stuck with only MLM products. Wouldn't that be more exciting and open more doors to the success of your online business?  
You already know MLM is hard work, well, affiliate marketing is not a shiny button either that you can press and make instant money. It requires hard work, patience, and perseverance.
If you're ready…you need the right training.
I'm also a member of Wealthy Affiliate, and yes, it's also my #1 recommendation for the best online affiliate marketing training platform that teaches you how to make real long-term income the right way. 
Meet RD40… CLICK HERE to read his story.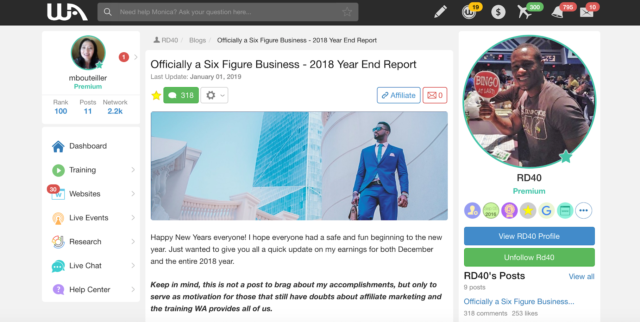 Well, what do you think? Why not give us a try? It's ZERO Risk and FREE to join as a Starter Member.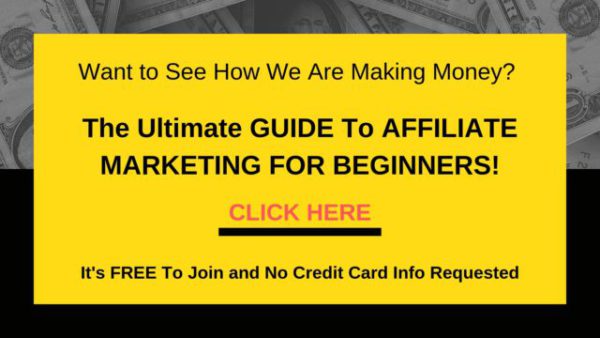 Hey Folks, thank you for reading my review of ARIIX. I hope you found it helpful. 
If you're an ARIIX member, I would like to hear your thoughts. Do you have any questions or comments? It would be awesome to hear from you.
Regards,
Monica