You might have heard people rant and rave about this on Facebook and now you're wondering Can You Make Money With One Funnel Away Challenge. What Is the One Funnel Away Challenge even about?
Psst… read the secret behind the hook, story, and offer below!
The purpose of this review is to find out what One Funnel Away is and whether you can learn to make money from their challenge or not. I'll tell you what they do, their products, cost(s), pros and cons, their affiliate program and more.
By the way, I took this challenge because I was looking for a way to generate more leads in my online business so I can tell you a lot about them.
Be aware, however, that One Funnel Away Challenge is not perfect! In fact, there is no 'perfect' site/software in the internet world.
One Funnel Away Challenge Review Summary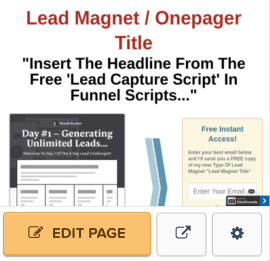 Product Name: One Funnel Away Challenge (2.0 Version)
Founder: Russel Brunson
Product Type: Sales Funnel Course
Who Is It For?: Anyone interested in learning how to build sales funnels and already have a product/service for your identified dream customer
Price: $100 USD
Includes Bonuses Worth: $3,126
Summary: One Funnel Away Challenge is an excellent 30-day training course on how to build the best sales funnel for your online business. It's one of the best online courses and focuses mainly on how to get paid traffic on Facebook. The price is affordable. It's intense and can be overwhelming. If you're up to a challenge and want more traffic, this is the course that could help your online business.
Rating: 82/100
Is One Funnel Away Challenge Recommended? YES!
==> Check Out My #1 Recommendation <==
It's FREE to Start! NO CREDIT CARD ASKED… NO RISK!
This post may contain affiliate links for more info visit my disclosure page. The opinions expressed here are of my own.
What is One Funnel Away Challenge About?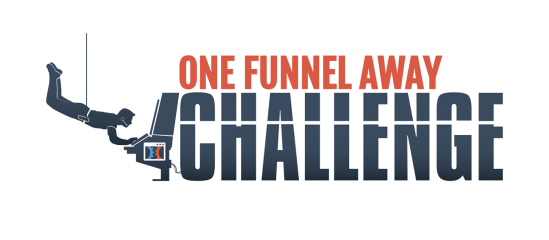 As the name implies, you are going to learn to build a sales funnel that's effective in 30-days. 
From your purchase of the challenge, you are invited to the training which takes place in One Funnel Away's private Facebook group.
Your first day of the challenge gets you starting your funnel.
At the end of this challenge, the intent is to "hook" your dream customers with an enticing title, give them your "story" and have them purchase your "offers".
I'll admit I was quite mesmerized once I was inside this challenge because of all the mind-shattering secrets that will explode your income beyond your imagination using copywriting and Facebook ads. 
The thing about this One Funnel Away Challenge is that it's exactly what it's meant to do… it's a REAL challenge and you must take immediate action by completing all of the tasks each day. You have 30-days to finish.
The training is supposed to help entrepreneurs and small business owners who want more traffic and sales. 
This is accomplished by giving you a jump-start into the building and customizing of your first sales funnel. It's a step-by-step training course that teaches everything you need to know from building a funnel, to launching it and driving traffic to make sales.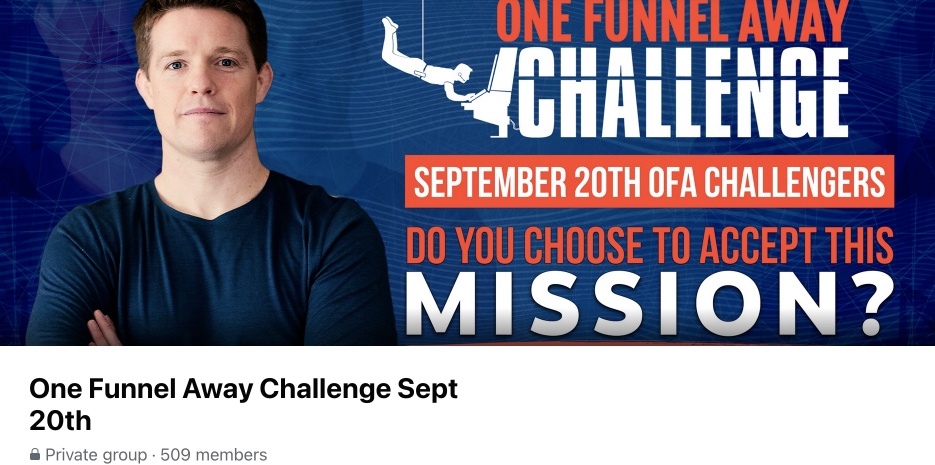 Inside their Facebook Page, you meet the co-owner Russell Brunson, who brilliantly presents his daily videos, each one is about an hour-long, sometimes less. He takes you through the day's assignments with tons of stories and examples using his step-by-step format.
In addition to these daily videos, you can ask questions, have access to various content, Funnel Script (copywriting scripts) and bonuses.
NOTE 1: For me, it was exciting to see some past members who went through the challenge from being broke to being wealthy from using just one funnel from this training. BUT not everyone will achieve this.
NOTE 2: Do not think of this training as an immediate get-rich thing in 30-days. This is NOT what One Funnel Challenge promises you.
Meet The Mastermind Behind One Funnel Away
If you heard of Russell Brunson (from Boise, Idaho, USA), you probably already know a lot about him. If you haven't, allow me to tell you a bit about him. 
Russell is the co-founder of ClickFunnels, created in 2014 and he's the man who popularized his concept of sales funnels. 
He started his business from scratch and has impressively generated $100+ million in revenues since then.
The whole idea of One Funnel Away Challenge evolved from Russell investigating why some of his ClickFunnels users were not achieving success when others were. 
Focusing on the ones who were not successful he concentrated on their struggles of building sales funnels, Facebook ads and email marketing. Russell then created One Funnel Away Challenge in 2018 as a result. 
Since then, he has seen statistically more people be successful inside ClickFunnels by having them go through this challenge. Russell's goal is to help you serve people better which can change your lifestyle.
Currently, ClickFunnels has 100,000 members worldwide and is growing fast daily.
By the way, Russell is also the 'doodling architect'… you'll see what I mean when you join the challenge!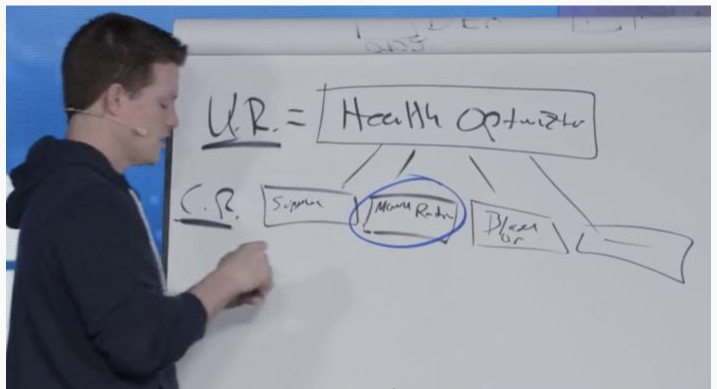 In the past 19 years, he's generated an impressive following of well over a million entrepreneurs and is recognized by the New York Times as the "Best Selling Author". So not only is Russell an author but also an expert in sales psychology and public speaker.
His most popular books which he talks about throughout the One Funnel Away Challenge are:
Traffic Secrets
DOTCOM Secrets
Expert Secrets
I purchased all of these during the challenge and without a shadow of a doubt, there's a wealth of helpful information inside them. I only paid the shipping and handling charges. They're a lot cheaper than buying them on Amazon.
Having participated in his challenge, I can tell you, Russell knows his stuff extremely well! He's so passionate about everything he teaches… seriously, you cannot fall asleep!
What's Inside One Funnel Away Challenge?
You are going to have to dedicate a good amount of time to this 30-day challenge because it's important to understand what you're supposed to be doing. The course is intense and you will have homework every day. 
Here's a short video of One Funnel Away Challenge by Russell…
The One Funnel Away Challenge is definitely a proven strategy and many members have been extremely successful in applying it. 
I will say, the most important thing is to have the mindset, be patient and work through one lesson at a time. Do not skip any lessons and do them in the order they're presented to you.
Your 30 Days of live Coaching is mostly by Russell, himself. Rachel Miller does the Facebook live coaching.
The One Funnel Away Challenge training mechanism is really quite simple:
Step 1: Watch Russell's daily live training where he maps out his strategy of the day's lesson on the whiteboard. This is all pre-recorded in the event you miss it or want to watch any of them repeatedly.
Step 2: Download your daily Onepager (think of this as your digital "notebook" to write important information and valuable resources to increase your knowledge).
In the Onepager, you watch Russell actually doing the tactics of how to accomplish the homework assignments.
Step 3: The Live coaching (2 hours) is available at certain times of each day which are also pre-recorded if you miss it. 
It's the cheapest coaching program in the internet world and it's worth thousands and thousands of dollars. You will get a total of 30 hours with Implementation Coaches for the price of $100 just to take the challenge.
The good part is, you are never left alone so if you're stuck you can ask questions 24/7. Response time back is usually the following day on Facebook. 
What makes this challenge so enjoyable is it's loaded with all sorts of goodies!
If you enrol in time, there's a 5-day pre-challenge. Its purpose is to:
have you believe that you will be successful in the challenge 
let you know it's just one funnel away…
let you know it's the who… not the how
Let's look into each week of what you can expect to learn:
WEEK ONE: (Flagship Framework)
The very first thing you'll realize is the importance of storytelling. Russell teaches how to develop your skills of storytelling which helps make you a better salesperson. 
Down the journey here, you'll be getting into making your own videos that will help in your funnel building. 
You'll learn how to create your first sales funnel with the most important daily components:
·      Day 1: Your First Sales Funnel
·      Day 2: Your Flagship Framework
·      Day 3: Creating Your Irresistible Offer Stack
·      Day 4: Create Your Page (On Facebook)
·      Day 5: Creating Content (Your Publishing Schedule)
·      Day 6 & 7: Weekend Homework
WEEK TWO (Hook, Story, Offer and Sales Page)
The Hook is really the headline you use. It needs to be dynamic, eye-catching, and even hit hard on your dream customer's pains.
The Story is your story about how you learned it and earned it. It must be relevant to your hook so that your dream customer can relate to it.
The Offer is your solution to help your dream customer's pain(s).
What makes this so powerful is Russell and his partner, Jim Edwards offer their Funnel Scripts, a software program that provides all the copywriting scripts for headlines, storytelling, offers, etc.
You don't have to scratch your head trying to find capturing headlines and even writing content becomes fun. All you do is answer questions and Funnel Scripts pops out the information, just like that!
Russell emphasizes the Hook, Story, Offer during the entire challenge. It's that important!
In this week 2, you'll learn what to write for your first sales page script which includes an introduction of who you are, what product you offer, why your targeted audience (your dream customer) needs it and how they will receive the product.
Once you're done that, you'll just do a simple copy and paste to create your sales page.
Next, you'll create a by-product which is your order form bump and finally create your first upsell offer as a do-it-yourself. This is what week 2 looks like:
·      Day 8: The "Who, What, Why, How" Script
·      Day 9: Creating Your Sales Page
·      Day 10: Order Form Bump (Framework By-Product)
·      Day 11: Plugging Your Offer In the FB Members Area
·      Day 12: The OTO #1 – Do It With You (Over The Shoulder)
·      Day 13 & 14: Weekend Homework
WEEK THREE (Working Deeper Into Your Funnel)
This week teaches how to implement the script for the upsell page. This means you'll be working on your 2nd script for the 2nd upsell and Russell will also teach you how to test it. 
You'll learn how to do your hour-long epiphany story using the method of hook, story, and offer. 
·      Day 15: The "OTO" #1 Script and the Upsell Page
·      Day 16: OTO 2 Page & Scripts…
·      Day 17: Connecting and Testing Your Funnel (Techie Stuff)
·      ??? 18: Your Epiphany Bridge Origin Story
·      Day 19: Dream 100, Hook, Story, Offer Framework
·      Day 20 & 21: Weekend Homework
WEEK FOUR (Yeehaaa… Time to Launch Your Funnel)
Now, if you're not familiar with how to do Facebook Ads, then you will find Day 22 and 23 (presented by Rachel Miller) very enlightening, so pay close attention. 
She also does Day 4 and Day 5 (Week One) which is about creating your Facebook Page and posting daily content in it to start warming up your visitors. 
The information provided by Rachel is top-notch if you really are interested in promoting your online business on Facebook.
Everything you need to know about how to be successful with Facebook ads is in week four. 
·      Day 22: Drive Traffic and Promote Your Funnel (Facebook)
·      Day 23: Collect Your People and Set Up Your Tech (Facebook)
·      Day 24: Hooks! Create Your First Ad (paid traffic)
·      Day 25: The Value Ladder
·      Day 26: How to Start Thinking Like a Marketer
·      Day 27 & 28: Weekend Homework
To be truthful with you, I followed this week but not with my whole heart in it. I'm not a fan of social media and paid ads puts a bad taste in my mouth due to money lost from it.
However, what I enjoyed in this Week 4 is the part of getting familiar with Facebook Page for my online business and have received some valuable tips on how to get free traffic which I plan to instigate for all my websites.
Here's the thing, I have website businesses that generate a ton of FREE traffic without relying on social media. I don't have to pay for ads to get traffic. The other thing is, having a website is real estate meaning I can sell this site for a hefty price if I wanted to. My site is a REAL asset.
Now, my site is still quite young, but in another year or two, depending on how hard I work, well, it could very well sell for over a hundred thousand dollars.
By the way, building a website is ridiculously easy and it can be done in 30 seconds or less!
==> Check Out My #1 Recommendation <==
It's FREE to Start! NO CREDIT CARD ASKED… NO RISK!
Who Is One Funnel Away Challenge For?  
This is what ClickFunnels will ask you…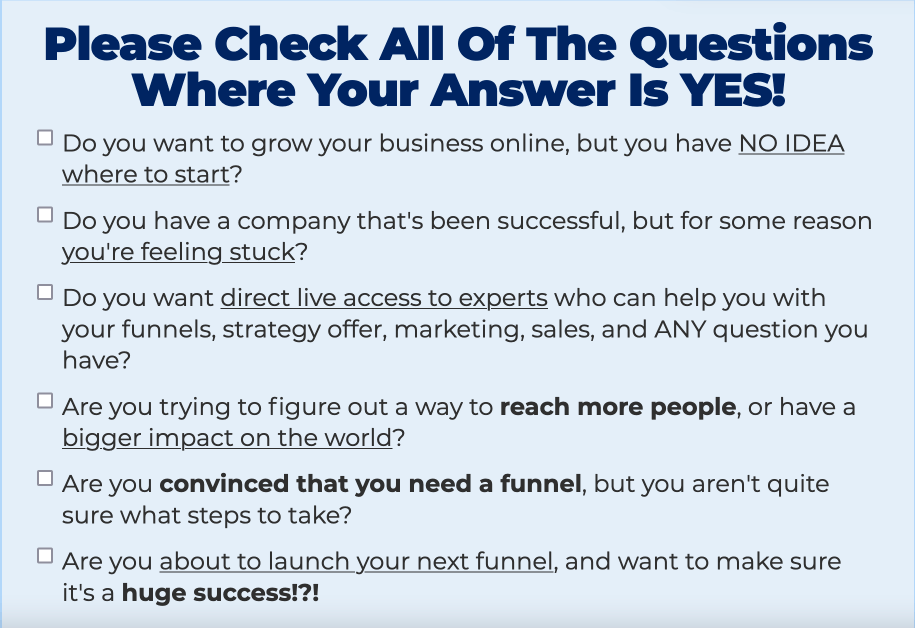 If you place a check in any of the above, it seems you're ready to take the challenge!
I already have a website, in fact, I have two sites. But I'm a person who learns best with a video showing and explaining each lesson followed by a text with images.
Russell loves doodling and draws a lot of pictures of what he's trying to explain.  If you're like me who needs lots of diagrams explaining the process, content, etc., then you've come to the right place.
This challenge is perfect if you have a business in:
eCommerce
Affiliate Marketing
Network Marketing
And for anyone who…
wants to generate more leads
wants to learn how to build the sales funnels
NOTE: My opinion is the One Funnel Away Challenge is NOT suitable for anyone that does not already have an online business.
It's your decision of course to take the challenge BUT it's much easier to first have identified your niche (dream customer) and the most profitable and helpful products/services for them. Not doing this will cause stress and the risk of falling behind on your daily homework.
My suggestion is to learn the basic fundamentals of internet marketing first AND then do the One Funnel Away Challenge.
==> Check Out My #1 Recommendation <==
It's FREE to Start! NO CREDIT CARD ASKED… NO RISK!
What Is The Cost of One Funnel Away Challenge? 
Pay close attention because you will not get a better deal anywhere in the internet universe!
For a tiny investment of $100 USD, you will get the following:
One Funnel Away Challenge Has FREE Bonuses
What I do like about the challenge is they offer useful bonuses, for instance:
#1. The '30 Days' 550 Page Digital eBook (Value $97)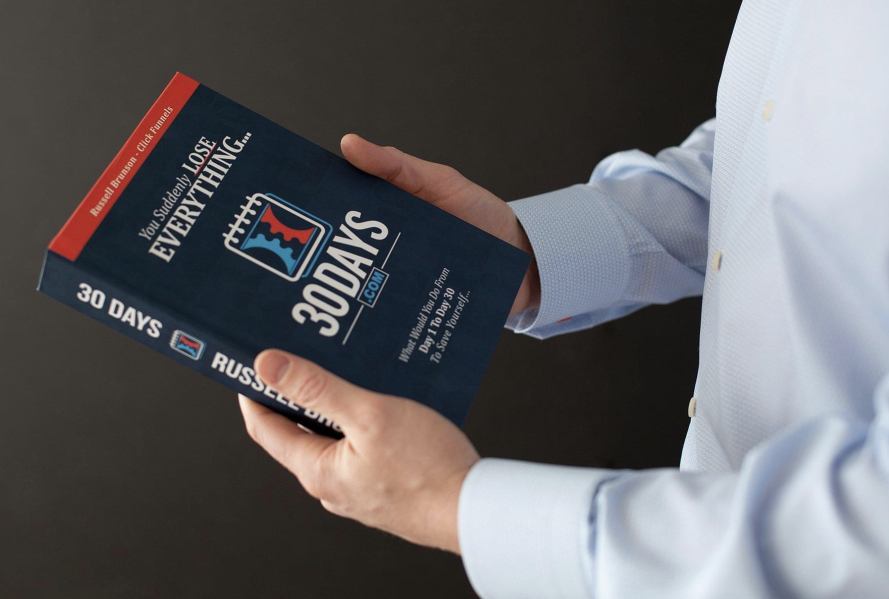 This eBook involves input from some of the top 30 members of Click Funnels 'Two Comma Club'. It contains 30 vital strategies of their battle plans in the event they're forced into starting their business from scratch.
In other words, you get 30 chapters with 30 action plans from the members who succeeded in the prestigious club.
#2. 20 'One Pager' Digital Workbooks (Value $97) 
I found this digital workbook priceless because not only can you see everything on one page, you can brainstorm and journalize ideas. It even gives you extra resources you can click into.

Just think of this One-pager as your daily companion that stays by your side during the challenge. Here's what you get with it…
Your homework assignments contain a task checklist along with daily reminders.
Another cool thing is, you get some FREE access to Funnel Scripts (copywriting) software and video links.  You can use it to create some eye-catching headlines and content for your sales pages and save you a lot of research time.
There is always a video usually from Russell going through the assignments.
Extra resources for members who want to take it a step further.
#3. Unlimited Access To The "30 Day" Interviews
These are interviews of the most successful online marketing experts like Spencer Mecham, Den Henery, and John Lee Dumas… They share their 30-day plans on what they would do if they suddenly lost everything and had to start from zero. 
#4. Behind The Scenes Of The "Two Commas Club" Funnel
These are some strategies from successful members of this elite club who used the same funnels to build their businesses from scratch and achieved the exceptional results they have today.
You will also be part of the One Funnel Away Challenge private Facebook (the Funnelhacker community of like-minded people). This is where you can ask questions, and get feedback on your funnels, and is also the place where you take the training.
Let me tell you now! That $100 out of your pocket is more than worth it, in fact, it's worth more than the $3,126 value they say it is. BUT I warn you… the One Funnel Away Challenge training is very intense.
At the end of your 30 days, assuming you have kept up with ALL the required homework assignments, you'll have your very own live funnel in operation.
NOTE: It probably will not be your best funnel and it may not make you immediate sales or not at all but it's more important that you followed through with the training. Now all you just need to do is rinse and repeat, and make improvements along the way with additional funnels or with the one you've been working on.
Can You Make Money With One Funnel Away Challenge?
Having a business, no matter if it's a local one or an online business, it still requires hard work and honest effort to do. Sacrifices must be made in your personal life.
The challenge is not a magic button that's going to make you instant bags of big money! You must treat your online business as a real business.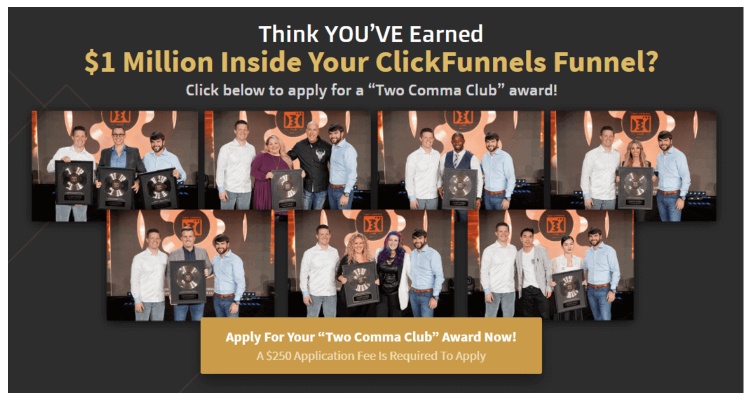 So yes, you can definitely make money with One Funnel Away and you will do that by:
creating your best online sales funnels using ClickFunnels' funnel maker software
investing in Facebook paid ads to speed up the process of customer buying
publishing daily content on your Facebook Page
joining into their affiliate program (ClickFunnels) to promote their products which include this challenge and refer new customers
The Pros I Like
✅ 1. Proven Training From The Best
One Funnel Away Challenge is taught and run by Russell Brunson along with his instructors who have also tried and tested it. 
He really wants to see his members succeed not only in the challenge but also in his ClickFunnels platform. 
The training is definitely proven and many members have claimed success in the challenge.
✅ 2. The Price Is More Than Reasonable
You are getting more than the $100. Seriously, there's been a lot of hard work put into developing the challenge… in my opinion, the training is worth 50x more. You will not find a valuable course on sales funnels like this anywhere.
If you're not planning to invest a mere $100 into the One Funnel Away Challenge, you are really missing other ways to make income in your online business.
✅ 3. Learn to Build A Sales Funnel
Whether you already know how to build sales funnels or not, you will learn all the best and proven ways of building a funnel from scratch.
At the end of your 30-day challenge, you will walk away with so much more knowledge than you've ever had on building your own best funnels for your online business.
✅ 4. Money-Back Guarantee!
There is absolutely no risk here. If you're not happy with the training, One Funnel Away has a 30-day money-back guarantee AND you still get to keep everything you were given. Quite impressive, yes?
✅ 5. Coaching
In your private Facebook Group, there are live coaching/Q&A sessions during the day and you are encouraged to participate. Ask questions and your coach will answer them. 
They also have daily Technical sessions.
Everything is pre-recorded so you can always play them back at any time any day.
What I Don't Like – The Uglies!
❌ 1. The Course Is Intense
Your challenge is to take action. It's difficult to keep up with the course especially if you don't have a dream customer identified and worse still if you don't have a product(s)/service to offer them help with. 
You can be left feeling unsatisfied and stressed especially if you need to have things done the best way you possibly can.
❌ 2. Overwhelming Information
If you're new to the internet marketing world, the information in this training course will likely be quite overwhelming.
❌ 3. Hidden Costs
Even though One Funnel Away is only $100 to take the 30-day challenge, you are given 14 days of free access to another piece of software called Click Funnels, a funnel-building software. You need this software which is owned by Russell.
You will have to invest a minimum of $97 a month for it after your free days expire. 
❌ 4. You Need To Have a Great Product/Service BEFORE Taking This Challenge
If you don't have a great and profitable product(s) to sell to your dream customer BEFORE you start the challenge, you'll most likely end up spending a lot of time researching this during the challenge. You could easily fall behind on your daily assignments.
Having taken the challenge myself, I discovered that halfway through the challenge there were members who were asking for help because they were still unable to identify their dream customers and had no great products to offer. 
Knowing who your dream customers are and making good on your promise from your sales page to help them with your awesome products will save you a ton of grief on sending refunds.
If you can identify your dream customer and useful products/services you're a step closer to keeping up with your homework assignments from the challenge.
❌ 5. Investment in Paid Ads Can Add Up
For this, I recommend a budget for your spending on ads. Russell teaches how to do paid ads in the challenge but if you're a new internet marketer, thousands of dollars can be wasted on testing ads.
You can pick up a decent amount of traffic on Facebook and other social media for free BUT if you want to generate traffic faster, the challenge teaches doing paid ads.
Personally, I don't do paid ads to generate my traffic, instead, I go for FREE traffic using SEO (Search Engine Optimization) techniques which you can learn through Wealthy Affiliate's affiliate training platform. Here's my Easy Complete Beginners Guide To Affiliate Marketing.
❌ 6. Putting All Your Eggs Into One Basket
I just have one question to ask you… what would you do if Facebook disappeared?
If you want to have an online business don't just rely on Facebook or any other social media to be your only source of income. To me, it makes more sense to learn the basics of internet marketing first which means having a website.
By the way, building a website is EASY and only takes less than 30 seconds to build. Once you understand how internet marketing works THEN take this One Funnel Away Challenge
Computer technology has changed and will continue to change.
==>> Want to Learn The Fundamentals of Internet/Affiliate Marketing First? <<==
IT'S FREE TO START! NO CREDIT CARD ASKED – ZERO RISK!
Is One Funnel Away Challenge A Scam?
No, the One Funnel Away Challenge is not a scam! Russell's course is a very legitimate course that teaches everything you need to know about building your own sales funnel BUT you are not going to make fast money immediately. It takes time to build trust with your dream customers.
The good part is you have 30-days to complete your challenge even though it's intense and comprehensive.
That $100 is an investment you will not regret!
Why I'm Recommending This Challenge!
Three big reasons:
#1. The challenge is invaluable. If your heart is set on learning about sales funnels, the $100 is worth it + more. At the end of it, you'll walk out with the core fundamentals of how to succeed with your sales funnels applying your hook, story, and offers.
#2. You must take immediate action in the challenge. Procrastination is no excuse here. Pause the training video, do the task, and repeat until your assignment for the day is completed. You don't just sit watching his videos…
#3. Real testimonials! I have this opinion that if others can succeed and you believe in what you're doing, this challenge puts you on the stage with other like-minded people.
Can I take a few minutes of your time?
Here's How We're Making Our Living Online!
My business model is affiliate marketing and I've been doing this since December 2015. I promote other people's brand-name products without any inventory and I don't own products nor do I create them!
Click here to read the REAL stories:
A couple of reasons why I do affiliate marketing:
One – I get ALL my FREE traffic from search engines and do not have to pay a penny for them. Social media is also FREE traffic which I can use. I don't own products nor do I create them.
The second reason is that paid ads can be very expensive and stressful if you don't have the money to invest. I can do this in my online business but choose not to.
The third reason is there is no real guarantee that social media platforms like Facebook, Twitter, and Instagram will exist forever. I don't want to rely 100% on social media to generate traffic.
Affiliate marketing is the best business model online. I get all my training from Wealthy Affiliate.
The website you are on is the result of my training on Wealthy Affiliate's affiliate training platform. Their training is proven since 2005 for success as long as YOU are willing to put the effort in. With over 800,000 members, they are the largest internet marketing community with beginners to very advanced internet/affiliate marketers.
If you want a sure way of identifying your dream customers and helpful products to sell AND want to have a professional-looking online business, then check out Wealthy Affiliate's affiliate training platform.
Get Going With Your FREE STARTER Test Drive in Wealthy Affiliate NOW!
See for yourself at ZERO risk. No credit card is required. If you enjoy what you see in the training, excellent, I'll be there for you as your personal mentor and support coach. No worries if it's not for you. You can walk away risk-free. 
Thank you for reading my review of the One Funnel Away Challenge and I hope you found the information useful.
Have you done the challenge? If you have I would like to hear how you are doing. 
If you have any questions, please put them in the Comment Box below and I promise to get back to you.
Kind regards,
Monica