Welcome to my Vasayo Review!
What Is Vasayo Business Opportunity and Should You Join? 
Vasayo is an MLM company. To answer these questions, you need to know about the company, their products and if they are legitimate,  their business opportunity, pros and cons. AND if you can earn enough to quit your day job.
I'll tell you everything you need to know so you can make an informed decision about whether or not to join.
There's been a lot of hype surrounding Vasayo lately because it's one of the newer MLM companies taking advantage of the health and wellness industry.
According to Wellness Creative Co. "The global corporate wellness market is estimated to reach $66 billion dollars in 2022".
AND, guess what? Vasayo is in that very industry.
Before we get into the review, I want to commend you for doing the research here. It's how you can find legitimate ways to make money online.
I also want to say I am not affiliated or associated with Vasayo. Years ago, I was doing MLM, selling health and wellness products, candles, and skincare products, so I am familiar with how the MLM business model works.
Ok, let's get started…
Vasayo Review Summary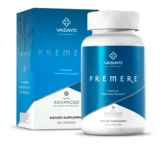 Product Name: Vasayo
Founder: Dallin and Karree Larsen and Daniel Picou
Product Type: MLM Health and Wellness Company
Price: $329 to $1,399 USD for distributor packs
Best For: Anyone with good sales experience
Summary: Vasayo is a legitimate MLM company that promotes health and wellness products with liposomes. There are positive testimonials from customers/distributors using the products, but take them with a grain of salt. Try a few and see for yourself. I don't recommend Vasayo because of their complicated compensation plan.The real downside is the company does not disclose its income disclosure statement. Before joining, you should know how much money you can potentially earn.
My Rating: 40/100
Is Vasayo Recommended? No
What Is Vasayo?
Vasayo is an American MLM (Multi-Level Marketing) company founded in 2016 by Dallin and Karree Larsen. They sell a line of health and wellness products.
The product line is called MicroLife Nutritionals, which are supplements developed by Dr. Emek Blair, a world-renowned chemist.This advanced Liposome technology ensures high-quality absorption of nutrients in your body.
Vasayo's headquarters are located in Pleasant Grove, Utah. In 2017, they opened their international office in Hong Kong.
The name Vasayo stands for "Vision Action Steadiness Assures Your Outcome". 
As you can see, Vasayo is still a fairly new company compared to other older MLM companies that have been around for many years like Herbalife and Juice Plus.
About the Vasayo Founders – Something Happened!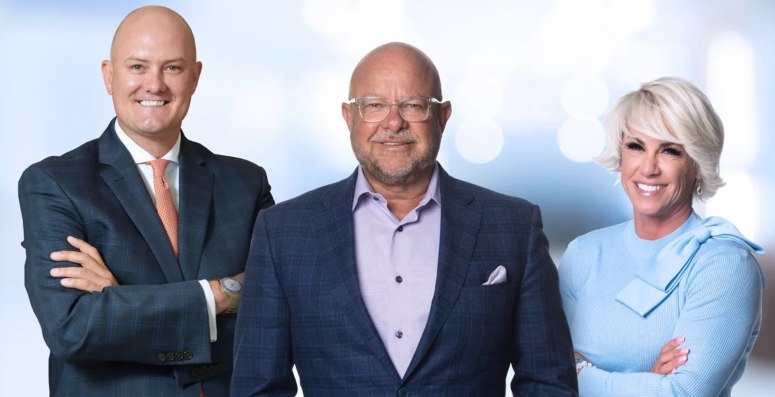 Dallin and Karree Larsen, previously owned another MLM company called Mona Vie in the health and wellness industry. That company broke the record in the MLM industry when it reached one billion dollars in sales in less than 5 years.  
BUT something happened along the way, and according to Wikipedia, MonaVie seemed to be the subject of many controversies. 
Unfortunately, due to their $182 million loan debt, it ended up in foreclosure in 2015. A devastating blow to their distributors who also lost and apparently according to Vasayo's About page, "They have no intention of bringing over successful people from Mona Vie".  
Jeunesse Global, another MLM company purchased Mona Vie's assets for $15 million.
I am devastated to hear that the Mona Vie distributors have been abandoned! Could the same thing happen to you with Vasayo (Dallin and Karree Larsen are owners)?
Getting back to the founders:
Dallin Larsen has an impressive background in the multi-level marketing industry from 1991 to 2000 having an instrumental hand in the launch and growth of USANA, another MLM company in health and wellness.
Both Karree Larsen and Daniel Picou don't appear to have the MLM experiences the way Dallin has, but they have their own functional executive roles.
What makes this company so different from other health and wellness MLM companies? This is what they say, "With Vasayo, the difference is in the delivery…and that makes all the difference!"
Let's find out!
Are Vasayo Products Worth Their Price?
Vasayo's products are mostly nutritional dietary supplements. They contain liposome which is supposed to help deliver important nutrients to your body without it being broken down by the harsh environment of the digestive system.
These supplements are delivered promptly, absorbed, and used in the body faster.
 Currently, Vasayo products are:
MicroLife Premium ($109.95 Retail – 100 capsules)
This is a dietary supplement to support your telomeres so they can protect your cells and enable them to work properly.  
MicroLife V-Mune ($54.95 Retail – 60 capsules)
These are microcap dietary supplement with vitamins and phytochemicals to support your body's immune system.
MicroLife V-Shake ($69.95 Retail – 55g)
Dietary supplement. Creamy Vanilla (Whey) and Rich Cocoa (Vegan) flavour. This is for healthy muscles, bones, and digestion. 25g protein.
Beleza By Vasayo ($239 Retail)
This is a combination of anti-aging skincare system made up of serum, rejuvenating cream, hydrating mist with liposomal technology.
*MicroLife V-Tox
This is a popular dietary supplement. It's a mixture of Fulvic acid and cleansing herbs as nutrients for a complete detoxifying experience.
*MicroLife Eternal ($109.95 Retail – 30ml)
Dietary supplement. This is a youth restoring supplement filled with antioxidants, polyphenols and berry flavoured. 
Apparently,  Eternal is one of the most popular products because people don't want to see aging signs. 
MicroLife Core Complete ($64.95)
Dietary supplement. This has multivitamins and mineral supplement with berry flavour, probiotics, and omegas.
MicroLife V-Slim ($107.95 – 30 packets)
Blueberry and Pomegranate flavoured. This reduces your appetite craving, boosts your metabolism, and helps give you healthy blood sugar levels.
MicroLife V3 ($57.95 – 30 bags)
Dietary supplement to boost your energy and help you complete your daily tasks. It also helps you improve your cognitive performance. Ingredients are coconut juice powder, green tea, maca and herb blend.
MicroLife Neuro ($59.95 – 30 capsules)
Microcap dietary supplement to give you healthy brain function. It's supposed to improve your memory, focus and your overall cognition.
MicroLife Sleep Micromyst ($54.95 60ml)
Spray form dietary supplement. This is for adults only. It has melatonin and GABA (gamma-amino butyric acid) to help you sleep better.
That's it for Vasayo's line of products. There are only 11 different products so not much. Another distributor is selling their MicroLife V3, a pack of 30 for $65 on Amazon. 
If you're interested in any of Vasayo products, don't purchase them on Amazon. You can get discounted prices when you sign up under a distributor or join as a distributor.
The products are expensive but rather unique because of the liposomes.
Let's see what some people are saying about the products they purchased. Perhaps their feedback will help determine if the products are worth the price.
Do Vasayo Products Work?
One way of looking at this is the credentials behind Dr. Emek Blair. He's the actual brainchild of these liposomal products. He developed Vasayo's products through private labelling. I left you a link to his website earlier.
The best way to find out how customers are really loving their Vasayo products is to read some of their comments.
BBB (Positive Testimonials) – Give 5 More Stars
BBB (Negative Testimonial) – Rancid Oil
There is a lot more to this story.
Amazon
There are some 5 stars but really not much for comments.
SiteJabber and Trust Pilot
No comments
Vasayo's Website
There are lots of comments from distributors. No complaints. I would take these comments as a grain of salt. 
Facebook 
Vasayo's Facebook is very active with currently 41,236 followers. People are joining and distributors are posting products.
As a conclusion to this section, instead of joining as a distributor, try some sample products to see if the prices are justified and whether they work for your body or not.
Let's check out the next section.
How Much Does It Cost To Join Vasayo?
If you want to be a Vasayo distributor, you must choose one of the packages below. Unfortunately, they don't let you see the package images on their site until you fill out their enrolment form.
As of the day of my writing this review, the prices are as follow:
Basic Membership ($329)  
No idea what you get for it but I will guess… your own replicated website with access to your back office to monitor your sales, downline activity, and all your training, materials, etc.
Foundation Partner ($329)
I hope this includes your Basic Membership. They don't tell you this. You get the following:
2 sample packs (5 individual pouches) of the MicroLife Energy and MicroLife Sleep
Premium Partner ($699)
·This includes everything in the Foundation Partner
Plus 2 samples of the MicroLife Sleep and MicroLife V3 for your energy
* This package is expensive. The difference is your samples. That's it!
Executive Partner ($949)
This should include your Basic Membership.
4 energy sample packs and 2 sleep packs
Ambassador Partner ($1,399)
This should include your Basic Membership.
4 each of the basic products
There's talk of a free ticket to one of their conventions. (Flights included unknown)
As you can see, these distributor  packages are rather pricey, don't you think? The good part is you don't have to pay for all of them. Just choose the package you want.
If you're feeling a little discouraged on Vasayo's join prices, BUT you still want to do Multi-Level Marketing, check out CBD BioCare. I am not affiliated or associated with CBD BioCare but it's easier to make money and their compensation plan is not complex.
How to Make Money With Vasayo
You already know Vasayo uses the Multi-Level Marketing business model and most often the compensation plans presented are very complex. Yup, Vasayo's plan is also not easy to understand.
For your sake and my sanity, I'll keep this as simple as possible.
There are 3 ways to make income with this company and it's nothing different to other MLM companies:
Direct selling commissions or retail sales
Recruit people and earn residual commissions from their sales
Bonuses from team sales and promotions
Your marketing strategy consists of the usual social media, word of mouth, home parties, and replicated website.
Sadly, Vasayo's Compensation (Rewards) Plan is not on their website so I did some research and found a copy of their current plan (2 pages).
Vasayo distributors are referenced as 'Brand Partners'.
Some MLM Terminologies
First, a couple of MLM terminologies. If you're new to the MLM business model, you will need to know this:
PV (Personal Volume)
Vasayo assigns a point value to each of their products. The volume is based on your personal product purchases and your customers product purchases.
GV (Group Volume)
These are volume points that are generated from your downline.
Active Affiliate
To qualify for Vasayo's commissions and bonuses, all Brand Partners must have earned a minimum of 80 PV in the last 4 weeks.
Active Customer
These are any of your retail customers who purchased a minimum volume of 35 PV in the last 4 weeks.
Rankings
There are 18 ranks in Visayo's rewards plan. When you join, you are at the first rank, the Brand Partner. You must work your way up 17 more ranks. Although Visayo does not reveal their Income Disclosure Statement, typically just 1% will make it to the top rank. To get promoted in your ranking, you must achieve the following:
Brand Partner
This is your starting point. You must have a minimum of 80 PV points every month.
2. Qualified Brand Partner
2 active affiliates, one must be on your right leg the 2nd affiliate must be on your left leg.
3. Executive Brand Partner:
800 GV every week from your lesser binary leg
4. Bronze
Personally recruited affiliate on the left leg and one on the right leg
Total of 2000 GV in your lesser leg every week. 
This is where your Unilevel plan comes into play. It looks similar to this…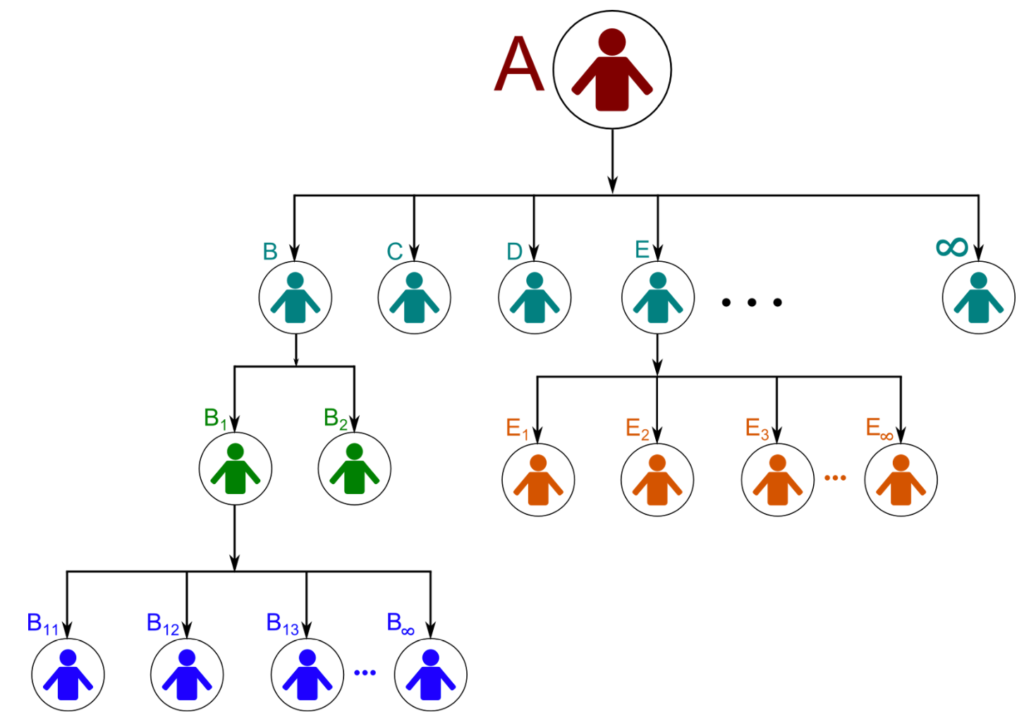 To meet your 'get rich' goal, this is where you need to be. You must have a minimum of 3000 GV every month.
5. Silver
3000 GV in your lesser binary leg every week
800 GV coming from your Unilevel team
Have at least 1 active affiliate on both legs
6. Gold
1 personally recruited active affiliate on both legs
6000 GV in your binary lesser leg every week
2000 GV in your Unilevel team every month
7. Platinum
1 personally recruited active affiliate on both legs of your downline
Out of these two must be ranked as Executive Brand Partner
8000 GV in your binary lesser leg every week
5000 GV in your Unilevel team every month
8. Pearl
2 personally recruited active affiliates on both legs
2 of those must be ranked as Executive Brand Partners
10,000 GV in your binary lesser leg every week
8000 GV in your Unilevel team every month
9. Blue Sapphire
4 personally recruited active affiliates
And 2 of them must be in each leg of your downline
And 3 of them must be ranked Executive Brand Partners
12,000 GV in your binary lesser leg every week
12,000 GV in your Unilevel team every month
You probably have a good idea of what's required if you want to be successful with Vasayo's MLM business opportunity. It means recruiting a lot of people, selling lots of products and pushing your downline to work harder. Here is the last rank…
18.Triple Crown Blue Diamond
Now, if you reach this rank, your personal volume has increased to 320 every month!
3 personally recruited active affiliates on both legs
150,000 GV in your binary lesser leg every week
1,500,000 GV in your Unilevel team every month
The problem with most MLM companies' compensation plan is you must also continually mentor your recruits. You must always be looking for new customers and new recruits because many of them will quit and you will want to replace them. They accumulated too much inventory and/or they can't afford to buy products every month. They get tired of rejections.
Can you do this? Is your head spinning yet? 
8 Ways To Earn Vasayo's Compensation Reward Plan
This is also similar to other MLM company plans.
1)   Retail Commissions
You can earn 20% commission when you sell your products at retail prices.
In addition to the 20% commission when you sell more products to your Retail customers you earn bonuses and it goes like this:
Sell a minimum of 500 PV retail sales volume in 4 consecutive weeks and you earn $50 bonus
Sell a minimum of 1000 PV retail sales volume in 4 consecutive weeks and you earn $150
2)   Product Introduction Bonus
As an Active Brand Partner, when you recruit new Brand Partners you earn this bonus when they generate their first commissionable product order which is 20%.
3)   Team Commissions
These are considered your residual earnings. Vasayo uses the MLM Binary model. It looks like this…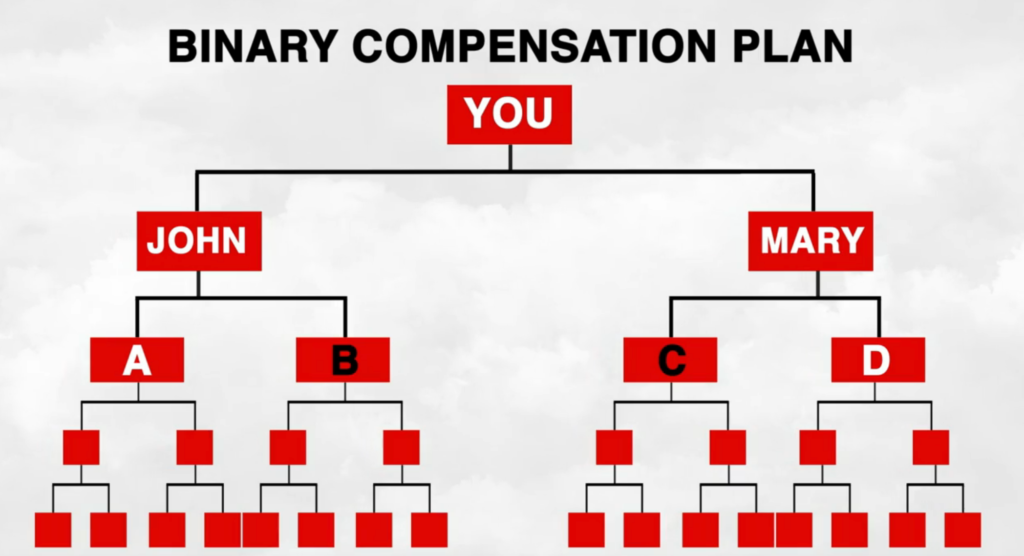 This means you have 2 legs/groups. One on the right side and one on the left side. Anyone else you recruit into your downline will have 2 legs as well.
At the end of each week, the company looks at your team's total volume of each leg. You get paid on the lesser volume of your leg.
The goal is to have a minimum of 480 GV (Group Volume) on one leg and a minimum of 240 GV on the other leg. By accomplishing this, you receive a "cycle bonus" of $28.
If you make it to the level of the highest ranks, you can cycle up to 1100 times. Once you get to that 1100, your commissions are then capped.
If you figure out the math, that comes to a whopping $30,800. This is what you could potentially earn BUT it means getting higher up in your ranks. 
Each time you graduate into the next rank, more sales need to happen which means more recruiting new Brand Partners. More rules to follow and it gets harder the higher you rank.
There are 5 more ways to earn with Vasayo's Compensation Rewards Plan.
4)   Matching Bonus
Keep recruiting new Brand Partners and focus on ranking higher to qualify. This matching bonus is based on the efforts of your personally recruited Brand Partners sales. You can earn up to 7 generations.
5)   Rank Advancement Bonus
These are one-time bonuses when you reach leadership ranks. If you make it to the Black Diamond rank you can earn $100,000, the Triple Crown Blue Diamond will reward you $1,000,000. Payment conditions apply.
6)   Global Leadership Bonus
Earn a percentage of the company's success. 3% of their 'eligible global commissionable volume' is paid out weekly to Brand Partners who qualify.
7)   Lifestyle Trips
Only those who qualify will make it on these trips. It can be 3 days, 2 nights somewhere in the U.S., or 10 days, 9 nights of travel internationally. This is for Blue Sapphires +.
8)   Multiple Business Centers
Assuming you are now successful as a business leader and ranked at the top, you're ready to start this process over by replicating your business and gain exponential wealth.
Want more information? I found an excellent video by a Brand Partner who can explain everything in more detail…
During my research, I was able to find Vasayo's Compensation Plan in PDF.
Can You Make Money Selling Vasayo?
Sadly, Vasayo does not publish their latest Income Disclosure Statement on their website. If you're thinking of joining wouldn't you want to know if the company's Brand Partners are earning money? Not having that information available is a red strike against them. What are they hiding?
Here's what I can tell you. According to FTC (Federal Trade Commission):

Can you make money with Vasayo? Yes, you can make some money but VERY FEW WILL MAKE IT TO THE TOP!
The TRUTH is, the owners are the ones who win. You do ALL the work and they reap the rewards.
The PROS
✅ Legitimate Products
The benefits of Vasayo products are backed by legitimate science of the liposomal delivery method. There are numerous studies indicating the ingredients result in real health benefits
✅ Very Little Product Complaints
We already talked about this earlier. I found a lot more positive testimonials than the negative ones. The only way to find out if the products work for you  is to try a couple out for yourself.
The CONS – The Ugly Truths
✘ The Founders Past
I mentioned earlier about the owners previous MonaVie MLM company. The information was researched in Wikipedia.
I know we're not perfect human beings, we all make our mistakes. I'm NOT trying to trash Vasayo but if you're interested in joining Vasayo's business opportunity or any MLM companies just do your due diligence. Research and try samples first before joining.
I doubt very much, the owners will want to go through what they did with Mona Vie with respect to Vasayo. You don't want to be left stranded and loose money like what happened to the distributors with Mona Vie.
✘ Commission Rates Are Low
How do I know this when there is no Income Disclosure Statement? Their commission rate stops at 20%. It's very low compared to CBD BioCare and Young Living.
It's important to consider what FTC (Federal Trade Commission) said which I mentioned earlier.
✘ You Don't Own Your Website
Vasayo gives you a replicated website. You don't own it. Your site looks the same as other Brand Partners sites. 
The only people who come to your site will be your friends and family members, the people you hand out your business cards to, social media, and your preferred customers. They will be your main human traffic to your site.
Other than that, if you want a huge amount of traffic you would need to learn SEO (Search Engine Optimization) techniques which is highly unlikely Vasayo has that kind of training.
✘ The Owners Get Richer
You are a sales representative for Vasayo. You may not like that, but it's the truth. You have to follow their rules. According to FTC (Federal Trade Commission)1% of the Brand Partners will really succeed. So who's the bread winner? The owners always make a fortune from YOUR HARD WORK!
✘ Website is Not Transparent 
We were not able to find Vasayo's Compensation Plan nor their Income Disclosure Statement. While not mandatory, if you wanted to join would you not want to see these. It's important to know how other Brand Partners are faring. Are they making any money and at what rank?
Here's what the FTC (Federal Trade Commission) has to say…
✘ Non-Exclusive Products 
Unfortunately, Vasayo's liposomal delivery technology is not patented meaning the doors are open to customers being able to find similar products elsewhere at less cost. Vasayo does not exclusively license their products.
✘ Expensive Distributor Packages
I went over the distributor packages with you. Of course, the more products you have to show the better. BUT the prices are too high. You can purchase a lot of these products that produce similar results from your local health and wellness stores at a lower price. 
Is Vasayo A Scam?
Vasayo is definitely a legitimate MLM company. They sell real products that have undergone studies and is backed by some science.
There are an amazing number of happy customers who say they're getting the health results they expected.
Having said this, I do not recommend them.
I say this because if you're here to make money, what concerns me is Vasayo does not show you their Income Disclosure Statement. You have no idea how much you can potentially earn. Perhaps their distributors/Brand Partners are not making much money…?
Are distributors making money? I'm sure some are BUT I'm willing to bet there are over 80% who are not! YOU WILL NOT GET RICH HERE!
The other thing is when I look at their Compensation Plan and the 18 ranking levels, you have to do a lot of recruiting, and sell a lot of products. You also have to be pushing your team to do the same. You always have to rely on your team's performance if you want to succeed.
It doesn't matter what business you have, hard work is always required but I don't like the part of relying on other people's work performance. If you don't like finding new members and not into home parties, etc., Vasayo is definitely not for you.
There are other business models, one in particular does not require recruiting.
May I Introduce You To A Better Business Model? NO RECRUITING!
A Better Way – How We Make Passive Income Online
I am not a fan of the Multi-Level Marketing business plan. Don't get me wrong, when applied properly it's quite legal. BUT I still don't like the MLM companies rules and it's not my bag to be told I have to purchase a certain amount of products every month to qualify for my commissions and bonuses. 
I also don't like recruiting people. 
If you want an online business, my #1 recommendation is to join Wealthy Affiliate's affiliate training platform. I have been doing affiliate marketing since December 2015. 
The reasons are quite simple…
You don't have to recruit anyone to make money
You have the freedom to promote any number of products you want 
No inventory
Earn income while you sleep
It's FREE to get started
I was able to quit my job. I can work at home or anywhere and be my own boss! The true beauty of being an affiliate marketer.
You might be interested in reading these success stories from some of the Wealthy Affiliate members!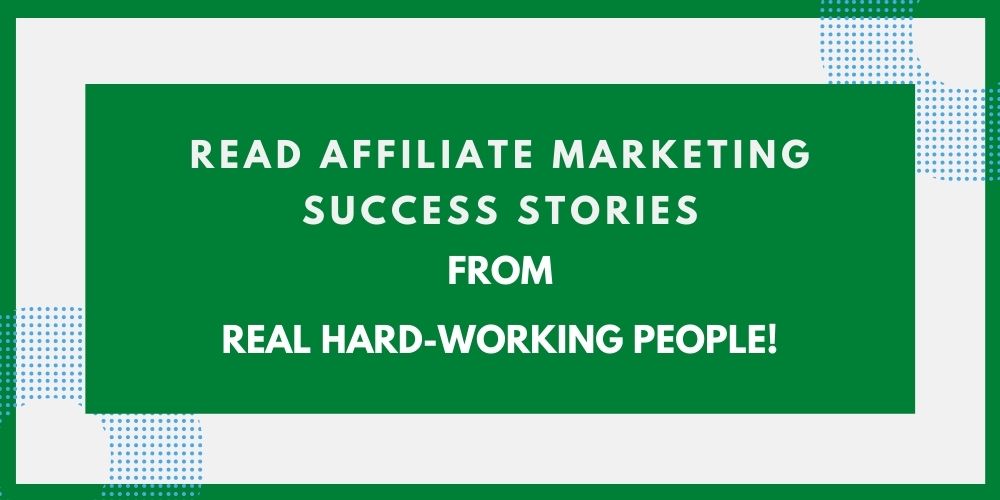 Are you ready to do something special for yourself? Come try Wealthy Affiliate's affiliate training program. It's FREE to start and no experience is required. We won't even ask you for your credit card so keep it in your pocket.
I hope my review of Vasayo was helpful. I would like to hear from you. What are your thoughts?
Regards,
Monica